The Sky Flyer zip line at Snowstar Winter Sports Park in Andalusia, Ill., opened Feb. 2, 2019, joining a growing list of zip lines installed at winter resorts. The year-round installation allows winter and summer guests to soar over Snowstar's ski slopes. "This will be the first of hopefully many year-round things to come," said marketing director and event coordinator Kaitlyn Beckhart.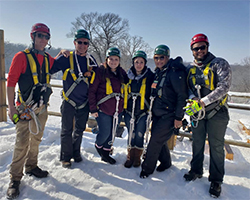 The four-line tour features two shorter zips, designed to get guests comfortable with the zip line, before reaching a 1,300-foot-long parallel racing zip that takes guests down the slopes and across a creek to a ridgeline on the opposite bank. Participants reach top speeds of approximately 35 mph and heights of approximately 100 feet above the slope during the hour-long tour.

A classic "upside-down" winter resort, Snowstar zip line guests start at the top of the hill and complete their tour by taking the resort's chairlift back up to the top, where the parking lot and lodge facilities are located.
Open year-round, Snowstar is offering an introductory price for the Sky Flyer zip line of $30 for the full tour and $15 for the half tour, which includes only the first two zip lines.