Snowbasin Resort in Utah is adding additional summer activities to its current summer operations. A miniature golf course and kids adventure course are slated to open mid-summer 2018, and construction is scheduled to begin on an adventure trekking tower and aerial adventure course with a planned opening of summer 2019.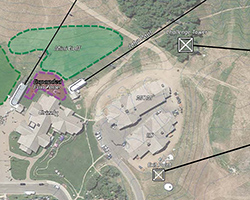 The adventure trekking tower will be approximately 50 feet high and will feature a jump/rappel zone and observation deck. A zip line will connect the tower and the aerial adventure course.

The aerial adventure course will offer three levels: kids play zone, adventure challenge zone, and observation deck. A dual racing zip line will return participants back to the main base area.
The mini golf course and kids adventure course, scheduled to open this summer, will complement existing activities including a climbing wall, bungee trampoline, mountain biking, hiking, and a full lineup of events.