We all know that, when designing an aerial adventure attraction, you must consider the natural elements of the location. This is especially true at Rainforest Adventures' new Rockland Estate eco-park on St. Maarten in the Caribbean, which is still scheduled to open this month despite a brush with Hurricane Irma.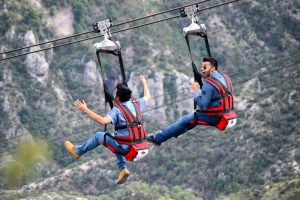 The new eco-park is located on the historic Emilio Wilson Estate, and boasts 360-degree views from the island's tallest mountain. The park will open with two signature attractions: the Soualiga Sky Explorer four-person chairlift, and The Flying Dutchman zip line, designed and engineered by ZipRider. The site also houses the Emilio Wilson Museum and a restaurant.

The Flying Dutchman drops riders approximately 1,100 vertical feet on a 2,630-foot span of cable. The 42-percent grade is billed as the world's steepest zip line, and can get participants moving at speeds up to 56 miles per hour.
The ZipRider team had to put some extra thought into the design of The Flying Dutchman to make it as hurricane-resistant as possible. They designed the system so the cables can be lowered to the ground, laid out, and secured in only a few hours if the threat of a hurricane is immanent. This feature was put into action in early September when Hurricane Irma made landfall on the island—and it worked. The attraction itself sustained only minimal damage, primarily from flying debris.
"We are very proud and thankful to our engineering and construction teams, their hard work and expertise certainly reduced the damage incurred as a consequence of the hurricane," said Shaydar Edelmann, general manager of Rockland Estate.
This ZipRider is also the first to feature an integrated fiber optic cable, which is run from the base of the chairlift to the summit where it interfaces into the zip line control system. A wireless control system is used as a backup for communication, braking, and retrieval.
The Flying Dutchman and the Soualiga Sky Explorer chairlift will soon be accompanied by a canopy tour, the Sentry Hill Zip Line, and a year-round tubing attraction called the Schooner Ride. All are scheduled to open in early 2018.