Petzl has issued an alert that ASPIR harnesses modified by malicious third parties are being sold online. These modifications pose a mortal danger to users.
Petzl was notified by authorities that modified ASPIR harnesses were being sold on eBay. Modified products were seized, an immediate stop to the sales requested, and legal proceedings initiated.

The modified harnesses have waistbelt or leg loop security straps that have been cut and then stitched back together. The stitching greatly reduces harness strength. Testing showed that the harness can break under 2 kN of pressure, instead of the required 15 kN.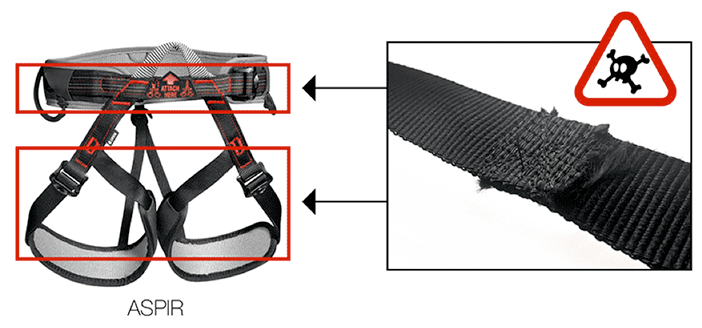 Petzl requests that all operators who have not purchased directly through Petzl, or from a dealer belonging to Petzl's official distribution network, check any ASPIR harnesses in their possession for these modifications.
Petzl said in a statement, "The irresponsible modifications made to these harnesses are shocking and put users' lives in danger. For this reason, it is imperative that we warn our clients and the community about these reckless acts."
For more information on the alert, please click here.
To find an approved member of the Petzl distribution network, click here.