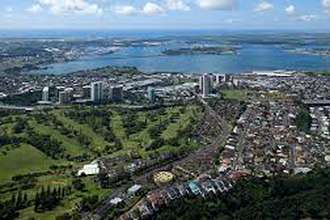 Honolulu residents are saying "aloha," as in good-bye, to plans to build a $1 million nature park and zip line canopy tour in central Oahu. The developer, Towne Development of Hawaii, has not made a final decision on moving forward with the project after locals voiced concerns in public meetings against bringing the park to Waimalu. Residents worry about the potential impact increased tourism would have on their community.
Construction was originally expected to begin this summer, with completion by this winter. The Department of Land and Natural Resources has given Towne until October to complete an environmental impact statement or request an extension. A draft environmental assessment produced by Towne found that the project would have no significant impacts to the environment.

If the plan goes forward, the developer intends to form a joint venture with Flyin Hawaiian Zipline of Maui to operate the business, according to the environmental assessment filed with the Hawaii Office of Environmental Quality Control.
The park would be built on a 447-acre property in Aiea, and plans call for seven side-by-side zip lines ranging from 240 feet to 1,200 feet long with 14 platforms. The park would also include a 1,200-square-foot nature center and a guided forest canopy tour.
Hawaii has seen perhaps two-dozen other zip lines and aerial parks built since the first zip line course opened there in 2002. A study conducted a decade later, in 2012, by the state auditor counted a total of 22 zip lines and canopy tours.