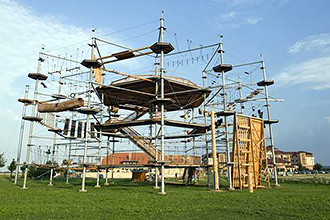 A new aerial adventure and climbing park has opened in Cuba that's being touted as the first of its kind in Latin America. The Rocarena aerial adventure park was built by Con-Impex, a Germany-based developer of high-rope courses and climbing and bouldering walls for indoor and outdoor areas.
Located on Cayo Coco, a cay in the Jardines del Rey archipelago along Cuba's north coast, the park features a three-level main tower and accommodates 120 adventure seekers at a time. The highest level of the main tower serves as a viewing platform, while the lowest level is designed for kids four years old and older and measures about three feet high.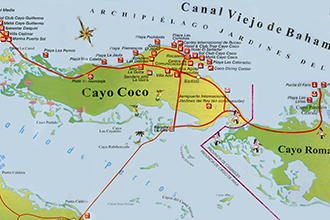 Cuban officials say Rocarena, which is managed by the Cuban group Palmares, is a focal point of their strategy for expanding tourism on the island. Jardines del Rey is 267 miles east of Havana and has 17 hotels. The coast is lined with more than 2,500 cays and islets with about 93 miles of beaches.
Tourism is the second-largest contributor to the Cuban economy. The country saw more than 3 million tourists last year that generated a record $2.7 billion in tourism revenue, according to Tourism Ministry figures. Officials expect those numbers to be eclipsed this year.