Natural Bridge Caverns, a family-owned and operated destination in Texas, replaced its original Sky Trail Canopy Explorer and Canopy Zip-line with a new million-dollar attraction from RCI. The new adventure course and its ancillary activities opened in late November.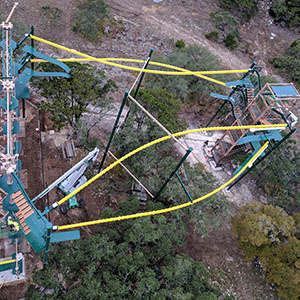 The centerpiece of the new installation is the Twisted Trails Sky Adventure Course. The six-story high attraction has four levels and 50 elements, including 7 Sky Rails, the most included in any outdoor RCI Sky Trail globally. Twisted Trails has 685 feet of curved rails on which guests will travel an estimated 8-12 miles per hour. Because guests don't need to clip in and out of the tracks, Sky Rails offer an uninterrupted zip-like experience.
RCI also installed a Sky Tykes attraction aimed at participants 4 feet or under. It is a smaller version of the Twisted Trail with its own Sky Rail.

Rounding out the new offerings are four Clip 'n Climb climbing challenges, including a Jungle Gym, Twister, Face-to-Face and Astroballs, all RCI proprietary challenge elements.
"These courses offer our guests the opportunity to do something physical, to challenge themselves and, in some cases, overcome their fears. It's an adventure for all ages," said Travis Wuest, co-owner and vice president of Natural Bridge Caverns.
Twisted Trails was designed with a neutral color scheme of browns, greens and faux-wood to blend in at the 450-acre nature complex. "We are always looking at ways to enhance our guests' experience while remaining true to our natural outdoor setting," said Brad Wuest, co-owner and president of Natural Bridge Caverns. "This new adventure will appeal to guests of all ages, and there is nothing else like it."