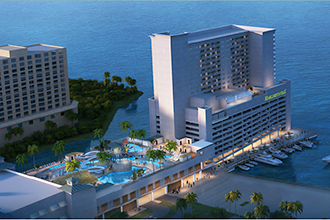 Biloxi, Miss., is going Buffet in the form of Margaritaville Resort Biloxi. The resort has been refurbished since Hurricane Katrina hit in 2005 and will open in late spring. In addition to the 373 guest rooms and 83 suites, it will also offer indoor-outdoor entertainment with a lazy river, an indoor zip line roller coaster, and a ropes course.
The zip line roller coaster is Extreme Engineering's Cloud Coaster. Part zip line and part flying roller coaster, the Cloud Coaster is a speed controlled steel track with smooth turns, uphill racing, and zipping around structures. Tandem riders are pulled up the track using linear motor technology and conveyor belts

In addition to the Cloud Coaster, Margaritaville will also be home to a Sky Trail ropes course manufactured by Ropes Courses, Inc. The colorful, self-standing steel structure will have numerous elements, including a 60-foot long Sky Rail zip line and a Sky Tykes ropes course designed for ages 2-7.
The resort is accepting reservations for Parrotheads looking to enjoy 5 o'clock somewhere.