Here's an example from another company: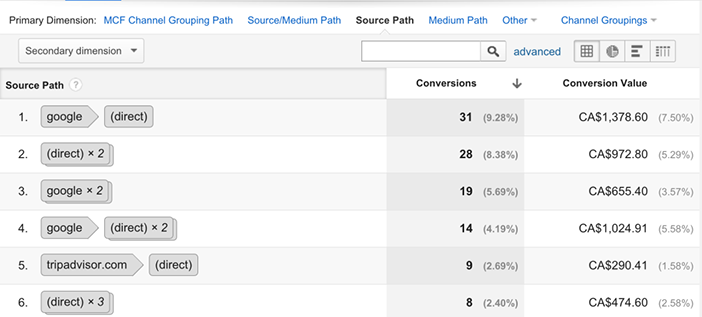 Source path definitions:

Google: your customer searched something on Google
Direct: your customer typed in your site's URL directly or used a bookmark to get to your site without the help of a search engine
com: your customer visited TripAdvisor's site
… x 2: your customer visited this source twice (x 3 means they visited three times, etc.)
On the right of this chart, you'll notice the number of conversions that resulted from the given path alongside the cumulative value of these transactions. You'll look to these columns to calculate your ROI.
The results are in
If you've invested a lot of time in growing your TripAdvisor profile, you should see paths that include TripAdvisor contributing to conversions or value.
Customers that did find Escape Room NF on TripAdvisor eagerly share that information with Thomas and her staff.
"When the staff mention TripAdvisor reviews, we'll get a lot of qualitative reinforcements from people saying they saw us on TripAdvisor themselves," she says.
Thomas has also taken a deep-dive into her business analytics to see the impact of TripAdvisor on the customer's online buying cycle. "While locals depend a lot more on word of mouth and Facebook to learn more about us, everybody stops at TripAdvisor at some point," she explains. "It's an assist in the booking."
Tourists, on the other hand, almost exclusively use TripAdvisor. That's good news for Escape Room NF this time of year. In the summer, her out-of-town customer volume swells to 70 percent of her business.
With those numbers, Thomas can sleep easy knowing she's focusing her marketing almost exclusively on TripAdvisor.
Conclusion: Your Free Marketing Strategy in 3 Steps
Every year, your customers trust online reviews even more. Once summer is in full swing, your tour business will be the busiest it's ever been. That means it's the perfect time of year to put Thomas's marketing strategy into practice. Channel your summer volume to capitalize on a free marketing opportunity: online reviews.
With an all-star activity, a humble request, and some before-and-after measurements, you can transform reviews from an afterthought to a pillar of your marketing strategy.