What. A. Year. We've officially made it past the one-year mark after the Covid-19 pandemic ushered us all into an existence like no other, both personally and professionally. Our adventure businesses had to become more than providers of fun experiences: we've served to keep people safe—customers and team members alike—and to do our best to stay relevant when in-person activities were taboo.
We'd all like to leave the last year far behind us, and yet, as we keep moving forward, it's worth pausing for retrospection. If hindsight truly is 2020, we can reflect on how the last year of turmoil and upheaval has changed (possibly forever) how we connect with customers and how they want to be connected to us.

No one could have predicted all of the things that went sideways over the last 12 months. As the saying goes, when life gives you lemons, make lemonade—so let's take a great big swig and taste the teachings that a year of pandemic offers us.
Safety in Super Mode
Adventure parks offer experiences with a helping of thrill and a dash of risk, so safety is already a priority for sites, staff, and customers. In fact, it's more than that: it's a differentiator. You tout your safety practices and guidelines to all customers as a way to ensure their confidence and patronage. As the pandemic persists, Covid safety can be a selling point.
Make Safety Part of Your Search Results
Let's talk about your website and digital marketing a bit. Many, many people will continue to seek experiences that are Covid safe, at least for this summer. How do they try to find these experiences? Web searches.
This is where you can and should tweak your online content to answer those search queries by serving up your website. If customers in your area search for "Covid safe outdoor fun," you can ensure they see your website by adding keywords like pandemic, Covid, coronavirus, social distancing, and so on to your web copy.
Other ways to maximize search results:
Use free tools like Answer the Public to see what people are searching for and what questions they're asking as they relate to your experience offerings.
Change out your visuals to reflect mask-wearing participants who are six or more feet apart.
Make sure the alt-text and meta descriptions on your web pages reflect the same verbiage and keywords (check with your web developer to optimize these features).

Adjust Your Adventures
Offer Elite Escapes
Operations that are able to open, especially those required to limit capacity, should consider creating an option for a truly boutique outing that is pandemic-considerate. Guests are increasingly willing to pay a premium to do fun things with only close friends and/or family to avoid being around other people. Movie theaters are a great example of an industry using this approach to stay viable by welcoming audiences to reserve theaters for smaller, private screenings.
For your park, you could offer or improve upon an elite, private experience that provides its value through safety assurances, longed-for experiences outside of the home, and interactions with friends or loved ones that don't have to involve a video conference tool.
Repurpose Your Real Estate
Speaking of movies, the pandemic has made it possible for certain types of experiences to experience a reawakening. Pop-up drive-in theaters have appeared in just about any venue that can accommodate a large screen and temporary seating. If your park's real estate has the capacity for becoming a temporary outdoor movie theater, consider adapting your space to provide a new experience.
Consider also renting your space to organizations that simply need something a bit larger to ensure safety for a group. Schools have adjusted to social distancing and pandemic safety protocols using limited building sizes and staff; your site may be the answer for them to provide crucial gathering options for students and teachers. Other events like weddings, graduations, or corporate events—where a happy medium between an enclosed room and an impersonal Zoom are highly desired—can be another avenue to explore for making your space work.
Even as restrictions ease, these types of gatherings at venues like yours may still be desired. If nothing else, the pandemic has given the opportunity to rethink how to use the space you have—and profit from it.
Connection as a Commodity
Here are some approaches that you may want to try, or even retry, because chances are these will be part of our next normal.
Video for an Outsider's View
As adventure businesses have adapted to safety protocols, they've been able to provide experiences, at least on a limited basis. This presents an opportunity to create a type of FOMO (fear of missing out), where most people feel it because only a few people get to have the experience they seek. It also brings you back to where you can create a sensation for customers from afar.
YouTube, for instance, saw phenomenal upticks in viewer behaviors once lockdowns began. With nowhere to go, YouTube and other video services offer a way to connect that isn't just about entertainment—it figures heavily into self-care and mental health relying on human connection.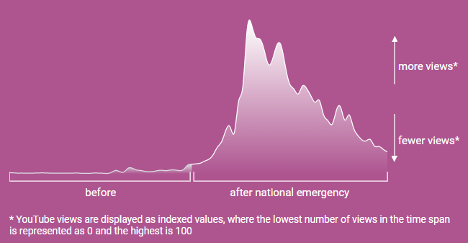 You can use your park's YouTube channel to share experiences you're offering, yet in a tone that conveys connection: how the person watching is part of the experience and is being missed by those who deliver it.
A Face for Fun
Another aspect of marketing in the Covid-19 era that has seen a substantial upswing is using influencers. These are individuals who already create content for a faithful fan base and, when enlisted to shine a spotlight on your park's experiences, can guide new customers to cast their gaze in your direction.
More than that, influencers now build and engage with their communities online more than they had before the pandemic hit. According to a survey conducted by marketing agency A&E in mid-2020 about influencer marketing, engagement on influencer posts increased by 67 percent after lockdowns started. And many influencers wisely pivoted their content to be more valuable to their followers who were longing for self-care and connection.
It isn't really necessary—or affordable—to find a celebrity to be your influencer, though. You may already have a "microinfluencer" in your midst. A microinfluencer is an online creator who may have a smaller social media following, yet his or her engagement with that fan base is powerful enough to make a difference when he or she recommends a product or service. They also often focus on niche or specific themes.
See if any customers who tag or mention your park in their social media posts fit the bill. There also may be a local or community celebrity you could tap to be the face for the fun you offer.
Be a Family
An unexpected change resulting from Covid has been the shift of trust tendencies. According to the 2021 Edelman Trust Barometer—an annual global trust and credibility survey—consumers trust businesses more than they trust government, NGOs (non-government organizations), and media. In fact, for the first time ever, consumers indicate they trust businesses to be more ethical and competent than the other three institutions.
This presents a golden opportunity for adventure parks to show they're worthy of that trust and take their business-to-customer relationships to a new threshold: you are family.
You've likely seen and experienced for yourself the local community coming together to support beloved businesses, and their owners, to help get everyone through to the other side of the pandemic. Customers who value a company for what it offers to their family in good times are stepping up to support that company so it's still there after the bad times.
If you haven't yet, approach your customers as a support, and also for their support. Create and cultivate a family of fans who can stay updated not just on how your park is doing overall but also how the people who run your park are faring. Conduct open video conference calls and invite customers to listen in and ask questions—you may receive unsolicited offers and advice to help and support your business in ways you'd never imagine asking for.
Make your customers feel they are part of your success, far beyond paying for admission, and you may find they are taking that commitment more seriously now than ever before.
The "Next Normal"
The pandemic has flipped so many aspects of our lives and businesses upside down. While it's difficult for any of us to guarantee what's in store for the future, there are many things we've learned from a year of Covid-19 that will benefit us all moving forward.
If you've been able to hang on, pivot, and survive through the lockdowns, the social distancing, the mask mandates, the quarantines, and the endless supplies of hand sanitizer, you are amazing. You may also have your own ideas and ways that made your park's survival possible since this time last year, and we'd love to hear them! Here's to getting to the other side of the pandemic safely, and to whatever the "next normal" brings to all of us.