Case Study: Adventure Tour on Instagram
Mountain biking tours are obvious candidates for outstanding Instagram profiles. Stick a high-adrenaline adventure in a beautiful setting and the camera is going to love you. But not all of the images need to be action packed with great scenery to garner engagement. Case in point: Cog Wild Mountain Bike Tours.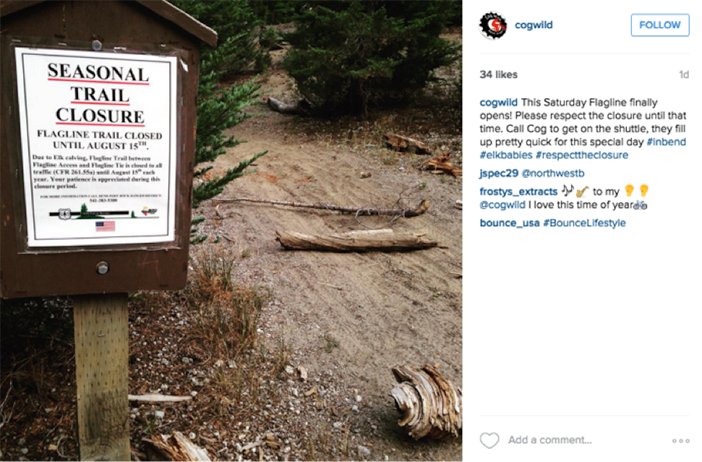 What I love about this picture is that it takes something matter-of-fact and turns it into an engaging image. Cog Wild proves you can take mundane announcements and make them exciting with a little creativity. It is a strategy that any tour or park could replicate on its Instagram profile.

In addition to the photo's relevance, Cog Wild also manages to spur engagement—that's the point of social media after all. What's even more impressive is that this traction on Instagram dwarfs that of Facebook. Cog Wild has 745 followers on Instagram, compared to 4,336 people who have liked its page on Facebook, but its Instagram posts still frequently outperform those on Facebook. Take this picture for instance:
On Facebook, the picture only got 11 likes.
With posts that reach as high as 80 likes on Instagram, it is clear Cog Wild is building a loyal following on that channel.
How Your Tour Company Can Nail Instagram
With all that said, Cog Wild admits to guessing quite a bit when it comes to Instagram. As Lev Stryker, co-owner of Cog Wild, says, "We mostly try to post cool pictures three or four times a week."
Right now, park operators mostly post on Instagram according to intuition rather than a concerted marketing strategy. But to have predictable success on social media, you need a game plan.
If you're having a hard time coming up with a strategy for your Instagram marketing, think about another social media platform where you (or a competitor) have had success. Scrutinize the type of posts that lead to the most engagement. What have you done to achieve those gains? What audience segment interacts the most with your posts? Ask yourself concrete questions like these to start, and pretty soon you'll have a full-fledged Instagram strategy to inform your posts!
Finally, no amount of strategizing is worthwhile unless you have a way to track your results. You can use a third party app like Iconosquare, which offers tools for viewing images more easily on the web, advanced search, statistics, promotion, contests, and other features. Moreover, use Google Analytics to track your efforts by following this guide. Tracking your results is key to cracking the seemingly undecipherable code that is social media engagement.
The Instagram Action Plan for Operators
Along with the marketing tools Instagram already offers, the ad API allows you to target specific audiences, create an ad campaign, and track your results.
If you haven't already, now is the time to get your Instagram account up and running. Even if your tour's target demographic differs from Instagram's current audience, your hard work will pay off in the future.
There is no formula for realizing Instagram's potential, so figure out what works and what doesn't by tracking all your experiments. Ultimately, your Instagram profile should tell a story about your company that inspires and resonates with your customers. As marketing on Instagram grows, do not let your brand be left behind.