The Eagle Flyer zip line at Wild West Ranch & Western Town in Lake George, N.Y., had its first flight on July 9. The new attraction is touted as the Lake George region's first high-speed zip line. It operates under an agreement between Ralph Macchio, Sr., owner of the Wild West Ranch, and the Johnson family, which owns the nearby Adirondack Extreme. Adirondack Extreme will be responsible for operating, staffing and marketing the attraction, which was designed and installed by Zip-Flyer.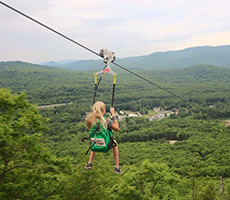 Four side-by-side, 3,800-foot zip lines launch from the summit of French Mountain and soar as much as 125 feet above the ground at speeds reaching 50 miles per hour. Participants can ride seated or fly horizontally, like the attraction's feathered namesake. Guests are transported from the ranch to the summit in an off-road vehicle.

"I've worked the last five years to get the Flyer approved, designed, and built in a way that blends into the natural beauty of this property, which means so much to me and my family," said Macchio, father of actor Ralch Macchio, Jr., who is most famous for his roles in the Karate Kid movies.
The operation of the Eagle Flyer zip line will give the Johnson family an opportunity to cross-market with its Adirondack Extreme Course in Bolton Landing, only a few miles from the Wild West Ranch. Adirondack Extreme owner Jamie Johnson said, "We loved the idea of a high-speed zip line the moment we heard about it. It's just a cool concept, and we look forward to lending our expertise.
"There are so many synergies here," Johnson continued. "We have 10 years experience in this category of entertainment. We have a thriving business that caters to like-minded customers just a few miles up the road. Plus, Adirondack Extreme and the Wild West Ranch are both family-run businesses that are committed to providing fun, family experiences in the Lake George Region. Now we're going to be doing it side-by-side."
The Johnsons also own Outplay Adventures, LLC, which has built 11 parks across the country under the TreeGO brand name.
For more information about the Eagle Flyer, visit adkeagleflyer.com.