Mountain Ridge Adventure in Glenville, N.Y., celebrated the grand opening of a new treetop challenge course and zip line park on June 17.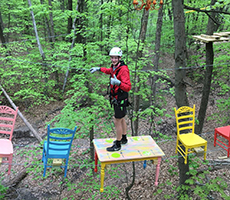 The first of its kind in the New York Capital Region, the course sends participants 50 feet in the air to clamber through a variety of obstacles, including a complete dining room set with plates, forks, and spoons, and a zip line that travels over a 500-foot-long gorge.

"This thrilling outdoor experience brings something totally new to the Capital Region," said general manager Michael Cellini. He said the park offers something for everyone as young as 7 years old.
Mountain Ridge Adventure is on part of Cellini's 50-acre property in rural Glenville. Last year, a handful of his neighbors who were opposed to him opening the park tried to stop it from happening. Ultimately, things moved forward and he has built five of the planned seven aerial courses on the property.