Adventure Park on the North Shore Now Open
A new multi-activity operation called The Adventure Park on the North Shore opened Memorial Day weekend in Silver Bay, Minn. Outdoor Venture Group designed, built, and is operating the park. It is owned by Adventure Investors Minnesota, an Opportunity Fund business based in Duluth.
The Adventure Park on the North Shore occupies four acres of forested hillside. Its tree-based aerial adventure park has six different trails of various difficulty levels for ages 7 and up, and "The Adventure Playground" course for kids ages 3 to 6. Both are equipped with a smart belay system. The park also offers electric bike (e-bike) rentals with access to the 30-mile Gitchi-Gami state bike trail, and a picnic area and walking paths that non-climbers can enjoy free of charge.•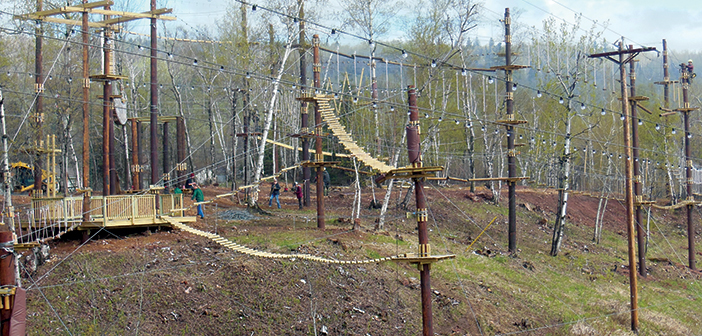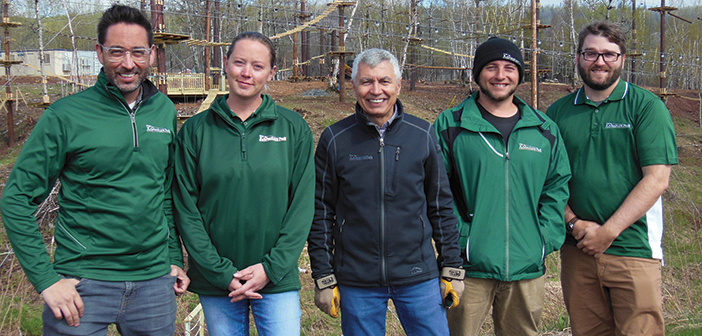 Utah Becomes 45th State to Enact Ride Safety Laws
By Melanie Harmon
Beginning April 21, 2021, the state of Utah will institute a new law regulating amusement rides, including zip lines. House Bill 381, "Amusement Ride Safety," passed in March after a two-year effort by the bill's sponsor, Utah state Rep. Val K. Potter.
The new law specifically includes roller coasters, whips, ferris wheels, merry-go-rounds, and zip lines. It will not include activities such as coin-operated rides, water slides/rides, and obstacle courses. 
Rep. Potter, who has a background in ride manufacturing, noted that Utah was one of six states that did not have amusement ride safety rules already in place. "I felt it was time for Utah to have safety inspection laws and rules to follow," said Potter. The state reserves the right to audit any facility at any time, and there will be penalties for violations.
"This legislation gets all amusement rides, both fixed site and mobile, to get on the same page," he said. "It will also entail that owner/operators have liability insurance, as well as require them to report serious injuries in a timely manner."
Before the new legislation was enacted, Potter noted, there was simply no way for state and local governments to know about safety practices or how many and what types of injuries were occurring.
According to the new law, operators will have to meet the following requirements in order to operate:
ASTM F24 Amusement Ride Standards• required daily inspections
annual inspections (whether state certified, third party, insurance provider, or in house if the company is more than 1,000 individuals)
provide proof of insurance to set minimum amounts
report certain injuries to the state
shut down rides after certain accidents until written authorization is provided.
Among the duties specified in the bill itself are requirements for owners/operators to perform daily, in-person inspections, as well as obtain an annual permit.
The new law establishes an Amusement Ride Safety Committee, which will follow standards developed by the ASTM F24 Committee on Amusement Rides and Devices. The new committee is modeled after the Utah Passenger Ropeway Safety Committee, which oversees ski lifts, and both are in the Department of Transportation.
The committee is tasked with writing further rules and standards in addition to certifying safety inspectors. It will determine fee and penalty costs, design reports and forms, and define "serious injury." The committee will also decide which specific ASTM F24 standards will apply to different types of amusement businesses, such as zip lines.•
North Carolina Moves to Regulate Aerial Parks
By Ken Jaquot, Challenge Towers, and Rick Kahl
The North Carolina legislature, prodded by Rep. Ted Davis, is moving forward on legislation that would subject aerial adventure operators to increased regulation and require them to report a wide range of injuries, from cuts that require stitches to fatalities.
Currently, HB 380, as it is known, has moved through the House of Representatives and is being considered by the State Senate. It is being opposed, in its current iteration, by the North Carolina Aerial Adventure Association (NCAAA). The NCAAA is advocating a series of amendments to HB 380 and supports a competing bill, HB 395, that is tied up in the House Judiciary Committee—which Rep. Davis chairs.
At present, state regulations simply require operators to carry a set level of insurance.
The push for regulation began in 2016, when the state legislature commissioned the Department of Labor to research the aerial adventure industry and determine what regulation was needed. The report concluded that, to a large extent, the zip line and challenge course industry was effectively self-regulating. That stemmed, in part, from recognition that insurance companies required proof of annual inspections and periodic training, as well as proof that any deficiencies exposed through the inspection process were corrected.
The NCDOL study reported that injury incidents are rare, and typically caused by human error. It noted that no amount of regulation can remove all risk from aerial adventures, and concluded that existing rules for insurance and design provided adequate layers of safety for participants. However, Rep. Davis has pushed ahead with his bill nonetheless.
The NCAAA points to several practical problems with HB 380. A state agency would spend significant time, resources, and money to largely duplicate activities currently performed by industry experts, NCAAA says, and would increase cost for operators, too. Plus, the proposed financial penalties could force small businesses, non-profits, and camps to stop providing aerial adventure facilities all together.
Rep. Davis has largely rejected NCAAA's suggested changes to HB 380, but the group hopes to find a more favorable reception in the State Senate. •
USA Today Poll: "10 Best" Aerial Adventure Parks
Aerial adventure fans and friends voted Shepherd of the Hills Adventure Park in Branson, Mo., as "America's Best Aerial Adventure Park." The online poll was conducted by USA Today, which first asked a panel of family travel experts to nominate 20 of their favorite aerial adventure parks in the U.S. The public then selected the top ten. Voting took place online during the month of April to select the "10 Best."
The top 10, as voted by the public:
1. Shepherd of the Hills Adventure Park, Branson, Mo.
2. Kerfoot Canopy Tour, Henderson, Minn.
3. Ramblewild, Lanesborough, Mass.
4. Historic Banning Mills, Banning, Ga.
5. Camelback Mountain Adventures, Tannersville, Pa.
6. The Gorge, Saluda, N.C.
7. Denali Zipline Tours, Talkeetna, Alaska
8. Cocoa Beach Aerial Adventures, Cape Canaveral, Fla.
9. ArborTrek Canopy Adventures, Jeffersonville, Vt.
10. Mega Quest & Mega Zips, Louisville, Ky.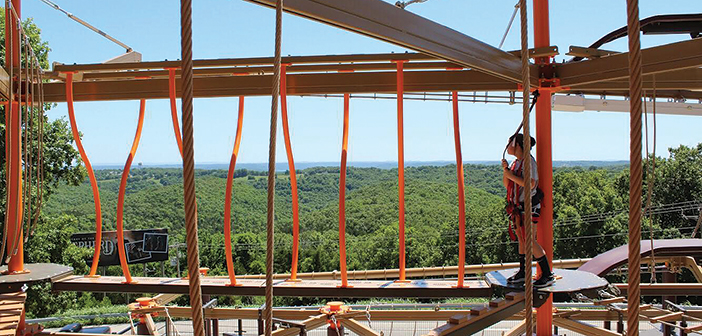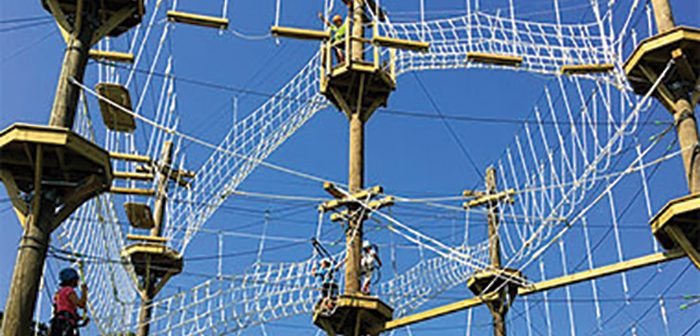 It's impossible to know exactly what put Shepherd of the Hills on top, but the entire estate, of which the Adventure Park is a part, has legions of fans. The estate has been drawing guests to Branson, Mo., for 60 years or more. Plus, the operation is wide-ranging, from its well-known outdoor theater and historic tours to a church and ATV tours.
Lee Kerfoot, owner of the #2-ranked park, said, "We are so grateful to have supportive guests, cast members, and friends! We have so much gratitude for how many people helped us every day by voting for us."•