Amicalola Falls Installs Zips
Amicalola Falls State Park in Georgia, home to one of the highest cascading waterfalls east of the Mississippi, is now home to a new zip line course by American Adventure Park Systems. The installation features 11 zip lines and three suspension bridges.
The zip lines range in height from 60 feet to 250 feet in the air, and range in length from 75 feet to 1,000 feet. The suspension bridges link the 11 zip lines and keep guests between 20 and 100 feet in the air, overlooking the fantastic views the park offers. The course is designed with American Adventure Park Systems' QuickTrekker closed-belay system, which enables participants to move through the course without disconnecting from the belay line at any time.

Amicalola Falls State Park added several other new activities about a year ago, including 3-D archery with targets shaped like bears, deer, and raccoons; GPS scavenger hunts; and survivalist camps. At the time, the park offered a small zip line used for group teambuilding exercises. After a steady stream of visitors expressed interest in zip lining, Coral Hospitality, the company that manages the state park and lodge, partnered with American Adventure Park Systems to meet the demand for zip line excitement.
"American Adventure is the perfect partner for us to continue expanding our Adventure Lodge program in Georgia, as they share our commitment to preserving the environment while creating fun, memorable experiences for visitors of all ages," says Heath Carter, regional VP of sales and marketing for Coral Hospitality.
Coral has contracted with American Adventure Park Systems for its entire Adventure Lodges of Georgia program, which includes a second aerial adventure park at Unicoi State Park. Phase one at Unicoi was completed in May 2016, and features nearly a dozen zip lines of varying heights and lengths, enabling guests to reach speeds of up to 30 mph.
Hattiesburg Zoo Opens New Ropes Course
The Hattiesburg Zoo in Mississippi celebrated the grand opening of its High Ropes Adventure Course in August. Designed by Ropes Courses, Inc., the attraction is four stories tall with 27 unique elements.
The Sky Trail Explorer course features increasingly challenging elements as participants work their way up through the levels. For children under 48 inches tall, or for those who are a little less daring, the Sky Tykes platform stands three feet off the ground, making sure there's a little adventure for everyone.
Elements include lily pad bridges on the lower level courses, moving up in difficulty to X-nets and rope bridges. The Hattiesburg course also features the infamous "Walk the Plank," a six-inch-wide standalone beam that protrudes seven feet out from the course. Participants walk out and turn around hands-free for a bit more of a challenge.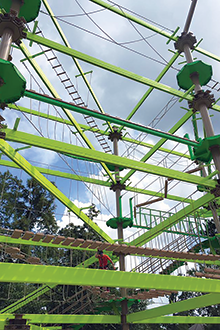 "The zoo took advantage of unused space in a unique, exciting, adventure-based way," says Marissa Ticknor, sales manager at Ropes Courses, Inc. "The third level of the Sky Trail gives a great scenic view of the zoo, and an aerial overlook of several of the nearby animal exhibits. It's a whole new experience that will attract both new and existing Zoo members."
2017 ACCT Conference: The Search for Adventure
The 27th Annual International Association for Challenge Course Technology Conference & Expo will take place Feb. 2-5, 2017, at the Westin Savannah Harbor Golf Resort & Spa in Savannah, Ga. It will serve up a mix of workshops, certification courses, and trade show under the theme, "Search for Adventure."
The conference opens with keynote speaker Jonathan Ronzio. An adventurist, international speaker, and entrepreneur, Ronzio is best known for directing and starring in the award-winning adventure philanthropy documentary, "Between the Peaks."
Workshops will be offered in three tracks: Canopy/Zip Line Tours, Facilitation & Programming, and Industry & Business. Workshops will begin with pre-conference programming on Feb. 2, running throughout the conference, and following up with post-conference workshops on Sunday, Feb. 5.
ACCT will offer several certification courses as part of the pre- and post-conference activities. These include:
• OSHA 10 Hour Construction Course
• Petzl PPE Selection, Inspection, & Management:
Competent Person
• Wood Pole Inspection & Safety
• Commissioning: It's Not an Inspection, It's a Process
• Machine Operator Certification Course
• The Fundamentals of Rigging
• ACCT Inspector Certification Prep Course & Exam
Those interested in the ACCT Inspector Certification program are encouraged to visit www.acctcertifications.com to determine their certification eligibility.
Scholarships are available, and will cover conference registration fees and a pre-conference workshop. Those wishing to apply must demonstrate an intention for a continued career in the challenge course field, interest in projects that contribute to the challenge course industry above and beyond employment in the field, demonstrate a passion for the industry, and a need for financial assistance. Scholarship applications are available at www.acctconference.com.
The 2016 conference brought nearly 1,100 builders, educators, and challenge course, zip line, and adventure park operators to Lost Pines, Texas. The 2017 conference could exceed that figure.
Registration for the 2017 conference is available online at www.acctconference.com.
National Ability Center Makes Adventure Accessible
The National Ability Center in Park City, Utah, may be the ultimate expression of accessibility for those with disabilities. The 26-acre ranch is home to equestrian arenas, hiking and mountain biking trails, an archery range, and a unique challenge course. The Center offers alpine and Nordic skiing, snowboarding, horseback riding, indoor rock climbing, swimming, cycling, archery and, of course, aerial adventure. All are designed to ingrain self-esteem, confidence, and lifetime skills through the Center's sport, recreation, and educational programs.
For those who suffer a debilitating event, the National Ability Center's challenge course is one facet of an overall program that builds self-confidence and focuses on possibilities instead of dwelling on what can no longer be done. "Being able to participate and tackle obstacles from our challenge course helps people lift themselves to another level, inspiring them to conquer anything in their life," says Gail Loveland, the Center's executive director.
The challenge course is operated by an expert staff certified in leading inclusive, adaptive challenge course experiences. Individuals of all ages and abilities can take part. To eliminate any feelings of isolation for individuals with disabilities, friends and family members are encouraged to engage in activities alongside course participants.
Instructors can use a 4:1 pulley system to allow those with profound spinal cord injuries or limb differences to participate in high ropes teambuilding. A large, suspended bridge feature, wide enough for a person using a wheelchair to roll across, provides a feeling similar to walking on high ropes cables. The National Ability Center also can provide a specialized harness for individuals with spinal cord injuries or for people with bilateral above-knee amputations with little to no residual limb.
Among the Center's programs is the Full Moon Challenge Climb, in which small groups of participants find their way through the challenge course lit by moonlight and a colorful array of glow sticks. Other programs include a series of day and overnight camps tailored to individuals with disabilities: Camp X-treme and Action Camp for teens with physical disabilities, and Crusaders and Adventurers camps for youth with cognitive disabilities or on the autism spectrum.
The Center plans to expand its challenge course in the near future to include even more accessible elements designed for participants with varied limitations.
For more on the growth of accessible zip lines and aerial adventures, see "An Accessible Universe."
Granite Insurance Offers New SOAR Program
Zip line and aerial adventure operations that meet certain criteria can qualify for Granite Insurance's new SOAR Program. The program is designed to reward and recognize "elite" operators in the United States who continuously invest in the latest risk management practices and safety products, and who thus reduce the likelihood of injuries and incidents.
"The key to this program is developing an ongoing risk management relationship with the operator, and not just an insurance transaction," says Cameron Annas, Granite's adventure sport risk consultant.
Operators must meet several requirements to qualify. Among them: the operation must use a continuous or smart belay system; the course construction must be ACCT accredited (if it is/was built by an ACCT PVM, then it receives exempt status) and have engineered construction plans; each guide must participate in 40 hours of third-party training annually; and an ACCT-certified inspector must perform an annual inspection.
The company says this is the first program that provides incentives for operators to invest in a smart belay system or continuous belay system. To those that qualify, it also offers many coverages that are excluded under current programs in the industry. In addition, SOAR Program accounts will receive risk management consultative services and ongoing support.
Calls For Regulation Growing Louder
The extent to which states manage the oversight of outdoor activities—including amusement rides, water rides, and rafting, as well as zip lines and aerial adventure parks—has come under fire as of late, with media outlets calling for greater oversight and easier public access to operator safety records.
Following the death of a 10-year-old boy on a massive waterslide in Kansas, the Associated Press published a series of reports that highlighted how much regulations of such activities vary from state to state. One of the reports, titled "Thrill-ride accidents spark calls for more oversight," quoted an amusement park safety consultant as saying, "Fifty states in the United States of America and no two inspect rides the same way. That's wrong." It went on to point out that six states—Mississippi, Alabama, Nevada, South Dakota, Wyoming, and Utah—have no laws that require inspections. The overall message was unmistakable: more oversight is needed.
Even so, the articles have also noted that regulation can be an expensive responsibility for states to assume. One report cited laws enacted in Tennessee
following the 2004 death of a 51-year-old woman at an "unregulated roadside amusement park." The laws required operators to have insurance, permits, and inspections. However, by 2014, a state audit found the ride inspection unit was failing. In response, the state ended its inspections altogether, and relied on operators and other states' regulators.
This change came to light after an unregulated Ferris wheel broke and seriously injured three little girls at a county fair in August.
Before any of these reports surfaced, though, some aerial adventure park and zip line operator consortiums, such as statewide groups in Ohio and Wisconsin, were already proactively engaging legislators in their respective states to help develop practical regulations. And ACCT (and PRCA, for that matter) have been working with the appropriate jurisdictions as they grapple with rules and regulations for adventure park businesses and how to enforce them. It's likely that such efforts will become more commonplace as states try to determine the safety of outdoor activities—and protect the public who participates in them.