Alaska Rainforest Sanctuary, a 40-acre rainforest reserve near Ketchikan, Alaska, has acquired longtime Juneau zip line operator Alaska Zipline Adventures, LLC. This acquisition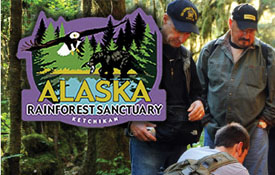 expands the portfolio of Alaska Rainforest Sanctuary, which already owns and operates several tours—including three zip line courses under the name Alaska Canopy Adventures.
Alaska Zipline Adventures offers a guided zip tour consisting of seven lines, ten platforms, and an aerial suspension bridge. Located at Eaglecrest Ski Area in sub-alpine rainforest, guests of Alaska Zipline Adventures can follow their zip adventure with tours of the famed Mendenhall Glacier or activities such as axe throwing.

"This change in ownership will not affect the zip line experience. All of the features that customers know and love will still be available," said Brien Salazar, co-founder of ARS. "ARS is committed to carrying on the same caliber of service and unique approach to zip lining that Alaska Zipline Adventures is known for."
Added Davy and Gin Anderson, former owners of Alaska Zipline Adventures: "Our goal has always been to provide Alaska visitors and locals with a safe, enjoyable, and memorable experiences, and we are confident that ARS will pick up where we left off."