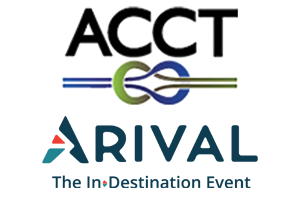 The Association for Challenge Course Technology (ACCT) and Arival, an in-destination travel conference operator, have signed a cross promotional and marketing agreement aimed at sharing business resources and cross promoting events.
Founded in 2017, Arival hosts travel conferences that focus on tours, activities and attractions, the third largest sector of the travel industry. Alongside dozens of other partners and sponsors such as TripAdvisor, Groupon, PicThrive, and America Outdoors, ACCT will be an association partner for the 2019 Arival event in Orlando. Adventure Park Insider and its sister publication SAM (Ski Area Management) magazine have been media partners of Arival in the past and will continue to support the conference.

Per the new deal, ACCT and Arival will cross-share relevant educational content, such as webinars, on their respective platforms and mutually promote the other's events. Specifically, ACCT will endorse Arival events with a registration discount code for ACCT members, and Arival will reciprocate by providing a registration discount code for the ACCT annual conference to its database of subscribers and event attendees.