Virtual reality remains hot, netting and ninja features are on the rise, and the International Association of Amusement Parks and Attractions' IAAPA Expo continues to grow. The annual event filled the Orange County Convention Center in Orlando, Fla., Nov. 12-16.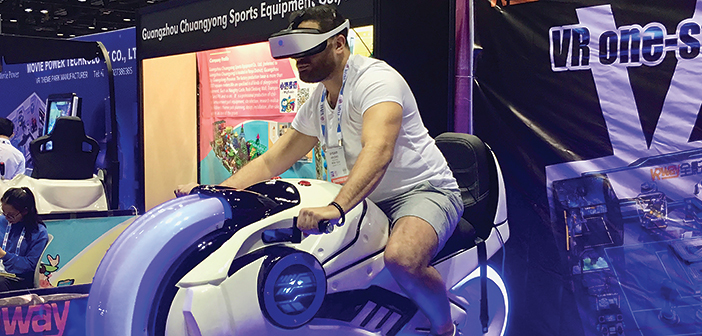 Virtual reality has been big at IAAPA for the past several years, and there's now something for everyone—though males, adolescent and adult, are the main targets. VR is showing up in more activities, too; coaster company Wiegand incorporated VR into one of its rides.

Even so, active and participatory attractions were drawing crowds, too. As usual, the Ropes Courses Incorporated booth, all 5,000 square feet of it, displayed the company's latest innovations, including a 180-degree curved Sky Rail and a Sky Tykes course complete with its own Sky Rail. More than 1,600 participants interacted first-hand with the two-level course and the Clip 'n Climb climbing walls, according to RCI, and many thousands more watched them.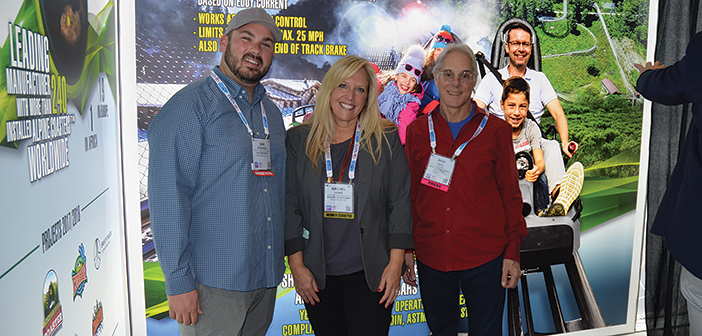 Adventure Solutions' ninja course also drew lots of onlookers and participants, including one in a T Rex costume who starred in a viral video from the show. That set-up, and netted attractions generally, were regular sights in the hall. Treetop Trekking was showing new nets made by a fishing supply company in Brittany, France. The nets are incredibly strong and durable, and come in several colors.
A notable entertainment development, Mountain Mile in Pigeon Forge, Tenn., displayed its plan for a major retail/hotel/restaurant/adventure/entertainment complex. The tentative plan includes 70+ acres of to-be-determined aerial adventure alongside a recently built $22.5 million baseball complex, in a locale that sees 15 million or so visitors a year.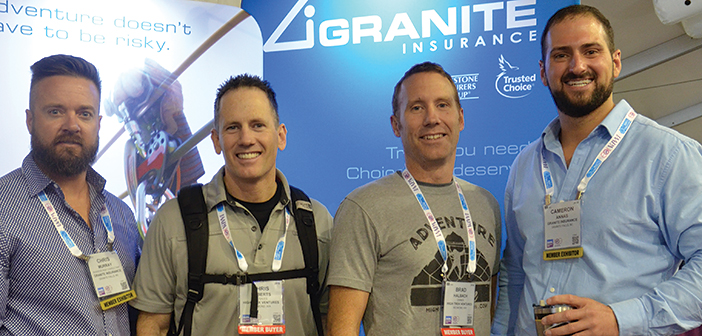 Otherwise, IAAPA was full of its usual array of amusement park rides, food, knick-knacks, arcade games, water features, and inflatable slides, play structures, and bounce houses. One exception to the usual was a 10-foot-high bounce house in the shape of the smiling pile-of-poop emoji, which drew plenty of attention.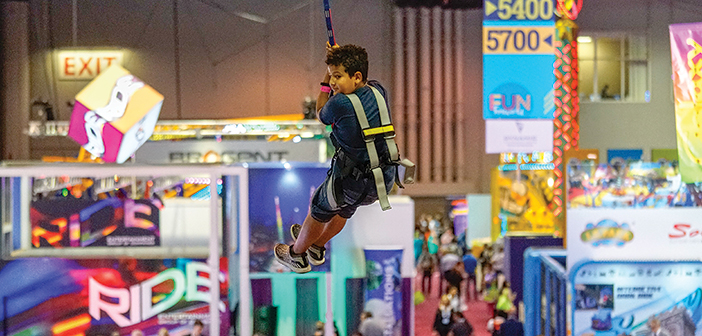 For all that, several exhibitors felt the show was less busy than previous years, despite a record number of both exhibitors and buyers (26,600 of the latter). The apparent lack of energy may have been due to a new Exploration Station hall outside the main convention hall; the Station, housed in two large tent structures, seemed relatively energetic and upbeat compared to the main floor, and helped spread out the crowd.
Next year's IAAPA Expo will be held Nov. 18-22 in Orlando.