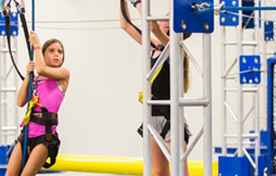 ZavaZone, an indoor adventure park operator, is adding a third location: Potomac Mills, a shopping center in Prince William County, Va. The planned 21,000 sq. ft. adventure park is still in the design phase, but is expected to open in late winter 2020.
Like ZavaZone's other locations, the Potomac Mills adventure park will be a self-guided, choose-your-own-adventure facility. Guests will be able to move through a variety of activities spread across "zones."

While the layout is not finalized, ZavaZone marketing coordinator Leila Cockerham said, "Our ceilings are 24 feet high and we plan to use every inch of it." The Jump Zone will likely include features such as trampolines, trampoline dodgeball, trampoline stunt jumps and a battle beam area; the Adventure Zone will feature a high ropes course, a parkour course, and ninja obstacle courses; and the Vertical Zone will have climbing walls, drop slides, and giant stairs, for example.
ZavaZone selects suppliers based on the needs of each individual park. The team is still too early in the design phase to confirm suppliers for the Potomac Mills location, but, said Cockerham, ZavaZone is always on the lookout "for the newest, coolest equipment on which our guests can maximize their healthy fun."
"ZavaZone is excited to bring family fun in motion to the Potomac Mills area," said Joe Henry, founder and owner of ZavaZone. "Our multi-attraction, challenge-by-choice facility allows people of all ages and abilities to create their own adventure."
The indoor adventure parks aim to offer something for everyone from toddlers to grandparents. Pricing is based on use of the entire facility rather than per attraction, and non-participating visitors can accompany family and friends free of charge.