The Online Tourism Academy is launching a brand-new virtual summit: COVID-19: Realities, Opportunities and Essential Next Steps. The free, two-day, live online event is scheduled for April 2-3.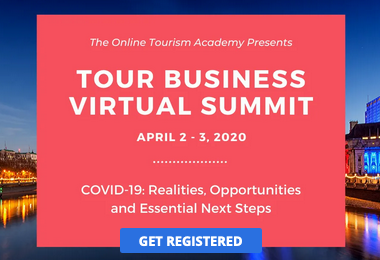 Open to all tour and activity industry peers, the summit will include workshops, panels, interviews with industry thought leaders, and practical insights on how to cope in the current global climate. Topics range from finance and marketing to consumer psychology in the wake of a crisis.

Among the items on the agenda:
"Managing Cashflow in a Crisis," with Casey Clark, CEO and co-founder of Cultivate Advisors
"Coronavirus Battle Plan: Marketing Through The Crisis," with Chris Torres, founder of the Tourism Marketing Agency
"Designing Experiences for a Post Covid World" (panel discussion)
"Online Tours and Digital Products: Benefit from the Surging Demand" (panel discussion)
interviews with tour business leaders like Josh Oakes, owner of multi-million dollar operation Melbourne Private Tours, and Peter Syme, owner of 1000 Mile Journeys, on what they learned from the SARs epidemic and the 2008 financial crisis.
Registration and a complete list of sessions are available on the event website. Participants can attend live from their homes, and the Academy will also provide complimentary recordings of all sessions.