The Association for Challenge Course Technology (ACCT) annual conference and expo (Jan. 19-29) is going virtual in 2021. It will be different than the traditional in-person gathering, of course, but ACCT aims to make it equally as useful and beneficial for exhibitors and attendees. The key is how to best utilize the platform to learn, generate new ideas, and connect, even if we're not face-to-face.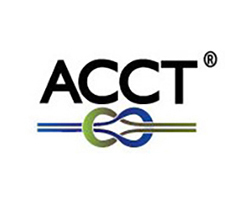 Here are some best practices for attending virtual events:

Create a list of goals in advance.
What are your goals for attending the show? Learning about new technology? Meeting with a new potential supplier? Networking? Whatever your goal may be, create a list of what you'd like to accomplish and learn. This will help you quickly identify sessions to attend and people to meet. Note: The ACCT workshops will be available for viewing for a full calendar year to registered attendees, so if you miss one of interest that isn't on your goal list, you can always check it out later.
Check out the list of exhibitors in advance and schedule appointments.
While there will be open trade-show hours, the best way to have meaningful conversations that meet the goals you set is to schedule time with the exhibitors you hope to talk with. Not only will this guarantee quality time with the rep, but it also allows the exhibitor to do their homework and prepare for the conversation with you. The vendor directory will be available for a full year, but if you want to chat, prepare to drop in or set up that one-on-one appointment time. The exhibitor list and the ability to set up appointments will be available soon!
Decide what sessions you want to prioritize.
The ACCT conference workshops will be available for a full year, including pre-conference sessions. Unlike a live event, where attendees have to select just one, in the virtual environment attendees can register for, and attend, all pre-conference and regular conference sessions as you so choose. However, identify the sessions that will be of most use in meeting your goals and prioritize those during the conference week. You can always come back and watch other sessions later! See the full list of workshops here.
Block time for the event on your calendar and be fully engaged.
You may be attending from home and work never stops, but do what you can to block the time off and focus on achieving your set goals. Make sure your family and your co-workers know when you'll be busy attending the conference. Make an effort not to check email, surf the web, or fold laundry while you're attending sessions. One trick is to take notes on paper rather than typing them on your computer so you're not flipping back and forth between screens. This helps you stay engaged.
Get familiar with the platform to avoid day-of technical drama.
The ACCT conference will be hosted on the Cvent platform, which has an attendee hub allowing participants to schedule appointments, view workshops, and participate in networking events. Cvent connects with Zoom, which will be the tool utilized for meetings, live workshops, and networking sessions. We've all used Zoom at this point, but if you haven't, you can learn how to join a meeting here.
Snack breaks!
Block time on your calendar for snack and meal breaks. Virtual events can be just as taxing as in-person, and you need fuel. The best part? You get to choose your favorite snacks, and they're always just steps away.
Attend networking events.
There will be several opportunities to network, virtually, with other attendees. Networking at a virtual event is certainly different than in-person—and it's even easier! It's easier to connect with other professionals who have your same interests since you can "look around the room" and check out who is there and open a chat dialogue with the people you are most interested in talking with. Check out the schedule here.
Set up time to review and re-watch.
Make sure to set up time with your co-workers to review the sessions you've attended and get the rundown on the sessions they attended. What are the takeaways? Did you achieve your goals? Now is the time to follow up with exhibitors, re-watch sessions, and connect with new contacts after the show.
Are you registered for the ACCT conference? Registration is open all the way up to the final day of the event (Jan. 29, 2021). See you online!