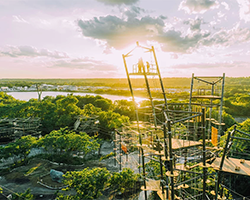 Years of planning, permitting, designing, and construction came to fruition July 17 when The Forge: Lemont Quarries opened outside of Chicago at what is said to be North America's largest outdoor adventure park. As if the logistics of building a multi-activity facility with 260 challenge elements and zip lines, mountain bike trails, climbing walls, watersports, and more weren't enough of a challenge, add to it a pandemic that took off in the U.S. as the finishing touches were being put on the park.
In a recent feature in Forbes, co-founder Jeremie Bacon described the challenges the project has faced over the past five years. The Forge: Lemont Quarries is built on the site of an old dolomite limestone quarry in what is called the Heritage Quarries Recreation Area. According to Bacon, previous proposals for turning the quarries into a recreation hot spot over the past 20 years foundered for a lack of funding. One stumbling block: the property had no water or utility infrastructure. That add to any project's expense.

After breaking ground in September 2018 and spending nearly two years building the needed infrastructure, things got complicated in March 2020. COVID-19 quarantine and shelter in place orders prevented many specialist vendors from traveling to the site. In several cases, new vendors had to pick up where others left off.
COVID-related changes came to operations and finances, too. "[W]e had to rewrite our entire operations plan to accommodate COVID-19," said Bacon. "Financially, we did the same. Our industry is undergoing significant near-term changes in response to the crisis, most of which are likely to persist well into the future.
"In many ways, we're lucky to be opening now, because we don't have years of operational inertia to keep us from being nimble and responsive to challenges and opportunities as they arise. All things considered, we were quite fortunate to open the park on July 17, 2020."
Now that it's open, The Forge: Lemont Quarries wants to stay open and protect all guests and staff from COVID-19. It has implemented physical distancing guidelines, the use of protective equipment for guests and staff, the practice of proper hygiene and sanitation, and disinfection of common and high-traffic areas. Advance reservations are required and all attractions have specific start times. No more than 10 guests are allowed to congregate in any location. Virtual queuing is used to manage wait times, and actual queues are marked to help guests remain six feet apart. Face masks are required throughout the park, and head coverings—such as a bandana or baseball cap—must be worn under helmets. Gloves with a reinforced palm are also required on the appropriate activities.