Danny Boren's story is a tale of contradiction. Somewhere around the turn of the millennium, Boren and his father, Buck, left their home in Hawaii for a surfing vacation in Central America. Who leaves Hawaii to go surfing? Unfortunately, when they arrived in Central America, the ocean was stirred up into an unsurfable froth by hurricane winds.
So on their surfing vacation, father and son ended up heading inland to the mountains. There, in Costa Rica, they discovered canopy tours featuring a relatively unknown concept at the time: zip lines. It was then that something clicked in Boren's brain—which is a hyperactive place where dreams of adventure and dreams of entrepreneurship engage in a lively interplay. Not long thereafter, back home in Maui, the Borens began assembling what they now claim was "the first zip line company in the USA."

Again, there was something contradictory in play, or at least something that went against common sense. The Borens knew next to nothing about zip lines. And they were trying to introduce a new, adventure activity in Maui, a place already overflowing with adventure activities. If Maui visitors couldn't get their fill of water sports, there were hiking tours, downhill biking tours, ATV tours, horseback tours, and helicopter tours away from the beaches. What crazy tourist would take a chance on an activity that even the operators knew relatively little about?
Carving Out A Niche 
The Borens teamed up with Experience Based Learning, today a leading installer of zip lines, to build the platforms and rigging lines. They had little to go by—zip line standards for construction, operations, and safety had yet to be developed. According to Danny, the ACCT manual at the time had "maybe one page for zip lines." Ropes courses offered some guidance, but he admits they were more or less flying blind.
In December 2002, Skyline Eco Adventures opened its first zip line tour at Haleakala Ranch on Maui, although it would be another three months before the company would see its first paying customer. With construction complete, the biggest challenge lay ahead—"trying to break into the competitive tourist business in Maui," says Danny.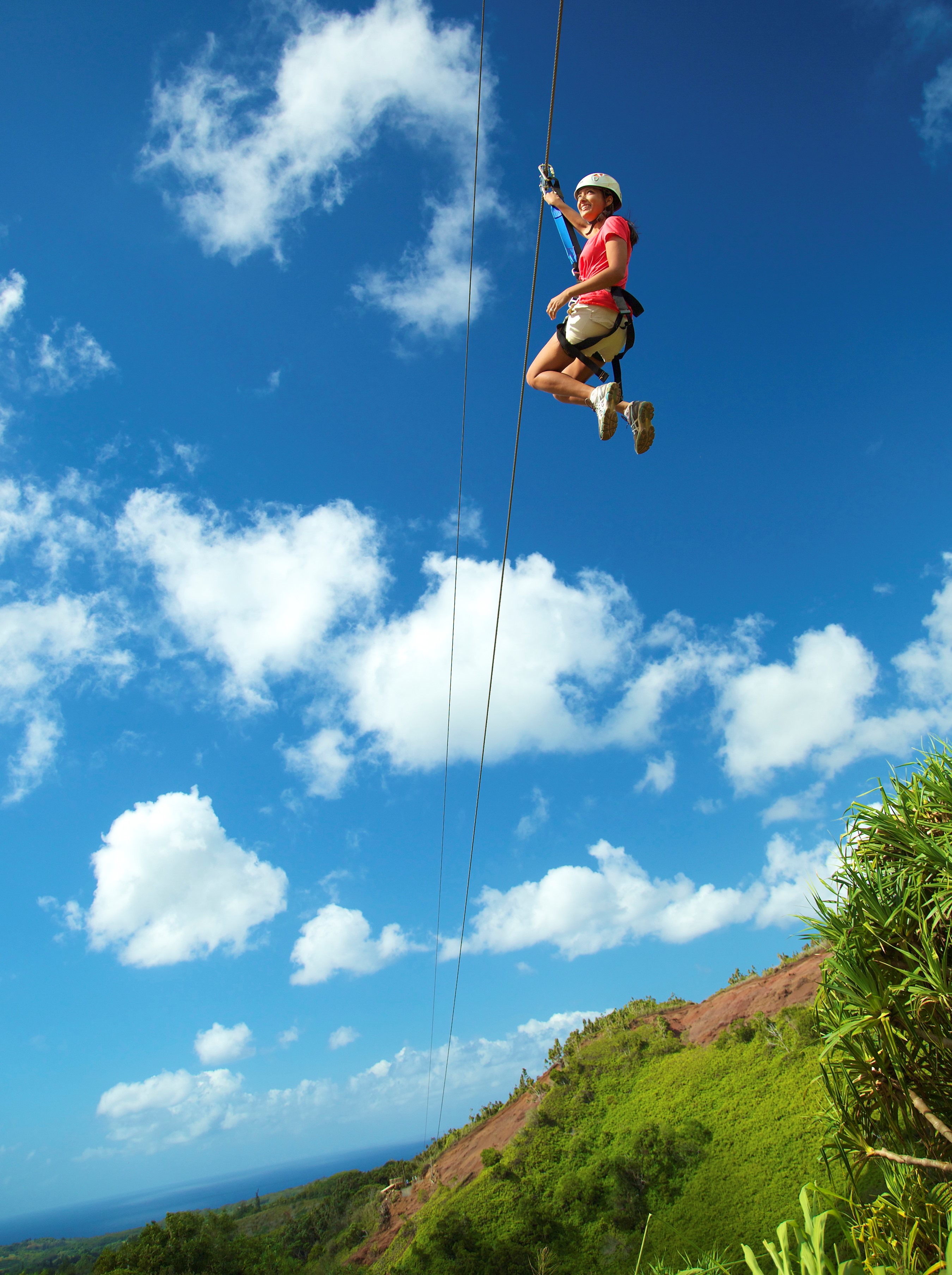 Initially, the Borens "pushed it as a more adventurous version of a hiking tour." Guests would take a short hike in to the start, then zip back and forth across the natural splendor of the Haleakala ravine. Advertising in local publications was a means of getting the word out, but perhaps Skyline's most important marketing assets were the concierges at Maui hotels. If a concierge was sold on the concept, that enthusiasm would be passed on to hotel guests. Pretty soon, business was booming.
It took about five years for the Borens to pay back their initial $250,000 investment, and by then, expansion seemed a logical next step. But not before Skyline had earned a reputation as a safe, responsible, and well-managed operation.
At least two principles were key to Skyline's success. First, as Danny says, "hiring the right people was critical," especially in positions that require guest interaction. As Danny puts it, "You can train someone to be a guide, but you can't train someone to be nice."
Second, the main selling point was the intimate experience of being in an extraordinary natural environment. That meant generous spacing between groups was essential. "In order to preserve the guest experience, you don't want tour groups to ever see each other," says Danny. That might have limited Skyline to a guest maximum of 120 a day at the Haleakala location, but the Borens determined that, in the long run, a strategy of optimizing the guest experience rather than trying to maximize numbers was the best route to long-term profitability. Consistently full bookings during the peak holiday seasons seems now to bear out that decision.
Home Is Where The Heart Is
By 2007, expansion of the business was underway. The Borens were unafraid of venturing far afield, and for a relatively short period of time operated a zip line at the Dollywood theme park in Gatlinburg, Tennessee, before pulling out. Hawaii was what they knew best. So they opened a second zip line operation in 2007, with eight- and 11-line tours at the Ka'anapali Resort on Maui, to go with what had become a five-line tour at Haleakala.
In their next move, in 2011, they decided to franchise out a Skyline operation on the Big Island of Hawaii rather than take an ownership position. Implicit in any franchising plan is the risk of degrading brand integrity, but the Borens knew the franchisees well and were confident that they would maintain Skyline's high standards. The Borens helped the franchisees with permitting, construction of the seven-line installation, and guide training. For compensation, they agreed to an arrangement of having a royalty fee paid as a percentage of bookings.
Two years later, they went back to an ownership role. Through a combination of a bank loan and self-financing, they opened their next location at Poipu in Kauai with five- and eight-line options. To protect its brand integrity there, Skyline sent its "main Maui guy," as Danny puts it, to manage the Kauai operation.
Today, Skyline is a company of about 100 employees, a size that Danny believes is still manageable enough to assure a quality guest experience. It would take growth to about 300 employees for Skyline to risk exceeding its management capacity, Danny says.
With expansion has come modernization, especially on the marketing front. The Borens recognized quickly that the world of information was making an electronic shift, and that print advertising as an effective means of reaching their customers was diminishing.
Danny knew the importance of a strong web presence and felt fortunate to be able to acquire, in 2005, the domain name "zipline.com." On that standout platform was built a vibrant and engaging web site, loaded with well-produced videos. "Online is huge," says Danny, and points to the web site, social media, and such sites as Yelp and TripAdvisor as Skyline's main marketing tools.
It Takes a Community
While the Borens stumbled upon their business future in a foreign country and briefly took heir show on the road to Tennessee, they are, at heart, Hawaiians. Their connection to the local community and appreciation for the local environment, says Danny, are principal sources of strength for their business. Rather than regarding other activity providers as competitors, Danny believes that they all do better as allies. "We do well as a business," he says, "but we are part of the Hawaiian community."
Skyline has tried combo tours with bike and ATV companies, but has tended toward carving its own niche. Nevertheless, says Danny, Skyline's interaction with other tour operators remains cordial and mutually supportive. As long as there is enough tourism business for everyone to get a fair share of the pie, cutthroat competition doesn't make sense. In effect, all these companies are a unified force in selling the same thing: Hawaii's natural beauty.
Which is why the Borens are proud of their environmental record. The company claims to have given more than $1 million since 2002 to non-profit groups promoting such causes as native forest restoration. "We're big environmentalists," says Danny, and while there is no doubt a robust spirit of altruism in that statement, it is also a smart business decision. After all, a pristine natural environment is Skyline's lifeblood, so assuring its preservation is also a way of assuring the continuity of the company's revenue stream.
The moral to the Skyline story: Life's journey can begin in the most unexpected—or contradictory—of places. But in the end, the road to success often leads back home.