The Rocklin City Council has approved a term sheet with Adventure Operators, LLC, a subsidiary of Bonsai Design, to take over as the new operators of Quarry Park Adventures in Rocklin, Calif. The city sought new operators after rescinding the original operating agreement on Jan. 9, 2019, with Legacy Family Adventures (LFA).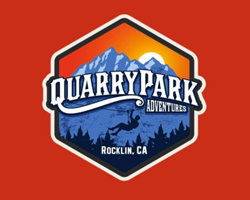 As the builder of the park, Bonsai is intimately familiar with the operation, and has experience building and operating other aerial courses throughout the country. The three-year term calls for a 50/50 revenue split and requires the park be open seven days per week. The terms also include $300,000 in city funds for startup costs, with additional funds to be set aside for contingencies.

In a related move, the City of Rocklin has filed a lawsuit against LFA, the original park operator, alleging fraud, negligent misrepresentation, and breach of contract, among other claims.
"Quarry Park Adventures is important to Rocklin's future, and it is our responsibility to ensure that the Park delivers a great experience for residents and the region," said Rocklin City Manager Steve Rudolph. "The City decided to move decisively to protect the investment made in the Park and took legal action to officially rescind the Master and Operating agreements with LFA as soon as we understood they were not a capable partner."
The new agreement between the City of Rocklin and Adventure Operators, LLC, is set to be ratified by the City Council on March 12, with a reopening of the park planned for this spring.
"Bonsai Design gained our trust through the process of building Quarry Park Adventures, and we are confident it will be a reliable operating partner," said Rudolph. "We look forward to reopening the Park this spring and delivering a great entertainment experience for the region for years to come."