The new Upla Adventure Park is opening outside Montreal on June 4. A fully netted attraction, accessible to participants ages 3 to 99, Upla has been billed as the first of its kind in North America.
Upla, which will be open year-round, has two offerings: a netted course and a "Treetop Village." It is the latest attraction from Arbraska, which owns seven aerial adventure operations around Quebec and Ontario, including several challenge courses, zip lines, treehouse villages, and a via ferrata. 

Upla's main course is made up of a series of suspended nets that hang 20 feet above the ground and link together seven trampolines, including one two-story trampoline, three slides, and one tunnel, all accessed via three ramps. It is entirely enclosed, so no harnesses are needed.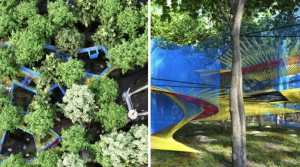 The netted "Treetop Village" is also a harness-free attraction. It includes seven treehouses—two of which are two-story structures—two spiral slides, a secret passage, a lookout point, and two access ramps, all linked together by enclosed suspension bridges.
A tour of the main course is slated to take two hours, and reservations will be required.