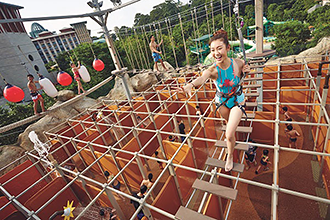 Amaze'n Mazes of Colorado has added to its resume of attractions with a unique double decker course at the Adventure Cove Waterpark, part of Universal Studios Singapore.
Participants begin on the ground level, moving through a labyrinth of dead ends and false starts—a hallmark of Amaze'n Mazes—but with a refreshing twist: sneaky water blasters and hidden water features surprise, and soak, maze-goers as they make their way through. The aqua maze is the first of its kind.

Above the maze is a high ropes course with four obstacles. The toughest part of the course, according to Amaze'n Mazes, is for participants is to try and maintain balance and avoid being distracted by all the running and shrieking going on in the water-logged maze below.
The entire attraction has a footprint of only 2,600 sq. ft. and the course is able to accommodate participants of any age and height.
"For theme park operators, the advantages of this configuration are pretty obvious," said Greg Gallavan, founder and owner of Amaze'n Mazes. "In one relatively small amount of space, operators can offer two very distinctive, fun attractions and that can help reduce construction and operating costs while doubling the amount of guests they can accommodate in a small area," he added.
Gallavan has built more than 70 custom mazes in the past 25 years throughout the U.S. and in more than a dozen other international destinations.