By Paul Thallner, High Peaks Group

Paul Thallner is founder and CEO of High Peaks Group, a firm specializing in team effectiveness, executive coaching, and leadership development. Paul is a regular contributor to Adventure Park Insider (API). As part of API's ongoing coverage of the COVID-19 virus situation, Paul will be sharing guidance and advice to help aerial adventure industry leaders navigate the developing, unprecedented scenario.

Dear Boss:
This is a tough, scary time with the coronavirus. You and I have an up and down relationship. But just like you, I've come back day after day because I'm committed at some level. And I want to know what that commitment means now and in the days and weeks ahead.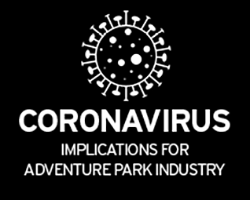 I imagine we're both scared. I don't expect you to have all the answers. But I am looking to you for leadership right now. I sincerely understand why you've closed the business. But you need to know that I'm worried. Will you bring me back? Will that unpleasant conversation we had three weeks ago come back to haunt me? Do you even see me and my suffering?
If I felt completely safe and courageous, here's what I'd ask of you:
Please tell me what you know and don't know. I need practical information so I can make important decisions for myself and my family. If there is something you don't know, just be honest. Making up answers or equivocating won't help me and it won't make other things you say credible.
Treat me like an adult. I know that you have to make decisions. Some of those decisions will be very difficult and may involve me, my friends/colleagues, or my community. Please make the decisions you need to make and trust that I'll be OK. I'm scared, but I'm also resilient.
Do what you can for us. I'm not expecting you to pay me for not working. But, I definitely want to know what you plan on doing, if anything, to help me through this. I will be grateful for your thoughtfulness, and I'll understand that you'll do what you can.
Let me help you. I know that bosses can feel the weight of the world on their shoulders, and you're no exception. If you're trying to be the hero in all this, please stop. I would be honored to help you in any way, even if it's just being available to talk about problem-solving. Just know that I care about you as a person, too, not just as a boss.
I hope we all get through this safely. I'm sure we'll all learn a lot from this, but right now it's messy. Thanks for listening and be well, boss.
Sincerely,
Your Employee