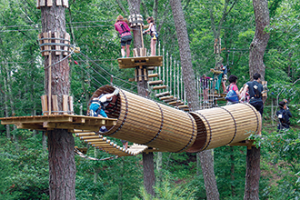 The Sandwich, Mass., zoning board of appeals unanimously approved a special permit for The Adventure Park at Heritage Museums and Gardens. If no other appeals are filed, the park, which was closed in August 2018, will reopen in the near future. No opening date has been set.
The adventure park was shuttered in 2018 after a Superior Court Judge ruled in favor of an appeal brought by a small group of neighbors, who argued that the operation was not used for "educational purposes," as its original permit required. As a result, the judge ordered the park to close immediately.

At a hearing last Tuesday, Heritage's attorney submitted a new plan to the Sandwich zoning board designed to meet a required 100-foot setback from property boundaries, according the The Cape Cod Times. The new plan also identifies the aerial adventure operation as a "small-scale community outdoor recreation facility" and not an educational one, although education remains a key part of the park's mission.
---
From the Winter 2019 Issue: Franchising 101

Pros and cons, for both franchisees and franchisors.


---
Outdoor Venture Group, which built and operates the facility, offers discounts to schools and provides local restaurants with coupons for discounted participation, which, according to the board, helps to meet the "community" requirement of the new special permit. "I think it ties into the community very well," said board member Robert Jensen.
The attorney representing neighbors who oppose the park asked the board to consider continuing the hearing to later date so the public could read the new plan. Jensen pointed out that the plan Heritage submitted was the exact same one it submitted before, only revised to meet the requirements of the 100-foot setback. The board denied the attorney's request.
On the homepage of the adventure park's website, Outdoor Venture Group wrote: "Thank you, Sandwich! We are greatly heartened by the support shown by the Zoning Board of Appeals in its recent, unanimous decision to approve a special permit for The Adventure Park at Heritage Museums & Gardens.
"While we are not yet able to announce a reopening date, we assure you we are working diligently to comply with remaining permit requirements and look forward to the day when The Adventure Park can return to participating as a member of the community."