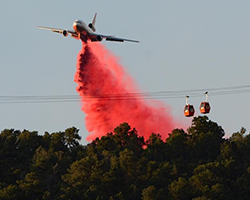 Add wildfires to the list of challenges aerial adventure operators have faced in 2020. Among the many businesses impacted by wildfires across the West, and in Colorado in particular, is Glenwood Caverns Adventure Park outside Glenwood Springs, Colo.
The Grizzly Creek fire in Glenwood Canyon, which began on Aug. 10, has torched 30,000 acres on both sides of the canyon carved by the Colorado River. The blaze has closed I-70, which parallels the river for more than 10 miles in the canyon, for more than a week, and forced the closure and evacuation of several facilities.

Glenwood Caverns shuttered operations Aug. 13 as a 20-person hotshot crew arrived to assess the risk to the park and how to protect it. "It is hard to express just how grateful we are for these hotshots at the park and for all of the first responders battling the Grizzly Creek Fire and other fires throughout the country," Glenwood Caverns co-owner Steve Beckley said.
Crews working to contain the wildfire this week kept it from spreading closer to Glenwood Springs (and the Caverns) to the west as well as the populated areas east of the canyon. Dozer lines were constructed on Iron Mountain below the Adventure Park, and planes and helicopters have dropped hundreds of thousands of gallons of red fire retardant on adjacent mountainsides. Firefighters have established a base camp at the park, with temporary water tanks and hoses primed with water in case the fire approaches.
Glenwood Caverns had reopened in early June after a nearly three-month shutdown due to the coronavirus pandemic. Owner Steve Beckley said that park attendance declined about 28 percent in July compared to July 2019, but the revenue decline was less, as those who showed up spent more on tickets, food, beverage, and souvenirs.
"We kind of had it figured out and we were pretty close to last year's revenue," he told the Denver Post.
Beckley hopes to reopen for Labor Day weekend, before summer transitions to fall and attendance drops. The park's 250 staff are ready to return and reopen the park at a moment's notice, he added. However, the fire is less than 5 percent contained, and there is no scheduled reopening of I-70 through the canyon.