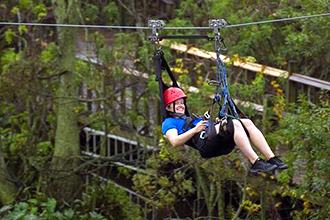 Gatorland in Orlando, Fla., opened a new zip line that's accessible to guests with mobility challenges and other disabilities. The wheelchair accessible Gator Gauntlet features a 350 foot cable travelling over a lake filled with alligators.
"We're very excited about the launch of the Gator Gauntlet accessible zip line. We're not aware of any other place in the Southeast that's offering this type of experience," said Gatorland president and CEO Mark McHugh. "One of the primary objectives at Gatorland is to make our attractions accessible to as many people as possible."

Riders must meet certain strength, coordination, and size requirements in order to ride the Gator Gauntlet. In particular, they must have the ability to transfer themselves out of their wheelchair and into a Gatorland wheelchair. Staff members will then secure the participants in a specially designed hammock-like harness. Friends, family, and caregivers can assist with the transfer, if necessary.
Guests must also have enough upper body strength to maintain their hold on a set of lanyards, and to pull the release cable at the start of the zip.
For more information on the Gatorland Gauntlet, visit www.gatorland.com