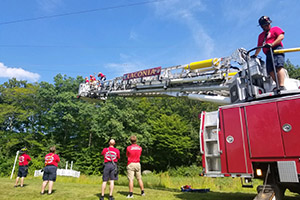 Last week, in a textbook emergency action, the Laconia (N.H.) Fire Department rescued a 16-year-old girl and a staff member stranded on a zip line at the Monkey Trunks zip line course in Weirs Beach, N.H.
Monkey Trunks has three locations, and all of its zip line tours, including the Weirs Beach tour, are self-navigated with staff positioned throughout the course to assist. After failing to reach the platform, the teen slid backward and got stuck in the low point of the line, approximately 40 feet above a pond. Two staff members rode from the launch platform, hoping to move the teen to the landing platform, but were unsuccessful.

They quickly realized they needed additional assistance, so Monkey Trunks called on the Laconia Fire Department, which retrieved the two. Chief Kirk Beattie estimated that the teen was suspended on the line for no more than 30 or 40 minutes. "Once we got there, within a few minutes, we were able to get them down," he added.
---
Do you have an emergency action plan?

Preparing for the Worst: From Spring/Summer 2018
---
The teen and rescued employee were given an on-site check, and neither required additional medical attention.
The Weirs Beach zip line course has nine lines totaling 1,800 feet long, with 11 additional challenges staggered between the zips. The line where the teen and employees got stuck is a 65-foot-long zip over a pond. "Fortunately," said Beattie, "we were in an area where we were able to drive our bucket ladder in to rescue the girl and one rescuer." The other employee, Beattie noted, was able get back to the starting platform.
The incident marked the first time that the Fire Department had been called out to Monkey Trunks since the department had visited the facility many years ago to assess the safety of the set-up, Beattie noted.