Vail Mountain, Colo., unveiled its new mountaintop Epic Discovery project in late June. The resort began development of the Epic Discovery components in summer 2014, with the completion of two ropes courses, summer tubing, a four-line Zip Flyer, as well as a kids' challenge course and kids' zip line at what was known as Adventure Ridge. This summer's additions include the Game Creek Aerial Adventure, a seven-segment zip tour, and Forest Flyer mountain coaster. And that led to the "Epic Discovery" designation.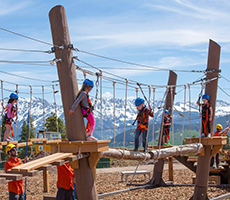 The Epic Discovery facilities surround the top terminal of Vail's Eagle Bahn gondola—2,100 vertical feet above Lionshead Village at Vail—as well as the Eagle's Nest lodge and restaurant and the Adventure Ridge pavilion. There is also a climbing tower, mini tubing hill, bungee trampolines, mountain biking, an off-road vehicle tour, nature center and a ridgetop observation deck overlooking the Holy Cross Wilderness, all in close proximity to the gondola and restaurant. All are part of an eventual $25 million investment in summer operations at the resort.

Epic Discovery aims to immerse guests in "learn through play" activities that provide big-time thrills, challenge guests physically, and guide them to explore and better understand their natural surroundings. Vail Mountain and Heavenly, Calif., are implementing the concept this summer, and in 2017, Breckenridge, Colo., will follow.
The Game Creek zip tour, created by Bonsai Design, may be the most ambitious of all the installations. Its seven lines descend from Eagle's Nest ridge into Game Creek bowl, where guests ride a chairlift to the top, then lead back to the starting point. The two longest lines are 2,700 and 2,400 feet, and speeds can reach 60 mph. The tour takes about four hours.
As part of the learn-through-play theme, there's also an expanded trail system peppered with mountain flora and fauna, and "story stakes" featuring information about the local environment. In addition, the trails offer a series of installations that demonstrate animal abilities, such as vision, stride, agility, and strength. Vail partnered with The Nature Conservancy, the U.S. Forest Service, and Walking Mountains Science Center on these elements. In return, Vail will contribute one percent of all summer lift ticket and activity revenue to The Nature Conservancy for forest restoration projects.
Epic Discovery day passes cost $89 for adults and include the gondola ride up the mountain and most activities, but not the Game Creek tour, which is an additional $100. An all-day kid's pass is $49, but excludes the Forest Flyer and zip tour.
Vail Resorts was the first resort Forest Service leaseholder to submit and implement a comprehensive new summer activities plan under the Ski Area Recreational Opportunity Enhancement Act passed in 2011. Forest Service officials expect that the procedures and rules developed in conjunction with the Epic Discovery project, including the educational element, will guide future projects.
"I think that this new adventure we are on is going to be something special for the community and for the people experiencing it," said U.S. Forest Supervisor Scott Fitzwilliams. "We want to do more than just activities up here, we want to connect people to their natural forest."