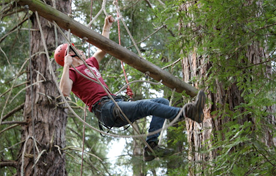 Challenge Sonoma Adventure Ropes Course (CSARC) in California is planning to build a new challenge course at a second location. The new challenge course will be built on property owned by the Hanna Boys Center and will be owned and operated by Pinnacle Outdoor Adventures, a company created by Dianna Rhoten, the owner and operator of CSARC.
Operational since 1984, CSARC is a tree-based high ropes course in the redwoods forest on an undeveloped piece of California state property. The lease on the property is currently being renegotiated and is subject to a 90-day "termination without cause" provision—hence the desire to build at a new location, explains MacKenzie Smith, a former challenge course manager for the site and a current consultant on the expansion.

"Both sites [CSARC and the Hanna Boys expansion] will be overseen by current management but will serve different demographics, have different purposes, and different staff," said Smith.
CSARC, a non-profit, was designed with a mission to support youth-at-risk in the Sonoma Valley. To defray the costs of this mission, CSARC also offers premium ropes course experiences to community and business groups. The new Hanna Boys Center course will be pole-based and larger, able to accommodate closer to 3,000 guests annually compared to CSARC's 2,000 annual visitors, and will potentially work with local schools and target a younger demographic.