Boundless Adventures opened its second location on June 16 in Berlin, Mass. The outdoor park features seven treetop aerial adventure courses that include zip lines, bridges, and unique rope challenges.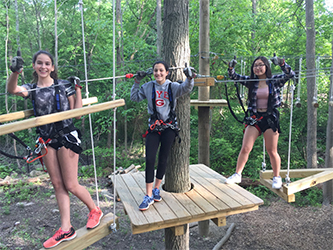 The courses range in difficulty from beginner to expert and range in height from 10 feet to 40 feet off the ground. The easier courses are designed to allow children as young as age seven to participate while supervised by an adult.

The first Boundless Adventures location opened in March in Purchase, N.Y. Owners Lorrie and Brian Funtleyder underwent that project with a partner, but set off on their own for this new operation. "We had a specific vision of where we saw the business going and we used our contacts in the industry to help us go it alone," said Lorrie. "We had a lot of financial and operational data from our first park, which was very helpful in building a business plan."
The effort stems from a sincere interest in the business and the industry, according to Lorrie. "This is the one and only business that has been able to evoke the passion and excitement in us to devote the blood, sweat, and tears required to be successful," she said.
Learn more at www.boundlessadventures.net.