Water is one of the four classical Platonic elements. And if the great philosopher considered it essential, perhaps more adventure park operators should put it to good use.
Water, in a variety of ways, can be a great complement to land-based activities and provide a cool-down activity on hot summer days. Plus, as anyone who has watched pre-teen kids in a pool can tell you, water is immensely alluring to younger members of the family. In short, water works, especially for families.

Even for parks without natural water, there are creative ways to overcome that shortcoming. Some parks, of course, have natural water features at their disposal—lakes, ponds, rivers, and streams—either on site or close by.
Use Natural Water Features
Consider a couple of examples of parks using natural water features for activities to integrate with traditional, land-based adventure park activities.
Crater Lake ZipLine. Located in Oregon, the company is an outgrowth of Roe Outfitters, a well-established kayaking, fishing, and hunting guide service in the Crater Lake area. In 2015, owners Darren and Jen Roe decided to launch a new company, Crater Lake ZipLine, to add an aerial adventure tour to what they already offered.
A tour comprising nine zip lines, two sky bridges, and two rappels now spans a total of 1.5 miles, typically engaging guests for as long as three hours. Add a full morning's adrenaline rush of zip lining with a more mellow afternoon of still-water kayaking on nearby wetlands, and you have the kind of harmonic balance that Plato would have appreciated.
Because the zip line tour gives guests "something totally different," Jen Roe says, "it fits really well with what we were already doing." As different as zip lining and still-water kayaking might be, they still have broad appeal to a similar, family audience—both kids and adults, according to Roe. "Our product development [meaning the addition of the aerial tour]was based on what we like to do as a family," Roe says. When the Roe family went zip lining before creating Crater Lake ZipLine, both parents and children had an immense amount of fun and could see the obvious fit with their water-based activities.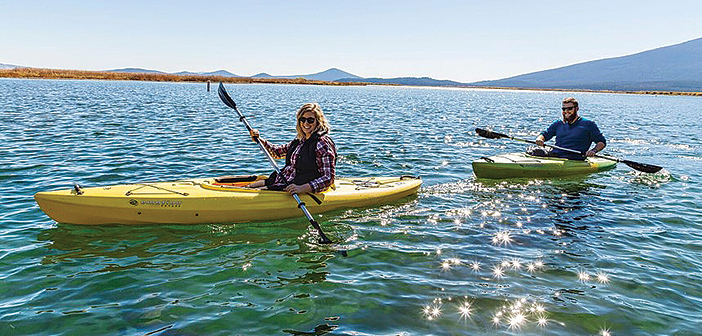 Splicing an adventure tour together with water activities has meant that the Roes can offer guests "a full day of adventure" that is not repetitive. That kind of well-balanced, full-day offering makes a lot of sense in an area that sees mostly vacationing guests (rather than day trippers), who are interested in more than just an hour or two of diversion from their daily lives.
Deep Creek Lake Adventures. Deep Creek Lake Adventures in Maryland took a different route into the adventure business. The owners of a marina decided in 2016 to "branch into the family-friendly adventure area," operations manager Jordan Smith says, by opening Splash Island, a waterpark consisting of inflatable elements. The following year, they went to dry land with the opening of Monkey Business, an aerial adventure park, and more recently, added a weatherproofed activity to the mix by opening an indoor ninja course.
The idea, of course, was to round out a full package of complementary offerings. The waterpark consists of 30 inflatable elements made by Aquaglide, including water slides, a hamster wheel, and a jungle gym. Given the lake setting, it was a no-brainer. The waterpark offers a great cool-down activity for steamy Maryland summer days in a relatively low-cost enterprise.
The inflatable elements cost roughly $200,000 to $250,000 and are anchored to moorings weighing a couple of hundred pounds, according to Smith. Operational costs have been minimal, with a few lifeguards necessary for staffing and little more than the occasional re-inflation of the elements for maintenance. In addition, the inflatables can be stored in a relatively compact space when deflated for the off-season. With ticket prices going for $30 for the first hour and $15 for each subsequent hour, roughly 100 people a day on hot days could produce a nice revenue stream and a fairly quick return on investment.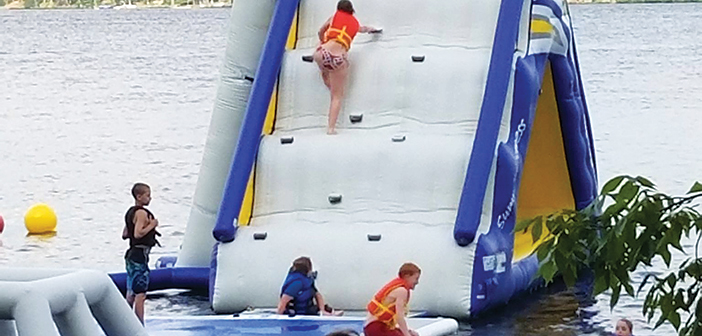 When Monkey Business came online, the fit with water activities was, like at Crater Lake, obvious. While many guests engage in both activities, the waterpark and aerial adventure represent great alternatives to match the moods of the weather. According to Smith, on cool, overcast days, the aerial adventure is the main attraction; the waterpark is the big draw on hot and sunny days. And now, with the indoor ninja course, Deep Creek Lake has all its weather bases covered.
Just Add Water
But what about adventure park settings without natural water features to exploit? Water can still be brought into the mix, and at a wide range of cost. A park operator can get into the water game for well under $100,000, or go big with an installation costing several million dollars.
WaterWars. In the early 1980s, the Woog family in Minnesota opened an ATV park that became a popular attraction, but after one especially hot summer, the family realized that they needed to offer a cool-down activity as well to beat the heat. Thus was born WaterWars, a company that supplies a range of inexpensive water activities.
Essentially, most WaterWars products are based on an old kids' favorite—a water-balloon fight. On aluminum-framed or inflatable structures, participants launch balloons not directly at other combatants but at overhead targets that release water and douse the opponent. Another product, Downpour Derby, provides a different way to douse participants on a hot day: up to four players pump water into overhead buckets until one bucket empties onto one of the players.
Some WaterWars products are portable, making them especially useful for special events, and some are stationary. But none are real budget-busters. According to WaterWars owner and president Tommy Woog, the price range per product is $6,500 to $65,000. In a typical WaterWars scenario, customers pay $2 to $5 for a bucket of seven balloons, with "a high percentage of repeat business," Woog says. He estimates that, when in full use, a WaterWars installation can produce $750 to $1,000 an hour in revenue.
In addition, Woog says a minimal amount of staffing is required, with "a decent percentage of parks running WaterWars without staff." That's music to the ears of any operator. Do the math, and, depending on weather, the return on investment for a WaterWars product can be pretty quick.
Full-scale waterparks. At the other end of the budget spectrum is a full-blown waterpark, the kind built by companies like Aquatic Development Group. According to Jessica Mahoney, ADG's director of marketing, the entry-level cost of an ADG installation is about $100,000 for a single splash pad—a deck that sprays water—and can rise to several million for a full waterpark with slides, rivers, and a wave pool. "One of the challenges is obviously the budget," Mahoney says, noting that the cost of a relatively simple installation of a FlowRider cove, with a wave deck and beach, can be in the $2 million to $3 million range.
Clearly, that's a budgetary hit that most park operators are unwilling or unable to take, but it can make sense for "parks that want to become destinations," Mahoney says. That might be an especially sensible strategy at a resort with hotel rooms to fill. As Mahoney points out, the additional amenity of a waterpark can allow resort operators to increase room rates as part of a package-pricing strategy.
Mahoney suggests that, to justify the expense of an indoor waterpark, a bed base of at least 250 rooms is probably a starting point. She points to Camelback in Pennsylvania and Jay Peak in Vermont as relatively remote four-season destination resorts where waterparks—outdoor and indoor at Camelback, indoor at Jay Peak—have worked well in rounding out the resorts' activities offerings.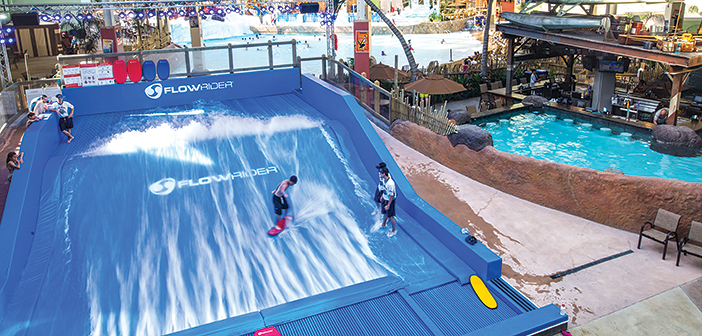 Integrate Water Fully
Geyser Towers. One final option is the full integration of water features into an adventure tour. That's the scenario for Geyser Towers at Stone Mountain Park, Ga. Rope bridges and net tunnels are the principal adventure components, with water erupting or spraying participants from time to time. For those who don't want to get wet, there are routes that avoid the water.
According to Nathan Jones, president of the Park Attractions division for Whitewater West, which installed Geyser Towers, the structure "checked a couple of boxes." It tapped into what Jones calls "the timeless interaction between children and water," but still did not entail the "giant [budgetary]leap to a waterpark."
It wasn't cheap—Jones puts the Geyser Tower construction costs between $1 million and $1.2 million—but in a warm-weather region like Georgia, having a cooling component built into an adventure course makes sense. And during cooler shoulder seasons, Jones says, it's possible to reduce the flow of water or turn it off altogether. In short, it works for all people and all seasons.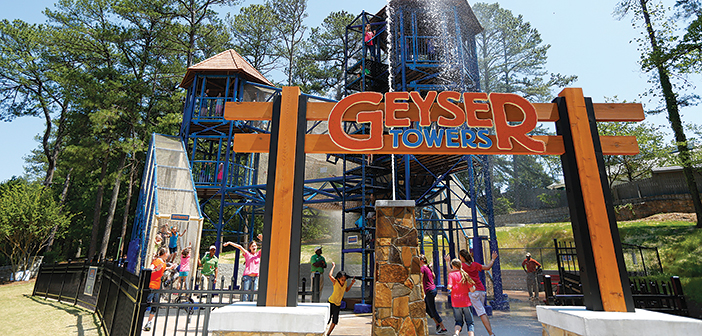 So as park operators figure out ways to incorporate water into their slate of activities, with aerial adventures covering earth and air, the next big challenge will be to incorporate the final Platonic element—fire. That could be very interesting.
Let us know if you pull it off.