Guests were climbing on course at TreeClimb aerial adventure park in Adelaide, Australia, Jan. 16, when the trunk of one of the course trees snapped in half. The 12-meter-long, two-ton section of trunk began to fall with children standing on the platform below it. Cables supporting one of the course aerial bridges prevented the tree from hitting the ground below.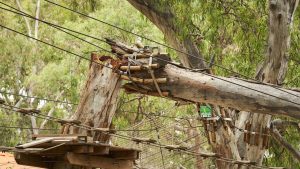 In a post on its Facebook page later that day noting that its Kids Course was closed due to a fallen branch, TreeClimb Adelaide said: "Safety is always our number 1 priority! All courses are checked by our team on a daily basis and all trees are regularly inspected and monitored by independent arborists."

TreeClimb, billed as the first inner city aerial adventure park in Australia, has multiple courses for adults and children linking large gum trees at varying heights. 
The majority of the park remained open while the failed tree on the Kids course was investigated.
The broken limb was removed and inspected Jan. 17, with a consulting arborist determining that a pruning wound not visible from the outside of the tree was the most likely cause of the incident.
"From a structural point of view, the tree didn't display any evidence it had an increased risk of failure," the arborist, Marcus Lodge, told South Australia News. High winds earlier in the month and fluctuating temperatures may have exacerbated the internal injury though, causing the trunk to crack and give way, he explained.
Following the arborist assessment and an inspection by SafeWork SA (South Australia) the course was cleared for business.
The falling branch was the second incident of its kind that month, according to one customer. The woman, who did not want to be named, told South Australia News that she was on course with her two daughters Jan. 5 when another branch fell. She said the branch belonging to one of the course trees was about 30cm wide, and at least four meters long.
"We recognize that dropping tree limbs is a risk of this nature-based activity, and have always managed this with extreme diligence," said the park in a statement after the Jan. 16 incident.
"Daily maintenance checks as well as three monthly detailed inspections of each element, combined with six monthly full arborist reports on every tree, make up our ongoing schedules," the statement continued.