You're getting those smartphone holders installed at your facility, right? You know, the ones that can hold your customers' device onto their harness so they can watch their screen while zooming through your park. It's the ultimate experience!
OK, back to reality. Yes, it's getting increasingly difficult to get people to put their screens away. But aerial adventure park operators are in the business of doing just that, by providing an experience that is all about, well, experience. You invite customers to do, not watch, and you create lifelong memories for them.

But once guests leave the harness and head back to their lives, guess what they're doing? They're right back to seeking new experiences through the device in the palm of their hands. If you're really lucky, they're even sharing the experience you just gave them with the rest of their world.
Video helps bring these experiential worlds together: the memories you're helping your customers make, and the memories they're sharing with each other online. Nothing quite unites these two spheres like video. This two-part series will zero in on the realities of online video today, and show how you can make the most of the ways your customers already use it.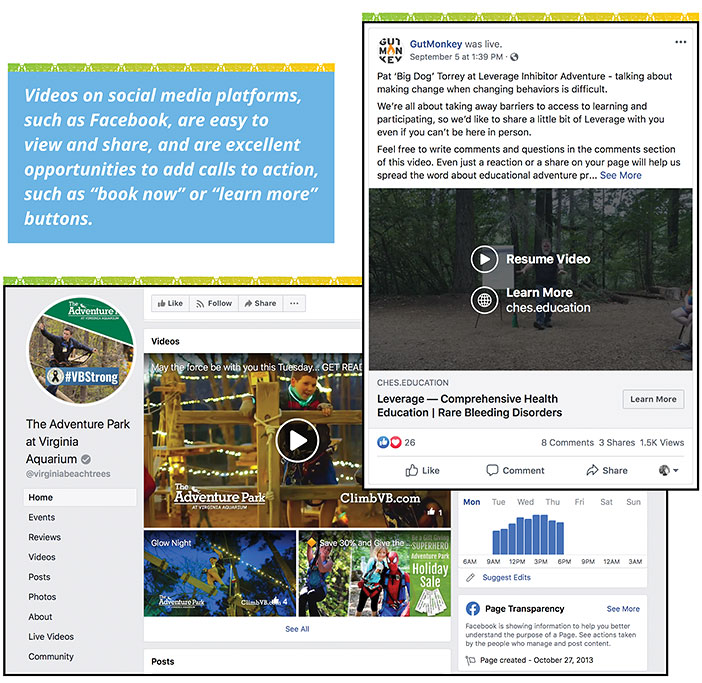 Powerful Influence
Today, information is instantly accessible through a multitude of devices, even our home's appliances. That makes it more difficult to get people's attention. Through all the noise, though, the most influential form of communication is video.
Think about the endless feed in your go-to social media app. What most often makes you stop scrolling? According to recent data, the answer is most likely video. It is what online users respond to the most consistently.
Here are a few telling statistics:
• Half of all social media users prefer to share a video—rather than a blog post or news article—they see in their feed.
• One out of three internet users watch YouTube videos regularly.
• Videos online get shared 1,200 percent more than images.
• Ninety-six percent of people surveyed by Wyzowl in December 2018 said they prefer to watch an explainer video about a product or service before buying it.
This is our current reality. And that's why so many businesses and brands are exploring ways to tell their story via video. That is, if they aren't already basing a ton of their marketing strategy on it. Today's race is for the eyeballs of consumers, and their eyes are gobbling up video content. More importantly, video moves their fingers to tap Share and Buy Now buttons with equal enthusiasm.
Video Isn't New, But It Is On the Rise
If you're a regular reader of Adventure Park Insider, this is hardly the first time you've seen an article about the importance of using video in your marketing and operational strategy. And that value is growing. Two years ago, 63 percent of marketers surveyed by Wyzowl declared they were using video to promote their business. One year later in 2018, that number rose to 81 percent. And in 2019 it's up to 87 percent. All this video appears to be working; 99 percent said they plan to continue using video in 2019, and nine out of 10 plan to spend more on video marketing than they have before.
Videos on Websites = Conversions
It's easy to assume that a video is just one piece of pretty content floating in a vibrant pond of a marketing strategy. Producing a video takes time, effort, and can cost money. But who's going to see it? How can it be turned into a worthwhile effort?
Let's do a bit of reverse engineering and talk about where we hope all customers end the first leg of their journey to your facility: the ticket purchase.
Most of the time, there's more than one way to buy a ticket. According to the Adventure Park Insider "State of the Industry Report," the three most popular booking methods for aerial adventure operations are: over the phone, online through your website, and walk-up. Since it can be labor-intensive to answer questions and provide information, how can the online experience be made more thorough and interactive? By using video, of course.
With that in mind, here are just a few ideas for videos you can use on your website:
• How to find us: Use a dashboard camera to shoot a time-lapse video of how to reach your site from a major highway or intersection.
• Action videos: For each feature you offer, provide a short, active video of how the experience looks and/or feels.
• "About Us" videos: Everyone loves a good story, and if your park's founder or owner has a good one to tell about how and why the park got started, that can seal the deal for a website visitor to decide to purchase.
Still on the fence about whether you should make any or all of these videos? Consider this: According to Social Media Today, when a video is on a website landing page, conversions (actions or sales) on that page increase by 80 percent. If your "Buy Now" button is on the same web page as your "About Us" video, the odds of getting the sale are substantially better.
You've Got Mail
Email marketing is one of the most effective ways to drive visits to your website. If you are building subscriber lists via newsletters, personalized reminders, or any other types of email drip campaigns, using videos in your emails can dramatically improve their effectiveness. Per Social Media Today:
• Use "Video" in the email subject line. If the email teases out the promise of a quick video experience, your subscriber is 19 percent more likely to open it.
• A video in an email can increase click-through rates—getting that prized click on a button—by 200 to 300 percent.
Keep in mind that you should never actually embed or attach a video file to your marketing email. The file size is just too big. You'll want to host the video online on a platform such as YouTube, making it easy to deliver the video via email.
Social Loves Video
Video plays extremely well (literally) on social media apps. But if you're thinking you have to try to create one of those "OMG it's viral" videos, don't bother. It's virtually impossible to create a video that is assured of going viral. And often, starting out with that intent can increase the chances that it goes viral—for all of the wrong reasons.
Instead, focus on what you know, and what you want guests to know. Aerial adventure parks can showcase features, experiences, staff, and customer stories through the power of video, and all of these subjects work fabulously on social media. Some ideas for effective videos on social media include:
• Explainer videos: These are easy to craft because they often are inspired by your FAQs. How do I need to dress for a day at your facility? What should I expect? How do I get there? Uncomplicated, yet very beneficial. And since 96 percent of shoppers prefer to watch an explainer video before making a purchase, a little work goes a long way. Plus, according to Wyzowl, 41 percent of marketers who use explainer videos say the videos have helped cut down on support calls.
• Testimonial videos: With more than 65 percent of online shoppers using reviews from other customers to help make their decisions, sharing the thrilled expressions and kind words of your happiest guests can tip the scales in your favor. It doesn't have to be a two-minute soliloquy; it can be a series of one-word or one-phrase exclamations you capture with a smartphone. You can also ask leaders of recent group outings to your park to send you a few words on video of how the experience helped or entertained their group.
• Montage videos: These PowerPoint-style videos can be a simple timeline of still images with overlaid text and music playing along. While these may not have any actual video footage included, the viewing experience is similar, and it can be far more effective for someone to see a series of your communications in one timeline.
These are just a few ideas for videos you can create and publish. And, once you embrace video creation to share the story of your park's experience, the stage will be set for your customers to do the same. You'll be leading the way for your story to be shared far and wide through the power of video, on countless feeds and online channels.
Ready to get started? The second article in this series will dig into the how-to, the resources, and the best practices you can use for effectively adding video to your marketing strategy.