Some entrepreneurs seek to create great adventure parks. Others have grander ambitions, aspiring to build something closer to adventure empires. The owners of Xcaret, the resort complex in Cancun, Mexico, fall into the latter category.
Xcaret's numbers are truly staggering by ordinary adventure-park standards: at least eight parks, three hotels, dozens of food-and-beverage outlets, 12,000 employees, and 4.5 million visitors a year. The extent to which "adventure" defines each park varies considerably; while the Xplor park, for example, is all about zip lining, rafting through caves, and UTV excursions, the Xoximilco park is focused entirely on Mexican fiesta culture, with essentially no adventurous activities in the mix. Xel-Há, featuring a 131-foot-tall lighthouse-like tower with a long, corkscrew-like water slide, is basically a water park, with a zip line and bike paths tossed in for variety.

And then there's the adventure-focused Xavage, completed in 2019 at a cost of $100 million, which includes a massive, four-level ropes course, a twisting and turning zip-line rail ride, whitewater rafting, and more.
Although Marco Hernandez, manager of operations for the Xavage and Xoximilco parks, was unable to come up with a total investment figure since Xcaret's inception 33 years ago, the numbers clearly point to a massive investment over time. With Xavage costing $100 million, it is probably fair to assume that the billion-dollar mark in overall investment has been comfortably breached. And if all that still seems to fall short of empire standards, consider this: in the works for the next five years are three more park installations and nine more hotels. Add it all up, and Xcaret is, according to Hernandez, the largest leisure company in Latin America.
An Adventure Park Evolution
Xcaret is an empire that has evolved over several decades, and in some ways, it was ahead of its time. Construction of the first park, the eponymous flagship Xcaret, began in 1989, according to Hernandez, at a time when "adventure park" had yet to become a part of recreational nomenclature. Instead, the original park came into being under the rubric of ecotourism, a booming business in the late 1980s. Even today, the original park cannot be considered an adventure park in the strictest sense of the word: It is billed on the company's website as both a water and amusement park and an eco-archaeological attraction designed to take visitors on a tour of local ecology and culture.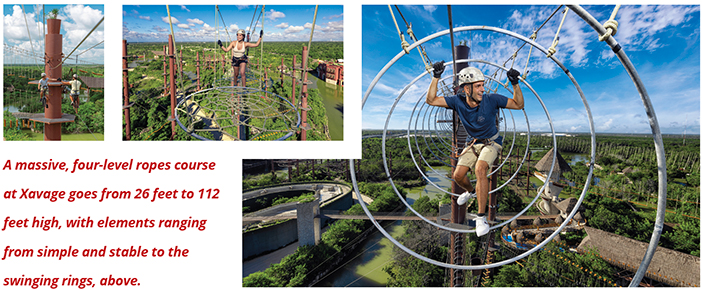 That's a sprawling concept on a sprawling tract of seaside property, close to 200 acres for the original park alone. Adventurous activities, mostly water-based, blend with themes and attractions drawn from Mexican culture (e.g., churches, a village square) as well as 11 F&B outlets. So, no zip lines or canopy tours or other components typically associated with adventure parks. But with that first Xcaret park, a seed that would sprout adventure in the current park definition of the term had been planted.
Adding aerial adventure. As more parcels of land were acquired and more parks brought into the mix, more typical adventure-park activities came into the equation. Xplor, built 12 years after Xcaret and the fourth park in the family, stakes a claim today to being the most visited zip line park in the world. It includes two seven-segment zip line circuits for a total of 2.4 miles of zip lining through the Playa del Carmen jungle and a "Hammock Splash" zip ride that carries riders in a netted swing seat from a 13-foot-high platform to a splash landing inside a cenote (a waterfilled cavern), in addition to several cavern-based activities, such as a self-guided aquatic caving trail, underground swimming and rafting, and an amphibious vehicle tour.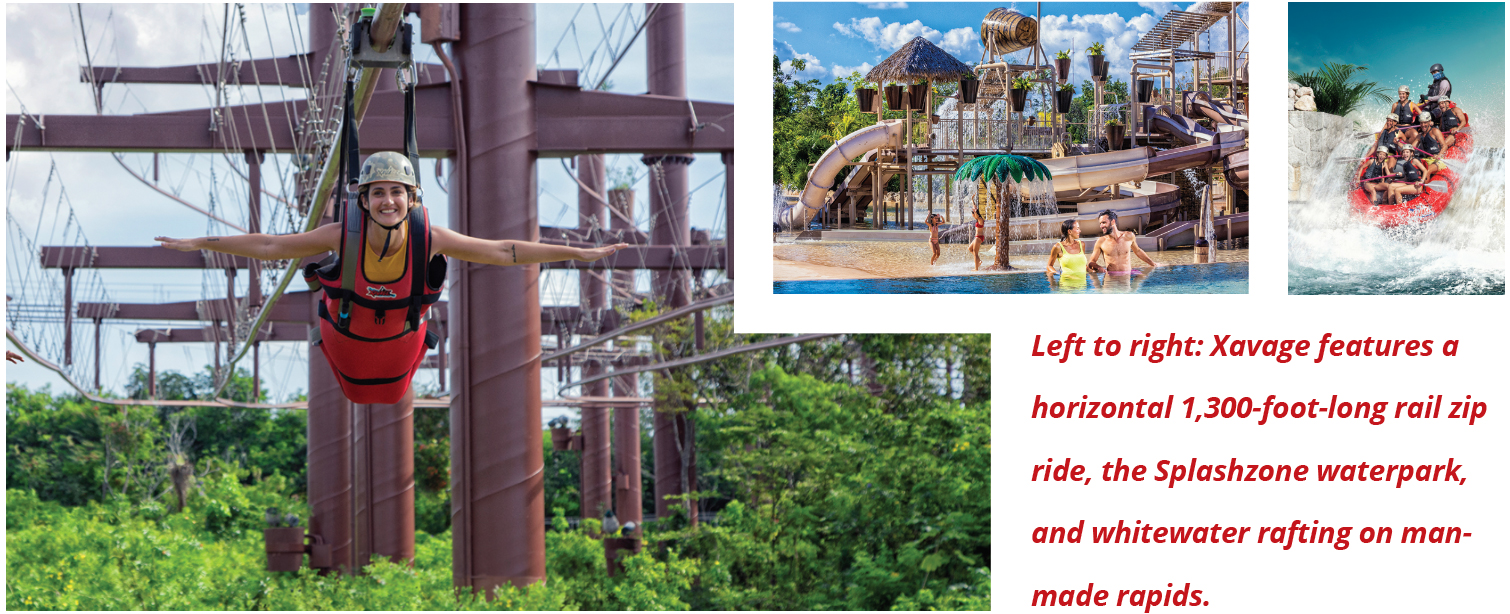 The aforementioned Xavage, built in the Yucatan interior, 25 minutes from Cancun, is what Hernandez calls "the most extreme park," mixing water, aerial, and land-based adventure activities. Among its featured activities is a pole-supported ropes course with four difficulty levels. At the first level, just 26 feet off the ground, the challenges are relatively simple and stable, designed for kids and less confident adults. The hardest of the four courses—a dizzying 112 feet off the ground—features such elements as a series of swinging rings to walk through and a hanging bicycle. 
There is also the 1,300-foot-long Superman-style horizontal rail zip ride that is 65 feet off the ground, as well as a water park, whitewater rafting on what Xcaret calls "the longest man-made circuit in the world," a UTV obstacle course, and kayaking and jet boating excursions in the park's man-made canals.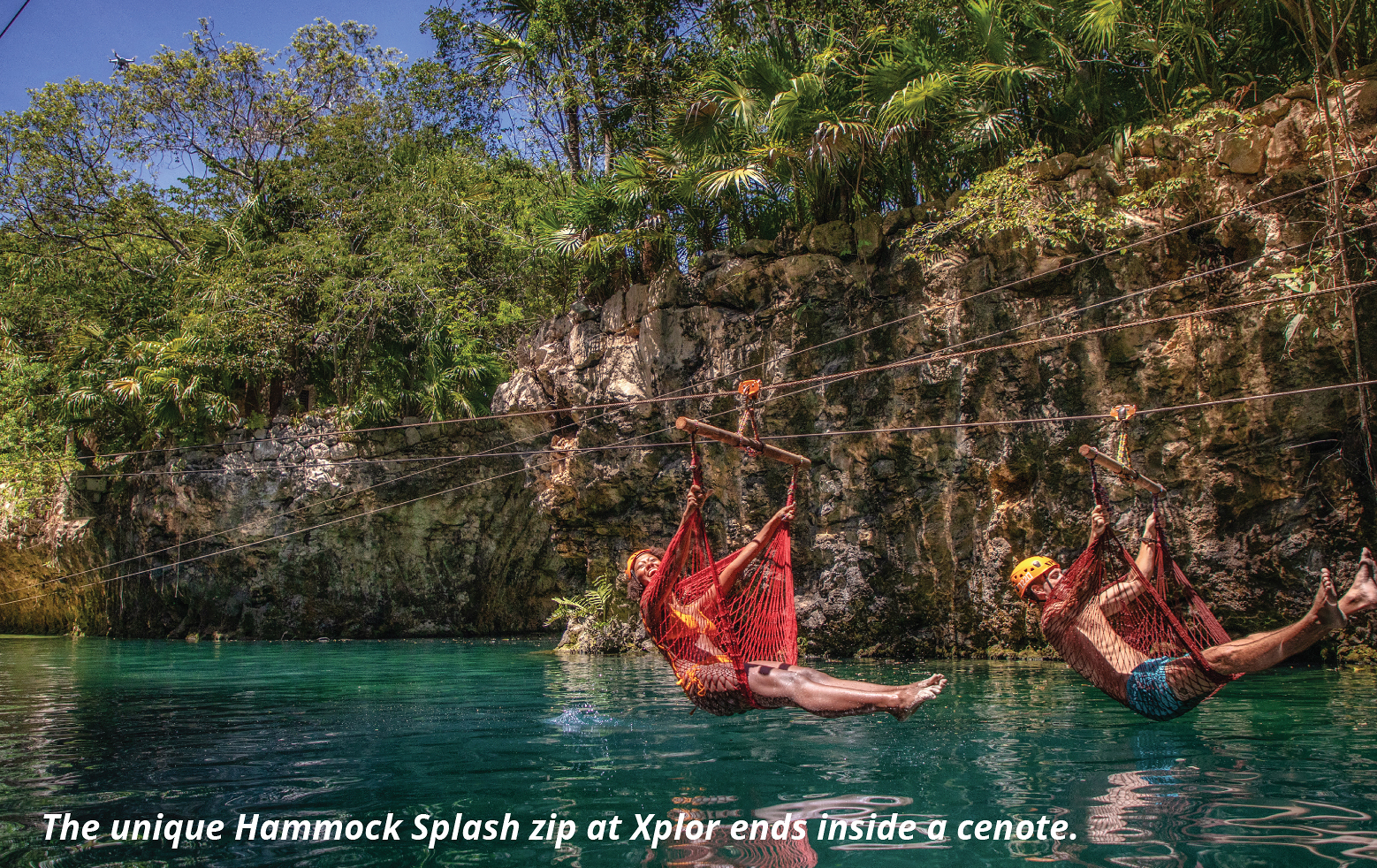 Designed for everyone. The idea with all the parks is to cover a wide variety of bases—adventure, ecology, culture, entertainment, archeology, history. Such an ecumenical approach was part of the company's fundament vision; in describing the parks, Hernandez uses such terms as "designed for everyone," "for the whole family," "for all people," and "all-inclusive fun." In other words, a smorgasbord to satisfy all tastes. Another priority has been to bring local ecology into the mix as much as possible—local fauna (aquatic, terrestrial, and airborne) as well as unique geological features, most notably underground rivers like those at Xcaret and Xplor.
Unique Model, Universal Considerations
For years, Xcaret relied on other hotels in Cancun to supply its park visitors, and only recently decided to get into the hotel business itself. The first hotel, the 900-room Hotel Xcaret, opened in 2017, followed two years later by the 900-room Hotel Xcaret Arte and in 2021 by the 63-suite Casa de la Playa. Hernandez says that the company was shooting for an initial occupancy rate of roughly 60 percent, but occupancy turned out to be close to 100 percent right from the start, no doubt a powerful incentive to keep on keeping on in the hotel-building business.
Having hotels in the mix represents a significant revenue boost, and also allowed Xcaret to build all-inclusive packages that bundle park use, hotel, F&B, and airport transport, etc., starting at a little north of $800 a night/day. It has created a completely captive audience. Visitors staying at other Cancun hotels are welcome in Xcaret's parks, but they must pay as they go, with eight-hour park passes, which include food and beverage, starting at about $200 a person.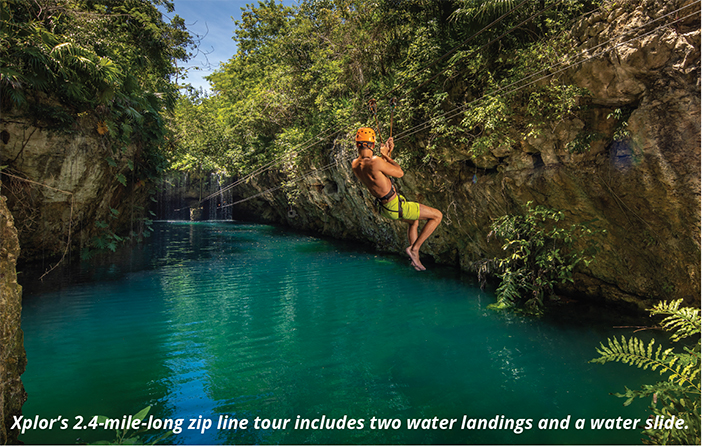 Staffing. Size, of course, brings with it both challenges and opportunities. Foremost among the challenges for Xcaret is staffing: the group must keep 12,000 jobs filled. In addition, because Xcaret is a popular destination for international travel, multilingualism among staff members is, in many cases, essential. Hernandez says that roughly 60 percent of Xcaret's employees speak both Spanish and English, but given the resort's overall visitation profile— guests speak French, Portuguese, Russian, Italian, Japanese, and other Asian languages—two languages represent the tip of the iceberg.
Like adventure parks and companies everywhere, hiring (or refilling jobs) in the wake of the pandemic became a particular challenge. The pandemic uprooted many Cancun residents, says Hernandez, and obviously for a company of Xcaret's size, achieving fully staffed status wasn't a matter of filling just one or two jobs here or there. That challenge remains ongoing, and given Xcaret's growth plans for the near future, it is unlikely to ease up any time soon.
Demand management. Size also presents traffic control concerns. Given that there might be more than 10,000 visitors in Xcaret's parks at any one time, at peak demand in some parks, the potential is high for long lines and resulting customer dissatisfaction.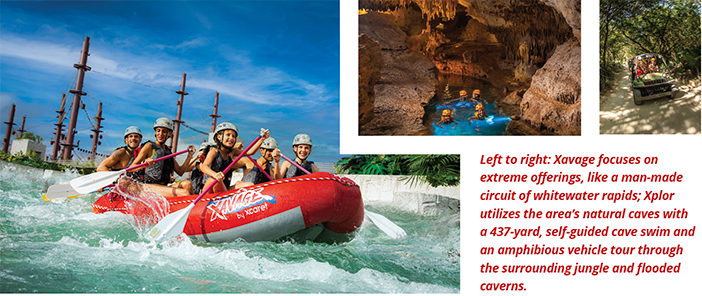 One way that Xcaret has sought to spread out the crowds is with an in-park traffic-light system to indicate which activities are backed up and which are lightly attended. The inclusion of numerous waystations also helps—rather than having just one or two rest stops for a drink or bite to eat, Xcaret has loaded its parks with restaurants and bars. That presents not only a means of spreading out the crowd but also additional revenue-generating opportunities: While food and beverage are included in packages, alcoholic drinks, souvenirs, and other incidentals are not. 
Construction considerations. Every park builder must deal with environmental issues unique to a particular site, but the larger and more ambitious the installation, the more those issues come into play. The kind of unstable soils often found in shoreline environments have had to be reinforced in places with stone and/or concrete, and Cancun is in a location especially prone to hurricanes. In 2021, says Hernandez, four hurricanes between Category 2 and Category 4 hit the Yucatan, and Xcaret facilities need to be built to withstand such natural forces. According to Hernandez, the parks can typically reopen a day or two after a hurricane has passed.
There are, of course, advantages to size as well. One, for Xcaret, has been financing. Because Xcaret is such a well-established company in Mexico with such a solid track record, there has been "no problem with financials," says Hernandez. Another advantage is that, because of the large scope of its ongoing development, Xcaret owns two construction companies. That helps to keep costs, and possible cost overruns, under control. And because the construction companies are focused exclusively on Xcaret projects, they have developed the expertise to take on the challenges unique to the area (e.g., local soil instability and the threat of hurricanes) as well as the unique demands of park and hotel construction.
Lessons in Scale
While Xcaret's scale might be hard for many park operators to relate to, there are still a few lessons to learn from the way the company has gone about its business. 
Embrace the locale. First has been to acknowledge the special features of the local natural environment—most notably the underground rivers in Xcaret's case—and to build parks incorporating and highlighting those features. 
Keep business in-house. Second, in order to maximize revenues and control costs, Xcaret has kept as much of the business as possible under its own roof, steering clear of independent contractors where possible. That means a fully interconnected revenue chain, from hotels to parks to F&B outlets, that can be combined in all-inclusive packages. That, of course, doesn't exclude the pay-to-play revenue from park visitors staying in non-Xcaret hotels, but it makes planning and revenue projections more predictable. And if, indeed, another nine hotels come on line in the next five years, control of the revenue stream should be even greater, as the percentage of Xcaret hotel guests visiting the parks grows relative to the number of day visitors.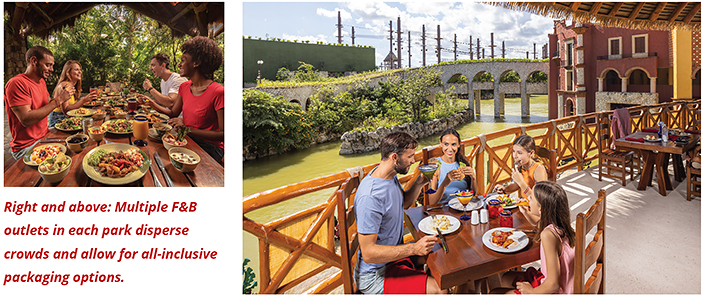 Be creative in crowd control. Finally, for parks anticipating significant visitation, having a layout with several points of entry to disperse crowds makes great sense. Xcaret's traffic-light concept to direct visitors to activities or locations with minimal waiting times seems a good means of crowd control. Multiple rest areas—rather than, say, one or two central F&B outlets—also accomplishes the purpose of dispersing crowd clusters. Not every park, of course, can afford 11 full-service food outlets, but even a smattering of small, self-service islands could do the job.
Look to grow. The Latin American leisure empire continues to expand. "We are always looking for special opportunities," says Hernandez, "always looking for new attractions and new land." The newest park, Xibalba, is almost 100 miles from Cancun in the heart of the Yucatan interior, where underground caves, the kind of natural feature that Xcaret parks typically highlight, abound. 
Perhaps that's the final lesson to be learned from Xcaret: No matter what your size, never stop looking for growth opportunities, wherever they might be found.