Adventures in the great outdoors continue to trend upward. Throughout the pandemic, people flocked to the outdoors to stay occupied, and the explosive ongoing growth of the overall outdoor industry attests to the fact that this trend doesn't appear to be changing. What has changed, though, is who is heading outside and how operators need to communicate with them.
It's also important to recognize that while more people are getting outdoors, they are not spending as much time outside as they did during the pandemic. Additionally, those going outside are more diverse and less knowledgeable about the outdoors. All said, outdoor businesses have a lot of opportunity but still have work to do if they want to draw more visits.

PARTICIPATION TRENDS
Overall, more people are getting outdoors. The Outdoor Industry Association (OIA) 2022 Participation Trends Report found that the participant base for outdoor recreation grew by 2.2 percent over 2021, to 164.2 million participants in the U.S. In other words, more than half (54 percent) of Americans participated in at least one outdoor activity in 2021.
That represents a nearly seven percentage point growth over participation levels since Covid began in early 2020.
Respondents to Adventure Park Insider's 2022 State of the Industry Survey reported similar findings, showing growth in youth participation, and steady participation numbers across adults ages 18-54.
This participation boom is both an opportunity and a challenge for operators. More people are exploring outdoor activities. Whether they participate once, twice, or 20 times per year, this growing and increasingly diverse audience provides operators with new markets to tap.
The challenge: increasing frequency. Connecting with new markets that are showing an interest in the outdoors should be a recipe for growth—as long as we can convince folks to get out more often. While more people are getting outside, OIA reports that the number of outings per person is declining. Many people are participating in outdoor activities just once per year.
This trend is also reflected in the API State of the Industry Report, which found an average drop in repeat visitation of seven percentage points, to 35 percent, down from 42 percent of visitors in 2021.
Additionally, the growth in participation is coming from increasingly diverse markets. In the long term, this is a great thing for the outdoors, as outdoor activities tend to be "sticky"—once someone begins to participate, they are likely to continue participating. In the short term, though, operators will have to spend time and energy reaching and educating these new markets on the operators' specific activities.
Let's talk. This education effort will require a more significant marketing lift, as operators will need to reach beyond their traditional markets, utilize a wider variety of channels, and maintain greater visibility of their marketing messages to make up for lower repeat business.
Operators must also start talking to new markets via new channels. Consumers increasingly shifted to digital resources during the pandemic, a behavior trend that's unlikely to change in the post-Covid world. Additionally, with the wide variety of online channels, operators need to be strategic and constantly review the ROI of their channel mix as they attempt to reach their audiences.
HOW ADVENTURERS SHOP
Arival, an international resource for in-destination experience providers, produces research reports covering the worldwide travel market. This research has identified some key trends within the overall "path to purchase" that are relevant to adventure attraction operators. Many of these trends align with the results found in API's own State of the Industry Report.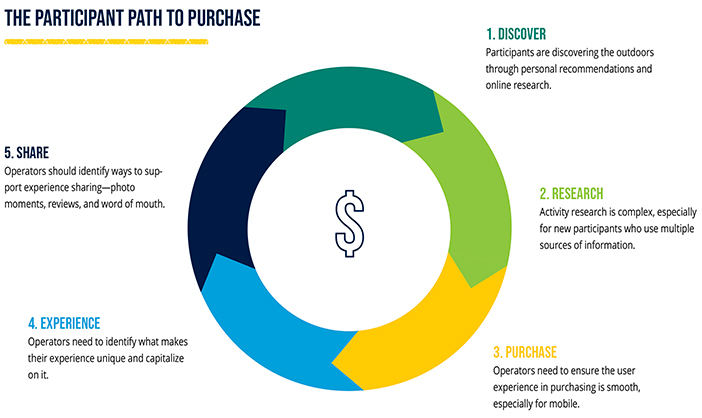 Path to purchase. Arival has created a "life cycle" model for the process that travelers go through in deciding what activities they will pursue (see "The Participant Path to Purchase," above). Throughout the discover and research phases, friends and family rank as the number one source for attraction information. This is reflected in the State of the Industry Report as well, with word of mouth being the second most utilized marketing channel by responding operators.
These data also put additional weight on digital channels as information resources for activity participants, with online search, social media, and traveler review sites/apps all ranking in the top five, according to Arival's Global Attractions Traveler Report (at right).
Speaking of digital channels, participants have been booking online more (including operator websites and apps, and online travel agencies) in recent years compared to on-site bookings. Since 2019, digital channel use for bookings has increased seven percentage points, to 58 percent in 2022, according to Arival's Outlook for Operators Report.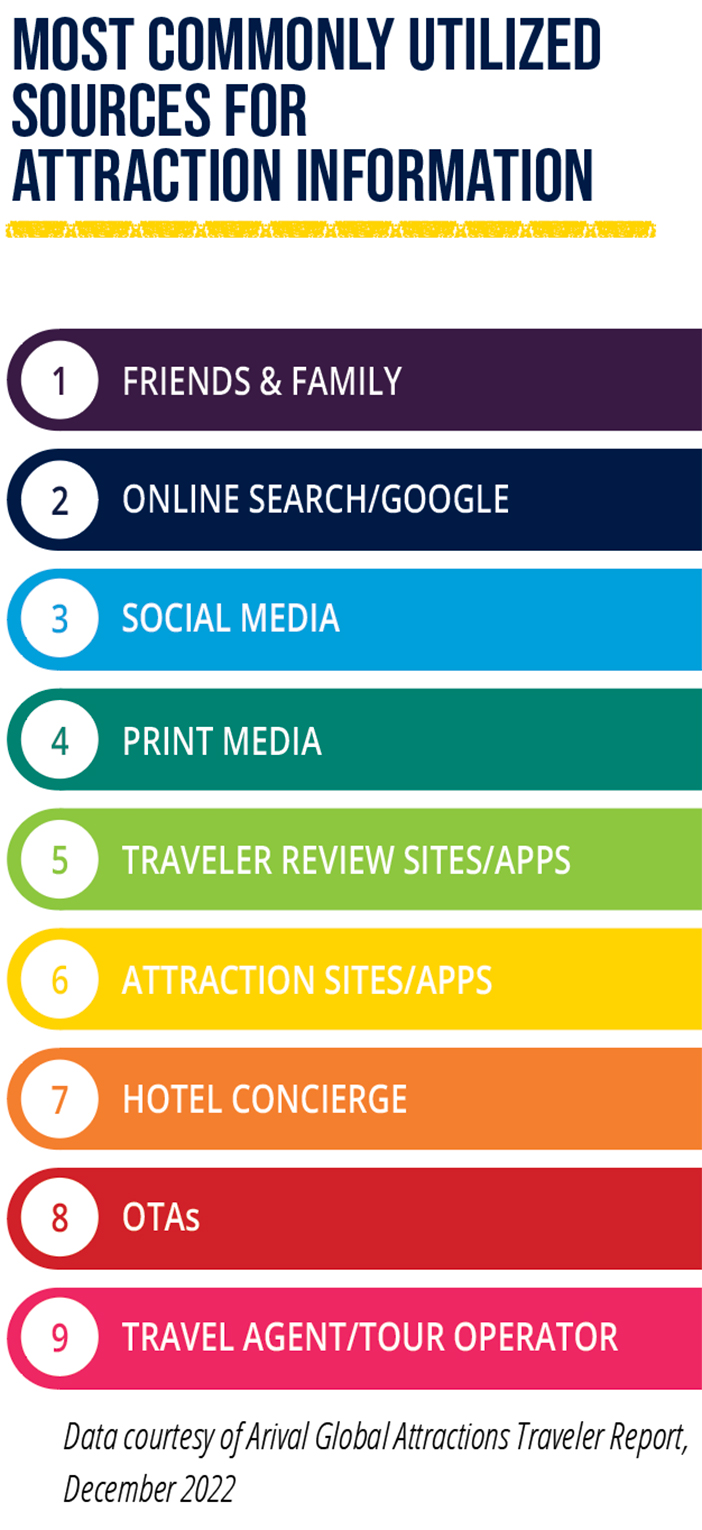 MARKETING MIX
With the growth in digital/online channels, operators may feel they need to be everything, everywhere, all at once, but that's not recommended, nor entirely possible. Instead, operators need to be strategic with their marketing channel mix and frequently review that strategy as well as channel efficacy. Not only do operators have the challenge of attracting new outdoor consumers who may not fit historical profiles, the lower frequency with which these consumers visit the outdoors also poses a challenge.
For example, word of mouth is less effective in communities that are new to the outdoors. There just aren't as many champions of the outdoors in these communities, relatively speaking. That puts the onus on operators to identify ways to build up strong word-of-mouth referrals through referral programming, creating opportunities for social posts, social reviews, or leveraging reviews on traveler sites. There is great potential for effective word of mouth if operators take steps to introduce these new markets and encourage referrals.    
SEO and SEM. Since online search is the second most commonly used information resource, operators may need to look at ways to boost their online profiles. In 2022, State of the Industry Survey respondents reported Google search engine optimization (SEO) and search engine marketing (SEM) were the second and third most effective marketing channels, respectively, followed by company website and digital advertising.
However, only two-thirds of respondents (66 percent) utilized SEO, and just over 40 percent utilized SEM.
For Google-happy newbies to the outdoors who may not be knowledgeable enough to do a direct search, these tools are paramount for elevating search engine results and making specific operations more easily identified during the research phase. More operators can benefit from employing these tools.
The gram. Social media is a key tool in the digital marketing arsenal, not only for brand visibility, but also for social reviews. Social media platforms are a key tool for attractions research, but operators need to stay on top of which platforms their target audience is using. Instagram and Facebook are the most well-known and influential platforms, and aerial adventure operations are active on them: 69 percent of State of the Industry Survey respondents utilize Facebook organic posts, and 59 percent utilize Instagram organic posts. However, those platforms are losing market share among younger travelers, especially those 18-34.
Where is the younger audience? Arival has reported explosive growth for TikTok, finding that one in four travelers ages 18-35 utilize the platform to research activities. This is a prime example of the need to consistently review the efficacy of each channel being utilized and how it fits within the greater marketing mix for each operator.
Booking. Many operators who were slow to adopt online booking began to shift in the last decade, and any laggards were forced to adopt digital channels during the pandemic. According to Arival, attractions—which most commercial aerial adventure operations would fall under—saw the share of bookings made directly through their website increase from 24 percent in 2019 to 41 percent in 2022. This trend is likely to continue.
A strong digital presence, with messaging that directs guests to the operator website, can help increase direct bookings.
Also on the rise in the digital booking realm is the use of mobile devices to research and book tours, activities, and attractions. Arival found that mobile bookings accounted for more than half of attraction website bookings in 2022, up from 37 percent in 2019. Operators who want to leverage this must ensure that their websites and booking platforms are optimized for use on mobile.
OTAs. Online travel agencies (OTAs) are the fastest-growing booking channel, at least in the overall travel sphere. According to Arival's Outlook for Experiences Report, released in October of 2022, worldwide gross activities and attractions bookings will grow from a little less than $8 billion in 2019 to nearly $20 billion by 2025.
OTAs are much less commonly used by activity operators, especially in the aerial adventure space. In our API survey, just 5 percent of recreational respondents reported utilizing OTAs for booking, and just 6 percent of respondents reported placing advertisements on OTA sites. However, those who used OTA ads reported them as the most effective marketing channel used.
OTAs are fast-moving, and as activity operators in the broader travel market were slow to adopt digital booking, they ceded ground to these marketing behemoths—a trend which Arival predicts will continue. That's due in part to the launch of platforms such as Google's Things to Do, a tours and attractions initiative introduced in 2021. Google has positioned itself as the verb for "to search" and dominates the discovery and research phases of the path to purchase; now it aims to dominate booking as well. While it is not yet clear whether Things to Do will drive more direct or OTA bookings, as of now, OTAs appear to be at the forefront of this and other new platforms.
OTAs and other indirect booking resources, such as destination management companies (DMCs), may cut into bottom line revenue per booking. But data from both Arival and the State of the Industry Report indicate that this may be a worthwhile expense in exchange for the marketing leverage. For operators in destination markets, it may be worthwhile to explore how OTAs can fit into your booking strategy.
LOOKING AHEAD
Adventure operators remain optimistic about the future. State of the Industry Survey participants reported visitation growth goals of 23 percent on average going into 2023. Arival reported a similar outlook, thanks to the easing of Covid-related government restrictions. A note of caution, though: Arival reported that optimism dipped slightly in the U.S. and Canada between January and September of 2022, primarily due to uncertainty as a result of inflation and the potential for an economic slowdown.
Despite the concerns, with new markets opening up, operators may be able to double down on their digital presence to entice new consumers into the outdoors and rebuild strong word-of-mouth for aerial adventure activities.