Kong X-Five and X-five Fast Harnesses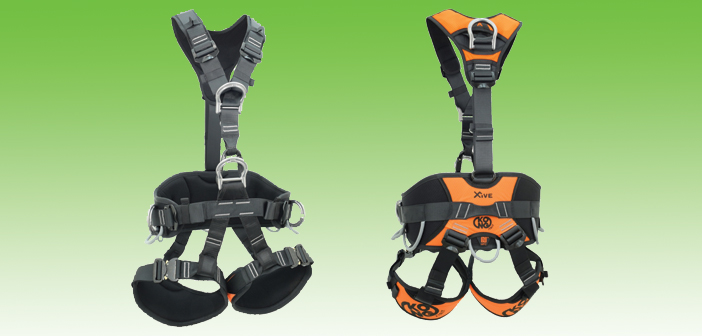 Kong has launched a new series of full-body work harnesses designed for rope access suspension, positioning, restraint, and fall arrest. All models are lightweight and adjustable, with high-visibility color accents on the back and lower parts and ergonomic waistbelt padding. The models come with five gear loops and five attachment points, including foldable lateral attachment points, an off-center chest ascender connection point, and a dorsal attachment point that adapts to the curvature of the back. The harnesses have been tested with 150 kg (~330 lb) and are also available in an XS size to meet growing demand from female users. Each harness is equipped with an NFC chip for product traceability and periodic inspections.
The X-Five Fast model is designed for rope access workers who need to put the harness on quickly and/or several times during operations, those with a "strong build," or those who wear bulky clothing. It is fully openable thanks to a ventral three-movement connector and two Cobra automatic buckles on the leg loops. The harness is compatible with the application of a chest ascender using a triangular quick link and sling tensioner.

The X-Five model is free of opening elements, except with the use of dedicated tools. Its closed leg loops have adjustable sliding buckles. The connection between the upper and lower parts of the harness is through one LOTOR openable ring (included). It is also compatible with the application of a chest ascender. kongusa.com 
Petzl Pro Traxion and Mini Traxion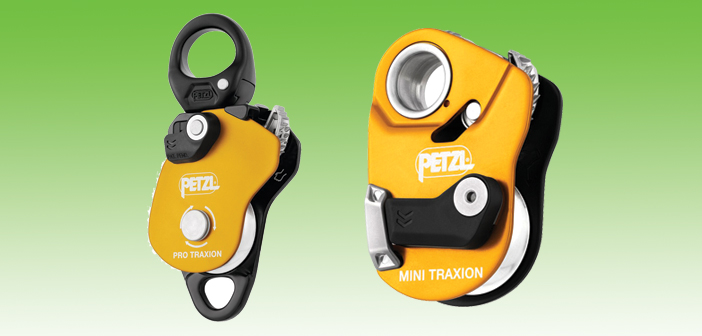 Left: Petzl has released a new line of progress-capture pulleys designed for setting up haul systems, the Pro Traxion and the Mini Traxion. With a large diameter sheave mounted on sealed ball bearings, the Pro Traxion is suitable for hauling heavy loads. It is possible to open the pulley and install a rope even when it is attached to an anchor. A swivel makes it easier to operate, allowing the pulley to be oriented under load, and an auxiliary attachment point allows for the direct connection of carabiners, ropes, or slings. The Pro Traxion can also be used as a simple pulley when its cam is locked in a raised position. Right: With a medium-diameter sheave, the Mini Traxion is suitable for hauling mid-weight loads. The pulley weighs 150 grams, and its compact design reduces weight and bulk, which is especially useful during technical rescue and rope access work, according to the company. It is compatible with 7 mm to 11 mm rope. A rope can be installed even when the pulley is connected to an anchor. Side plates protect the rope path. The moving side plate has a triple action opening. A red indicator provides a visual warning when the plate is unlocked. The Mini Traxion can be used as a simple pulley when its cam is locked in a raised position. petzl.com