For the price of a t-shirt, adventure parks can improve employee morale, enhance their marketing, ease communication between staff and guests, and boost compliance with safety instructions. Logoed, color-coded t-shirts project an image of organization and safety-consciousness—the latter especially important as parks cope with the challenges of operating amid the pandemic.
"Perception is really big. If you look neat, it makes it look like you have a plan," says Rebecca Bleeker of Adventure Suppliers LLC, a full-service advertising specialties company that provides custom logoed staff gear to several aerial adventure operations.

Guests want to know if you care about the details, she adds, and a sharply dressed staff in branded gear helps give the impression that you do. "That's always important, but especially in this climate."
Psychological Impact
"If the fire department showed up all willy nilly, how would you feel?" asks John Hines, owner of The Adventure Park at Sandy Spring in Maryland. "If everyone dresses in whatever they want, you're not projecting the image that you have your act together."
The Adventure Park has had employee uniforms for years, but the park's approach to employee appearance standards has evolved dramatically. "Five years ago, we would put out a box of t-shirts and toss one of them to new employees. If they lost it, they would just grab another out of the box," Hines recalls. "We didn't treat it with respect, so the staff didn't, either."
Now, Hines ensures employee buy-in—literally—by deducting the cost of the uniform from the pay that new employees receive for their training. It's not a huge financial hit: For $28, workers get a drawstring bag filled with two shirts, a sweatshirt, and a pair of leather climbing gloves. 
Psychologically, however, "That's much more impactful than taking something from a box," he says.
Psychology actually plays a huge role in the form and function of uniforms, says Michael G. Pratt, Ph.D., director of the Management & Organization Department at the Carroll School of Management at Boston College. "Uniforms create a sense of 'groupness,' of being part of something bigger than yourself," says Pratt.
Plus, uniforms convey authority, which means people will listen. "[Uniforms] increase individual compliance—people are more likely to obey you if you look more legitimate," says Pratt.
"If you're not in uniform, especially in COVID times, if you say 'pull up your mask' you could just be some guy in a harness—you could be just another guest," says Hines. And of course, the same rationale applies to critical safety instructions delivered to adventure park guests.
Pratt says all uniforms have three distinctive characteristics: construction (color, material, and style), homogeneity (the degree to which wearers look alike), and conspicuousness (how recognizable the uniform is). All are relatively simple, yet important, considerations when choosing outerwear for staff.
Visual Function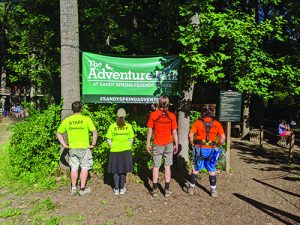 Color identification. At The Adventure Park at Sandy Spring, safety-related staff, aka monitors, wear high-visibility orange shirts, while other employees, aka hosts, wear bright green.
Previously, all employees wore the same color uniform, but that led to confusion among guests, according to Hines. "Hosts didn't know about safety, so if they got a safety question they said, 'Go talk to that other person in orange," he recalls.
Now, uniforms at The Adventure Park have a logo on the front and "STAFF" printed in large block text on the back, but Hines says the vibrant color scheme—which guests are briefed on during park orientation—is the most important element. "With a harness on you can really only see the color, anyway," he says.
Hines cautions park operators that a uniform is only as good as the policies surrounding it. "If an employee shows up without it, do you make him buy one or send him home?" he says. "I don't let him work if he doesn't have his uniform, period. Doesn't matter if it's a newbie or someone who has been here for three years."
Brand focused. Live Wire Park in Victoria, Australia, outfits its employees in uniforms created by Australian design firm Self-titled as a critical component of an integrated image and branding scheme. The uniforms include shirts, hats, jackets, and helmets. High-visibility green lettering is offset by all-black materials.
"Most branding for the adventure park industry feels generic, often incorporating human silhouettes, trees, or Tarzan-like lettering," says Self-titled creative director Jake Smallman. "With our design for Live Wire Park, we wanted to achieve something completely different. Part of that was ensuring that all brand touchpoints, including the uniforms, aligned with the broader scheme. The uniforms reflect more broadly on the overall perception of Live Wire Park as a unique, high-quality experience that represents value for money."
The black garment with high-visibility green lettering—as opposed to green garment with black lettering—was also chosen with staff comfort in mind. "While the hi-visibility green could have made staff stand out, we also needed them to feel good about putting on the uniform each day, so black was an easy choice and goes with whatever staff choose to wear on their bottom half," says Smallman.
Helmet hierarchy. NLI Entertainment, which operates Alpine Adventures in Lincoln, N.H., has gone all-in with well-branded staff uniforms, which reinforces the brand and helps guests identify workers. But there's one component of the uniform that serves a dual purpose.
"Everyone gets the same uniform," says park operations director Steve Coppin, "but what identifies our fully trained guides are their red Petzl helmets." The helmets make key staff easy for guests to spot. 
The red helmet has also become a status symbol among staff. "It's something for new folks to work up to," says Coppin. Conversely, staff who make errors can also have their prized red helmets taken away for a period of time.
As for branding, at hiring, an employee is gifted a swag bag full of "New Hampshire Fun" branded gear, including a trucker hat, wicking Columbia PFD shirts, and long-sleeve logoed sweatshirts for when the New England weather turns chilly.
Physical Function
While cotton t-shirts are cheap and commonly used, many adventure parks choose performance-type materials that wick moisture and clean easily.
"These guys and girls are doing physical work outdoors all day, so they need to be comfortable," says Smallman. Live Wire chose performance materials, such as waterproof and breathable Gore-Tex, and to partner with established outdoors brands, like Macpac for waterproof jackets and Petzl for the crew helmets.
"We've been doing Columbia shirts for as long as I can remember," says Alpine Adventures' Coppin. "On a hot day they keep you cool, and into fall they keep you warm, especially with a t-shirt underneath. And they look good." In the past, the park has also issued The North Face waterproof shells and insulated Carhartt shirts for the fall season.
Cleanliness matters. While colors like black and brown may not be ideal to help staff stand out in a crowd, they have the advantage of hiding dirt. "Keeping uniforms clean is the hard part," says Bleeker of Adventure Suppliers. She adds that many parks choose somewhat more formal collared logo shirts for supervisors and managers. 
Bleeker says a typical staff t-shirt made from performance, moisture-wicking material, with a logo printed one color, one location, costs less than $10. Collared manager-shirts run $15-18 each, she says. Costs can rise dramatically when incorporating multi-colored logos, or printing in more than one location. Going with a brand name, such as Under Armour, to start with "will also shoot the price up from the get-go," says Bleeker. 
One once-popular uniform component that has recently waned in popularity is hats, says Bleeker, explaining that the face shields required at many parks due to COVID "are not a great mix with hats."
Contrary Voices
There are downsides to uniforms, says Pratt, including research showing that they can stifle individuality and creativity. "For an adventure park [where safety is a primary concern], I don't know how creative you want people to be," Pratt concedes.
Opinions about uniforms are not uniform, and forced conformity is exactly what makes Sara Bell, CEO of The Gorge Zipline and Green River Adventures in Saluda, N.C., "100 percent against" uniforms for her 85 employees.
"If you have to define who your staff are to your customers by clothing, there is probably something wrong with your culture or your staff behavior," she says. "If your employees and staff enjoy their jobs and are enthusiastic about them, it should be extremely obvious who works here."
It helps that The Gorge and Green River have a small staff-to-guest ratio. Plus, guests remain with their zip line or whitewater guides for the duration of their visit. All that makes Bell's approach more practical than it might be at a park where aerial park staff assume more of a "lifeguard role," she says.
Bell prefers an attitude of "laid-back professionalism" among her staff members. "We want people to feel comfortable expressing their personality," she says. "Some wear stuff from the retail shop, but others whatever they want. It's totally their choice." 
"You're setting yourself up for more work in hiring and training and maintaining a culture where it's cool to be a professional and also show your own personality," says Bell. But, she maintains, "When people are comfortable in their own skin, they behave more professionally."
Still, appearance matters. Tattoos and piercings are fine, says Bell, but she draws the line at armpit hair—male or female. "The rule is no tank tops if you have armpit hair—nobody wants that in their face," especially when fitting guests into harnesses, she says.
The bottom line: The choice to outfit staff in branded gear depends on the type of operation, and the culture at that operation.