"Data! Data! Data!" he cried impatiently. "I can't make bricks without clay." ― Arthur Conan Doyle, "The Adventure of the Copper Beeches."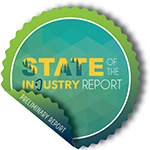 In a rapidly changing environment, it's important to know the lay of the land before you start building a plan for the future. The State of the Industry survey and report aim to deliver that sense of where we are now. At press time, we had just closed this year's survey, and we present some preliminary findings in this issue (p. 56). The full Industry Report will be ready for release early in 2020.

The topline report provides an overview of the 160 operators who kindly took the time to complete the survey. Many returned to participate for a second, third, and even fourth year, and quite a few participated for the first time. Thank you to all who took part.
New this year, we are engaging several experts to help analyze the data for trends and to identify opportunities and challenges. A research firm with expertise and data about the overall outdoor industry will compare our data to this broader universe and relate it to outdoor lifestyle trends. A marketing expert will look at how we promote our parks and programs and how we compare to other like industries. A leadership and teambuilding consultant will offer valuable takeaways about creating effective teams and retaining key staff.
But it all starts with you. We thank Shawn Tierney of the Association for Challenge Course Technology (ACCT) for his continued support in promoting participation in the survey. We send a thank-you, too, to others who kindly shared the link with their clients, including Paul Cummings of Strategic Adventures and Cameron Annas of Granite Insurance. It takes a village, and we are grateful for the help we have received in preparing and analyzing this report.
Beyond this issue's report, we invite you to come see research manager Sarah Borodaeff present key findings at the 2020 ACCT Annual Conference in Raleigh, N.C., during the Tech Talk series on opening day and in a 90-minute workshop, "10 Key Trends in Industry Data."
The complete report with all the deep dives and expert insights will be available to download shortly after the show.
The Editors