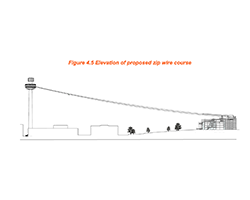 In June, the Liverpool, England, city council approved construction of a roughly $6 million, 1,300-foot-long zip line attraction to be built by Zip World in the city's center, launching from St. John's Beacon observation tower to the historic Liverpool Central Library. The project has faced growing opposition from a variety of parties due to its location, culminating in Liverpool Mayor Joe Anderson stepping in and blocking it from moving forward on Sept. 2.
Detractors argue that the zip line will lead to the "Disneyfication" of the city center, which is home to several historic landmarks—including the Central Library, which is within the Liverpool Maritime Mercantile City, a UNESCO World Heritage Site. The zip line would travel over gardens where war memorials are located.

According to the BBC, Anderson said the city's planning committee had acted "fairly and democratically" in granting the application despite the objections. Anderson said he does not interfere in planning of such projects as mayor, but objected to using the Central Library, which the council owns.
"I do have the final decision on whether a building owned by the council should be used in such a way. I have serious concerns about using this area and, having spoken to the company, could not let them progress further, knowing I would not support it," Anderson told the BBC.
Zip World had already made concessions in response to previous blowback, including moving the gear-up and check-in area from the library to a storefront in a nearby mall. Zip World says the attraction would be the fastest urban zip line in the world, boosting tourism while creating about 40 jobs.
The project isn't dead in the water, though. Anderson said he's working with Zip World co-founder Sean Taylor to find another landing site for the attraction now that the Central Library is off the table. Taylor said he respected the mayor's decision and looks forward to a "big future for Zip World in Liverpool."