Rescues are never "routine," and staff must always use good judgment. Two young staff members at Monkey C Monkey Do in Wiscasset, Maine, did just that, successfully rescuing a guest who experienced a medical emergency on Wednesday, July 1. Grace Moclair, 20, and Ryan Potter, 16, attended to the guest aided by another customer, a nurse.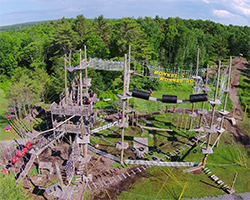 The aerial park had only been open for a couple of weeks; it had just held its grand opening for the season less than a week earlier, on June 27.

In mid-afternoon on July 1, the two staff members climbed out to a platform where a guest was apparently having a seizure. The nurse was attending to the affected guest when the two arrived. The guest gained consciousness, and together, Moclair and Potter helped the woman return to the starting platform where paramedics took over. From the ground, Monkey C co-owner Roland Lacombe helped guide the two staff members during the rescue.
Wiscasset Police Chief Larry Hesseltine told the Wiscasset Newspaper that Wiscasset Ambulance Service and Wiscasset Fire Department responded to the call, "to assist Wiscasset EMS with a patient … When we arrived, the patient was on a platform approximately 10 feet off the ground. Employees were attempting to lower her down via her body harness, but due to her confused state, that was not possible. She was able to walk with assistance to a larger platform, where EMS could assess her and take over her care. None of our members ever left the ground."
Moclair called the rescue "a big team effort." As she described it to the Newspaper, "We attached her tethers to the element cable and we also attached a zip trolley to give her more stability and have her move smoothly. From there I guided her as Ryan followed from behind over the element to the first deck. I held her harness and told her to focus on my feet moving and to mimic me. Once we got to the first deck, that is where the medics met us and put her into a wheelchair to get her to the ambulance."
Moclair is a junior at UMass-Lowell, studying mechanical engineering. Potter will be a high school senior this year; the son of a fire chief, he has finished his basic firefighting class and is nearing completion of his EMT course.
Lacombe said he was extremely proud of his staff members, adding that he was simply observing them for the most part. "That's what we train for," he noted, saying that the business is fortunate to attract great kids who work well together.
Most rescues at the park involve assisting guests who have become dehydrated or find the course too physically exhausting. This was only the second seizure on the facility in four or five years, he stated.