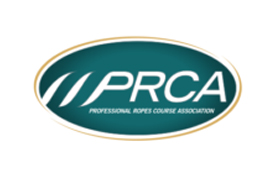 The Professional Ropes Course Association (PRCA) is moving forward with an in-person event for its 19th PRCA Annual International Conference and Expo, Jan. 26-31, 2022, at the Keystone Camp and Conference Center in Starke Wells, Fla. The seminar schedule will include instructor and trainer certifications, liability exposure for employees and accidents, differences between standards, and more.
"We especially welcome newcomers, students, camps, operators, businesses, builders, as well as our loyal members and past conference attendees," the association said in a statement.

As with many other in-person gatherings in the current climate, PRCA asks attendees to practice social distancing, wear masks, and wash hands often. Additional cleaning measures are being conducted by the venue and, where possible, workshops will be conducted outside at the various pavilions and at the challenge course areas. Other safety precautions will be taken as appropriate.
Further, PRCA requests that would-be attendees who exhibit any Covid-19 symptoms or get exposed to a person who tests positive up to one day of the conference not attend. Those who have had symptoms should bring proof of a negative test to show they are no longer infectious. The conference will refund anyone who can't participate due to Covid infection or exposure; that includes lodging or meal fees if provided by the venue. Individuals can also opt to attend virtual workshops.
The in-person workshops include pre-conference seminars for Qualified Instructor Certification and Re-Certification take place Jan. 24-25. For information and details on these, contact Mike Barker at [email protected].
PRCA also invites attendees to share their expertise and knowledge with other conference attendees by presenting at this year's event. Workshop proposals should fall into one of two tracks, educational or technical, and run one hour to 2.5 hours in length. Interested presenters should submit a brief 50-100 word outline of their proposed workshop, maximum size, and any presentation requirements to [email protected]. Submissions are due by Jan. 10.
PRCA member registration costs are $325 for the full conference or $75/day. For non-members, registration cost is $425 for the full conference or $125/day. Students with ID can register for $30/day. The Qualified Instructor Certification Workshop and Re-Certification Workshop cost $425 each.
Registration and other information can be found at: https://prcainfo.org/conference/