There's both good and bad news from the 7th annual Adventure Park Insider State of the Industry Survey, conducted in late 2022. First, the bad: Respondents saw a decrease in annual visitation compared to 2021, as visit numbers in general returned to pre-pandemic levels, closer to those reported in 2018 and 2019. The good: Total number of operating days, and the number of days with unscheduled closures, also returned to pre-pandemic levels.
Staffing remains an ongoing issue. As part of the effort to attract qualified applicants, operators increased wages for staff. Even with the pay hikes, though, hiring and staffing remain top concerns going into 2023, alongside concerns about slowing consumer spending in the current economy. These challenges may make it prudent for operators to reexamine their guest profiles, how they compete for share of mind, and how they structure their teams moving forward.

These trends emerged in the API State of the Industry Survey, and mirror those of the outdoor industry generally. The outdoors saw a large influx of newcomers during the first year of the pandemic, and outdoor activities have remained a huge draw. However, while there are more participants overall, those active in the outdoors are participating less frequently. That could stem, in part, from the reopening of indoor activities, which have returned to something approaching normal.
About This Report

The 2022 survey gathered 53 responses, fewer than in prior seasons. The survey findings nonetheless provide a snapshot of the business analytics for a small swath of the aerial adventure and experiential education field and were collected as part of the Adventure Park Insider State of the Industry Survey, which ran Oct. 10 through Nov. 4, 2022. Despite the decrease in year-over-year participation, the data still reveal some important trends, which largely reflect what is happening in the broader outdoor recreation industry. Where comparisons can be made to the industry, they will be noted as such. Outside of those instances, the data and analysis in this article reflect only the experience of the respondents.
THE OUTDOOR INDUSTRY
The outdoor recreation economy accounted for $862 billion in economic output in 2021, according to the U.S. Bureau of Economic Analysis (BEA). This huge number is not only significant due to its size, but also due to the strength with which it has grown.
The outdoor industry, which the BEA defines broadly to include activities ranging from biking to boating, gardening, and travel and tourism, has been able to capitalize upon the pandemic to grow overall outdoor participation. The aerial adventure sector of this industry has also had a solid rebound, but the growth that was mirrored in the BEA findings in 2021 has somewhat slowed.
DAYS OF OPERATION
Respondents to the survey were able to bring the number of operating days back to pre-pandemic levels, averaging 221 open days compared to 184 for the same group of respondents in 2021, a 20 percent increase. Unscheduled closures fell to an average of just 12 days.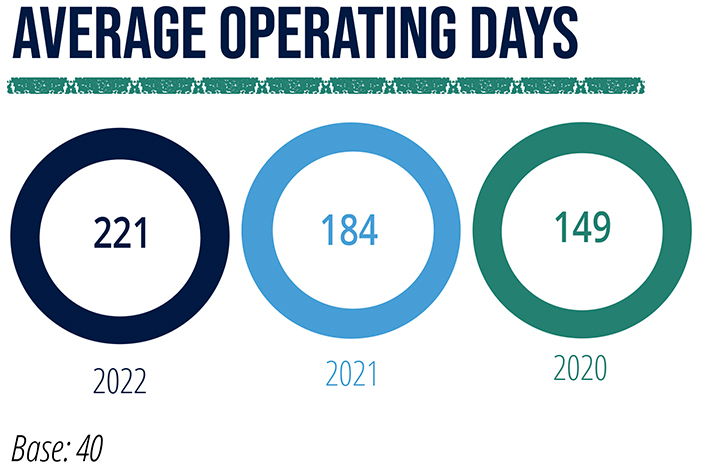 VISITATION TRENDS
The number of new or returning participants to outdoor activities increased by 26 percent from 2019 through 2021. More than half of Americans over the age of six participated in at least one outdoor activity in 2021, according to the Outdoor Participation Trends Report from the Outdoor Industry Association (OIA).
Respondents to the 2022 State of the Industry Survey provided visitation data for both the 2021 and 2022 seasons. Those responses show that the growth identified by OIA was reflected in the aerial adventure industry in 2021, when respondents reported a 13 percent increase in visitation over pre-pandemic levels.
In 2022, though, that interest seems to have waned. Average reported total visitation for 2022 decreased year-over-year for our respondents, who saw an average decrease in visitors per operating day of 20 percent. This brought attendance numbers in line with the operators' pre-pandemic levels.
The decline was most pronounced for recreational respondents, who reported an average decrease in visitation per operating day of 25 percent compared to the previous year.
This decrease in visitation per day for recreational respondents could be due to several factors, including a reduction in repeat visitation, a shift toward more casual outdoor activities, a decade-long trend toward less frequent participation by those who are active in the outdoors, and the composition of our limited sample this year.
Traditional respondents, on the other hand, reported a 1.5 percent increase in visitation per day, and reported a dramatic increase in repeat visitation, to 74 percent of visitors. This number may be indicative of traditional groups returning after a multi-year hiatus due to Covid.
It is important to note that despite the increase in the total number of outdoor participants, OIA reports that the number of outings is declining significantly. That is, there are more people recreating outdoors, but they are doing so with less frequency. These two trends appear to be reflected in the respondents' data in the API survey.
What does this mean for operators? There are fewer "core" outdoor enthusiasts who are active outdoors 50 or more days a year. The opportunity for aerial adventure parks—along with other outdoor attractions—lies in targeting participants who are new to the outdoors and may only plan one to two outdoor activities per year. This implies that a change in marketing may be necessary. If the average outdoor consumer profile is changing, how they learn about outdoor activities will likely be different than the "core" groups that operators typically focus on.
We will look at the effectiveness of various marketing channels in the full State of the Industry Report.
BUSINESS & WAGES
Aerial adventure businesses, like most businesses, increased wages in 2022 in an effort to attract sufficient staff. Eighty-four percent of respondents reported increasing wages.
According to the Bureau of Labor Statistics, wages and salaries for private industry workers increased 5.2 percent between September 2021 and September 2022. Based on our small sample, it seems that aerial adventure businesses topped that increase, with back-of-the-house staff seeing the greatest percentage increase.
Staffing continues to be a significant point of concern for respondents, and hiring staff is the top priority of respondents going into 2023. Our respondents have plenty of company in that: the Outdoor Industry Workforce Survey reported that 66 percent of respondents had difficulty finding qualified applicants. The most commonly reported issues hindering hiring include lack of affordable housing proximal to the job location, competition from other companies and industries, and the cost of living where jobs are located.
 Given the impact of inflation and widespread apprehension about a potential recession, it's not surprising that slow consumer spending is the second biggest concern among operators.
These priorities seem to indicate that operators are confident in their product mixes; staffing and the economy present the greatest headwinds.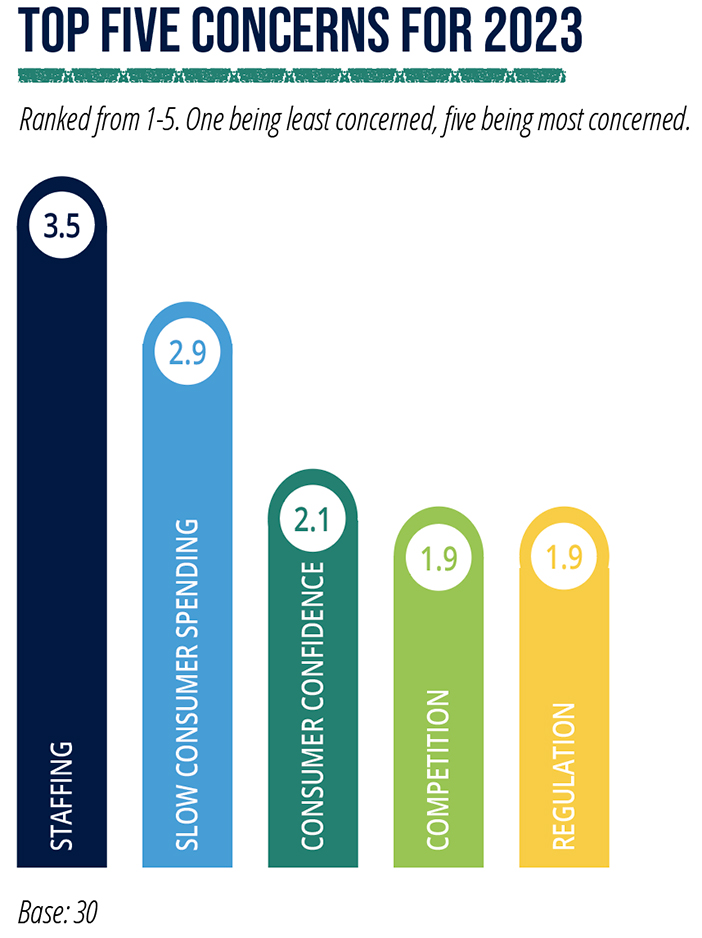 While there are certainly challenges, the continued heightened interest in the outdoors gives operators opportunities to capitalize on markets they may not have reached before. Operators should explore how they plan to grow their business and reach new markets through direct channels. Growth may well require new and creative marketing strategies.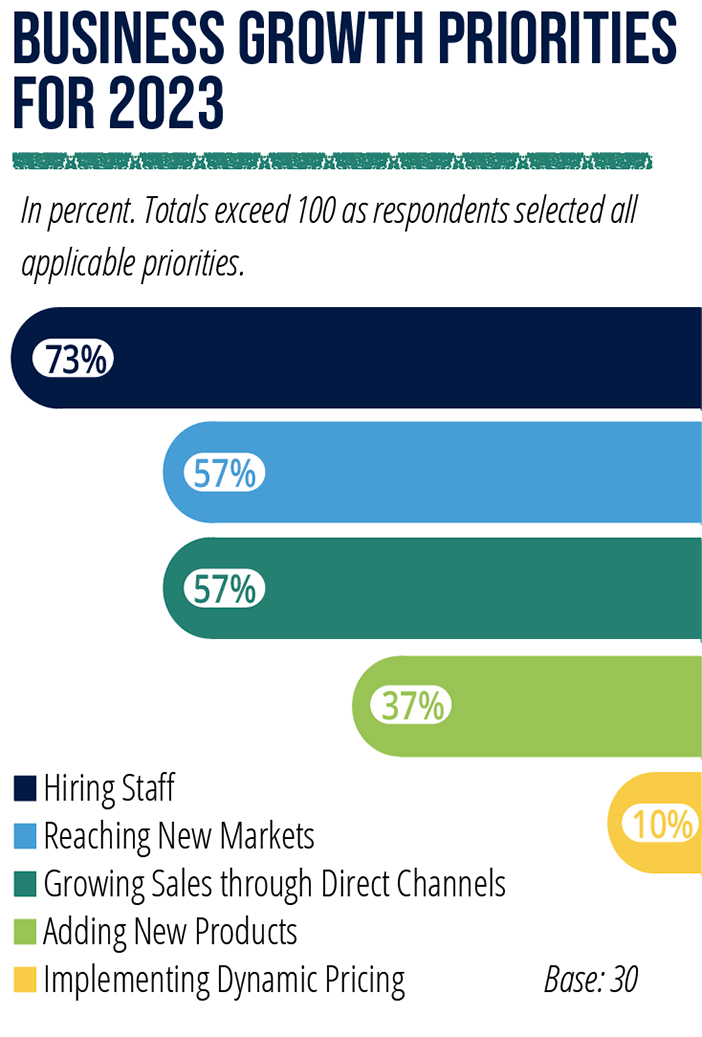 The Full Report

This top line report is just a snapshot of the data collected in the 7th annual Adventure Park Insider State of the Industry Survey. The complete data and analysis will be published in the State of the Industry Report, which will be available in February 2023.

In the full report, we will examine operational metrics, the financial performance of operations and how that compares to other outdoor industry metrics, activities and amenities, staffing and how the market is shifting, marketing metrics and channel efficacy, booking, and we will look ahead toward 2023. 

How do you get a copy? Make sure your subscription is up to date to receive your complimentary copy of the report. Subscribe, renew, or verify your subscription at www.adventureparkinsider.com/subscribe.