To explain the evolution of belay systems at adventure parks, Jacques Christinet, CEO of Kanopeo, turns to a pyramid analogy. In the early days of adventure parks—i.e., the top of the pyramid—belay systems were taken directly from the alpinist world, where lifelines and carabiners had been used for years.
When adapted to adventure parks, basic alpinist hardware was adequate, but not necessarily foolproof—an adventure-course traveler could completely unclip from the lifeline or mistakenly clip onto a line (e.g., a guy wire) other than the lifeline. Yet, given the relatively small and relatively adventure-savvy audience of the early days, alpinist belay systems often provided a sufficient safeguard.  

As park popularity spread, the pyramid widened, with the customer base expanding to include people less adventurously inclined. Relying on participants to manipulate alpine hardware, possibly in error, became an iffier proposition in assuring safety.
The solution: create belay systems that would provide security even for folks who couldn't tell a lifeline from a punch line. In short, create idiot-proof systems that were both secure and easy to use. Enter smart belay systems and continuous belay systems.
As the pyramid of park visitors has expanded even further toward an everyman base, modifications of both smart and continuous systems have enhanced customer friendliness and advanced safety technology even further.
OPERATOR PREFERENCE
There are now, of course, many players in the belay field, about evenly divided between makers of smart belay systems and makers of continuous belay systems. All can claim commendable records of reliability, so choosing a particular system for a new installation, or changing from one system to another, doesn't necessarily mean a move toward greater security. Accidents relating to belay systems are rare, regardless of the system in play.   
Smart belays, based on a dual-lanyard, dual-clip design in which one clip automatically locks when the other is open, are touted by designers primarily for engaging users in the belay process—thus providing a more fulfilling customer experience—and for their versatility in navigating through complex junctions connecting course elements.
Continuous belay makers tout the ease of use, simple guest orientation, and the reduced cost of and need for maintenance as principal benefits.
There are many choices to sort through. The choice might be all but predetermined by a close business relationship between a park builder/designer and the distributor of a belay system. (They might well be entities within the same company.) But before committing to any installation, a park operator would be well-served in knowing all the options available.
The last time API reported on belay systems was two years ago. Although no new companies or radical new designs have emerged since then, there have been numerous refinements on existing systems, as described here. In general, these refinements have focused on four areas: enhanced safety, enhanced simplicity, operational efficiency, and reduced maintenance.
SMART BELAY SYSTEMS
LockD CLIPS (formerly Bornack)
The main components of the widely used Bornack system, the locking clips at the end of the dual lanyard, have been overhauled to simplify both use and maintenance, according to Bahman Azarm of Ropes Parks Equipment, distributor of Bornack products and now the redesigned, renamed LockD Clips. The LockD Clips are compatible with existing Bornack systems and will be available starting in April, he adds.
Azarm says the Bornack SSB clips "have been completely reinvented," coming out on the other side of the reinvention as LockD Clips (pronounced "locked"). The new clips have just 30 parts, relatively few of which are moving parts, compared with the 60 parts in their predecessor.
The resulting clips are lighter and "a lot more dependable, with much less chance of malfunction," says Azarm, who was a co-developer of the new clips. That should mean the clips will require much less time at service centers and little staff training for maintenance. Azarm continues to promote the system's customer experience by giving guests a belay product that is "safe and easy to use, but also a product they can think they are in control of."
The system continues to use the unique tweezle to lock/unlock the clips. The use of the tweezle also ensures that participants only clip onto belay lines and other intended components, and not onto support wires or other lines.
CliC-iT has beefed up its U hooks to improve durability. Functionally, its dual-lanyard smart belay system, which uses magnets to open/close the hooks, operates as it has in the last couple of years. One hook locks when the other is open and vice versa, meaning that, in classic smart-belay design, one hook is always securely attached to the lifeline. Only magnets at safe entry and exit points open both hooks, to allow a course traveler to engage or disengage entirely from the lifeline.
For courses that include zip-line segments, a trolley is also part of the basic belay package. CLiC-iT's new C-PASS is a safety mechanism that blocks zip-line access if someone is already engaged on the line, assuring only one person can be on a zip at any time.
Updates to the CliC-iT system, says a company representative, have improved durability and hence made maintenance easier. "It's obvious how it works," says the company rep. Ease of installation is another touted plus. The CliC-iT smart belay system comes in both adult and kids' versions.
Edelrid's new Smart Belay X system comes with two significant advantages over previous editions. First, the opening and closing of the safety hooks is controlled by magnets that communicate with one another via radio frequency. This comes closer to automating the opening and closing process, ensuring greater safety.
The second advantage is a considerable reduction in regular servicing requirements. Many belay systems require annual service inspections. But according to Edelrid USA vice president Blair Williams, "except for fine tuning on site, we discovered the belays didn't need [annual inspections]." The result: a three-year interval in sending the belays to a service center.  
Another noteworthy feature of the Edelrid system is that a pulley is built into the top of each hook. That enables the hooks to be used on zip lines, with no need for an additional trolley device. Finally, says Williams, the system makes it easy to overtake other course travelers, virtually anywhere on a course, making this one of Edelrid's strong selling points.
In some ways, the ISC SmartSnap is something of a hybrid between a smart belay and a continuous belay system. The lifeline attachment is a kind of double carabiner on a single lanyard. The system keeps users constantly attached—a la continuous belay—to the lifeline or ring key, and actively engaged in the connection—a la smart belays.
At any transition between elements, there's a ring key—a metal ring with a prong extending from it—that allows the user to unlock the side of the carabiner that's attached to the lifeline as the other side locks to the ring. To reattach to the lifeline, a wire key—same prong as the ring, but attached to the lifeline—unlocks the side attached to the ring and locks on the lifeline.
The system requires some "extra user engagement," says ISC's Carly Jones—a selling point for park operators seeking to keep users actively involved in their own belay. That might be of particular interest to parks with a kids' course designed to promote outdoor learning.
Side note: For aerial courses that incorporate zip lines, ISC is offering its new ZipSpeed Noise Reduction Trolleys, fitted with nylon wheels. A new Zip Handle Bar allows zippers to orient themselves in the direction of travel.
CONTINUOUS BELAY SYSTEMS
Kanopeo introduced its Saferoller V3 continuous belay trolley in 2019, with some notable improvements from the previous version. Among the changes: the connection anchor is now hot forged for increased strength and durability, and a new Dyneema/nylon blend connection strap has a 360-degree swivel system that makes it easier for guests to move through the course. Plus, the trolley is 30 percent more compact.
Two other new products being introduced to the Saferoller trolley system are aimed at improving zip-line safety. The first is zipEYE, operated by an electronic signal between the beginning of a zip line and the terminus. A gate at the start of a line stays closed until a signal from the end confirms that a participant has reached the finish before a second participant can start. This assures that there are never two riders on a line at the same time.
The second product, in the final stages of testing as of press time, is the zipBRAKE. A special zip-specific cable is central to a design intended to improve zip-line speed control.
In any retrofit, the zipBRAKE cable would need to replace existing cable. Otherwise, says Christinet, replacing a non-Kanopeo system with a Saferoller system is relatively easy, in which existing cables in good condition can be reused.
Kanopeo's Speedrunner clip-based system is a second option for a continuous belay. It remains little changed, aside from the addition of more junction and hub options, to enable a wider range of course designs and compatible features.
Koala's Pouliz continuous belay system is based on a two-wheeled trolley that Andrew Miller of Aerial Adventure Tech, U.S. distributor of Koala, touts for its simplicity and efficiency.
New hardware for the system includes the Y Swapper, for junctions where three lines come together. The Swapper allows a course designer to give travelers a choice of elements as well as to provide "rest areas," where slower travelers can pull off the main line to allow faster travelers to pass. The Y Swapper can be installed, removed, or replaced with a new one without cutting the wire rope.
Miller says a trolley system, in general, requires less maintenance than other systems. That's because trolleys, whose rollers create less friction than other types of systems, incur less wear and tear. He also notes the ease of use for participants, since once the trolley is attached to the lifeline at the start of the course, they don't need to do anything but climb.
Miller adds that "Koala really thought about kids as well as adults." One notable feature of the Pouliz system is an optional trolley handle that "assists children and enables them to move more smoothly on the activities," according to Aerial Adventure Tech's website.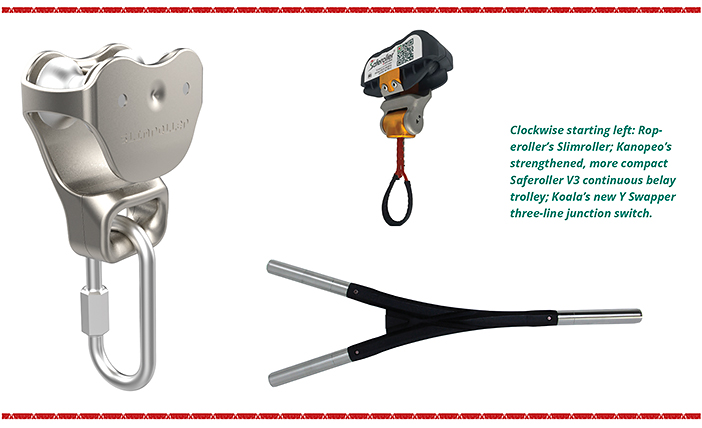 "A linear course is certainly easier for a continuous belay system," says Kenny Brodin of Kong USA, meaning a single series of elements in a course design. "The bigger challenge is when there is more than one option"—perhaps as many as five.
To address multiple-choice junctions, CouDou Pro (a partner company of Kong) has developed plates that allow participants to diverge from one element to another without disengaging from the lifeline. The newest plate is the Switch, a "bifurcated" plate that gives course travelers a choice of two routes. The Switch joins the Paig, which essentially forms an X where elements converge, and the Swivel, a rotating device for junctions where several routes come together.
The CS hook is "the heart of the system" for CouDou Pro's continuous belay, says Brodin. The CS hook attaches the lanyard to the lifeline. The hook's opening is smaller than the 12 mm diameter of the cable, but larger than the thickness of the aforementioned plates. That's how the CS is able to travel over the various plates that the lifeline is connected to along a route.
The CS hook's design also makes it easy to overtake slower travelers, or for rescuers to pass several travelers to reach an emergency scenario. To visualize how it works, form circles with the thumb and forefinger of both hands, leaving a small gap between thumb and finger. Overlap the two circles, then turn one hand more or less at a 90-degree angle to the other and align the gaps, allowing the two circles to pass through each other.
Roperoller is a trolley-based continuous belay system that also comes in a smaller, lighter version, Slimroller, for kids' courses. The trolleys can be used on zip lines as well as other course elements.
The company has come out with a couple of new products for anchoring a lifeline to a tree. One, the RR Bolt-On, relies on the standard practice of using bolts to attach to a tree. But in places were bolting might not be feasible or permitted, Roperoller offers the RR Belt-On, with a belt cinched around a tree's trunk to secure the connection.
Roperoller has also come up with two variations on its new Switch, a line component that facilitates overtaking on a platform or for creating junctions to connect divergent course elements.
Vertical Trek is replacing its current Seven hook with the new Ocho hook in its hook-based continuous belay system. The Ocho hook will be on the market in summer 2021.
Vertical Trek has also improved its Mac series of anchorage components, each varying according to the length of the cable it is anchoring as well as its overall strength. Similarly, the Angle T, which allows a lifeline to track around obstacles to improve fluidity, has seen a makeover. For what it's worth, the new components look cool—Mike Holder, founder of American Adventure Park Systems, which is the U.S. distributor of Vertical Trek, calls them "sight-pleasing and smooth."
Durability, says Holder, is also a selling point. He claims that "I haven't seen one part wear out," and that only the safety catch that opens and closes a hook requires regular inspection. Otherwise, there are no moving parts. A friction plate at the top of the hook, where the hook is in contact with the lifeline, needs occasionally to be replaced, but Holder says that replacement is "cheap and easy." For zip lines, an additional, third-party trolley is a necessary part of the hardware package.