Aerial adventure operations saw mostly flat visitation in 2019 compared to 2018, and an average profit margin of 24%, similar to the 25% margin in 2018. Strength in camp visitation was offset by a decline in participation in traditional programs. However, profits for the traditional segment stayed flat, at an average profit margin of 16%, according to respondents of the fourth annual State of the Industry survey conducted by Adventure Park Insider in the fall of 2019.
More than 160 aerial adventure operations responded to this year's survey, providing comprehensive business and operations data, which we aggregate and analyze to produce the annual State of the Industry Report. The data, along with other insightful resources, can help aerial adventure operators make informed decisions about every facet of their business.

Here, we present an overview and small sample of this year's results.
Survey respondents reported average gross revenue of $965,485, with a median of $500,000. The variation in the range is significant, with some non-profit operations reporting revenues of $25,000, while some larger operations report revenues as high as $5 million.
We'll dive deeper into revenue and expense metrics in the full State of the Industry Report.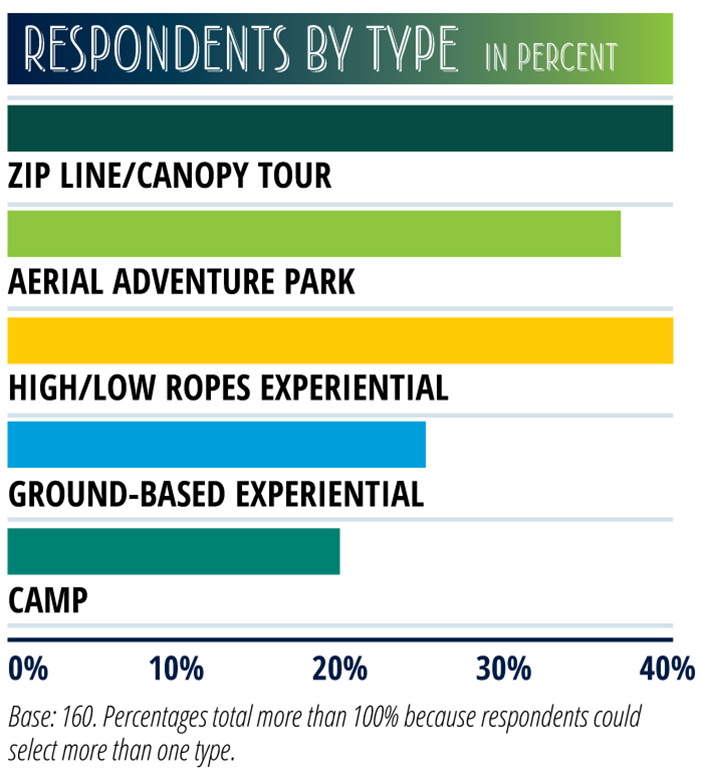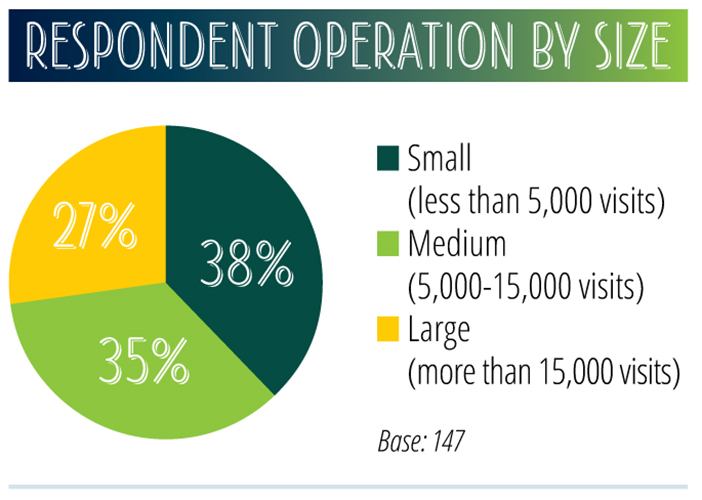 Industry Growth
The aerial adventure industry continues to grow in number of operations, though not as rapidly as in past years. Of our sample, 58% began operation in the past decade, 22% in the past five years. That's a slower rate than we reported as recently as two years ago, when 52% of respondents opened in the previous five-year-period. Five percent of respondents opened in 2019.
Another key trend: more operations are installing aerial adventure activities as add-ons to existing non-aerial-adventure attractions. This trend includes zoos, aquariums, museums, resorts, and other different types of adventure operations. Fewer new operators are offering aerial adventure activities as a stand-alone or main attraction.
Visitation
For the third year in a row, visitation on a per-operator basis remained essentially flat compared to the prior year. That said, individual respondents reported fluctuations as much as 40% down to 38% up.
By operation type, ground-based experiential operations reported the largest average drop in visitation at -5%. Camp programs saw the largest growth, 6%, compared to 2018. Recreational operations saw small growth as well, with zip lines/canopy tours up 1.6% and aerial adventure parks up 3.3%.
Survey respondents welcomed an average of 13,129 participants, with a median visitation of 7,951. The range varies wildly, with some small operations reporting visitation in the hundreds, while some larger operations brought in hundreds of thousands of participants in 2019.
Grouping operations by number of visitors, mid-size operations with between 5,000 and 15,000 individual participants reported an average visitation growth of 6.4%, the best of any size segment. Small operations, those with visitation of less than 5,000, saw the biggest drop, down 7.1%. Large operations, those with 15,000 or more annual visitors, hosted 1.6% fewer visitors year-over-year.
The relatively stable visitation numbers do not mean the aerial adventure industry has become static. As reported earlier, this industry is still seeing growth in the number of operations, both in dedicated aerial adventure operations and multi-attraction businesses. However, as this growth slows, it will be crucial to see how the market share of individual operators are affected, especially smaller operations.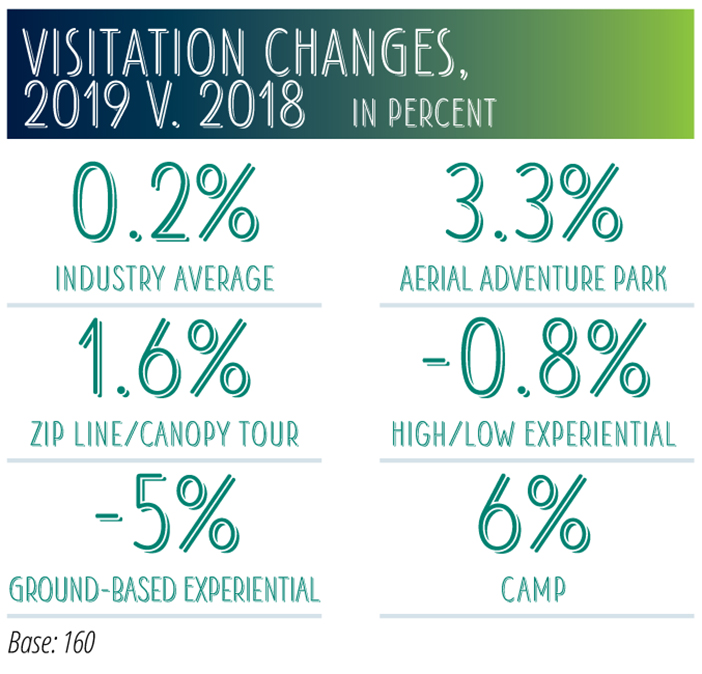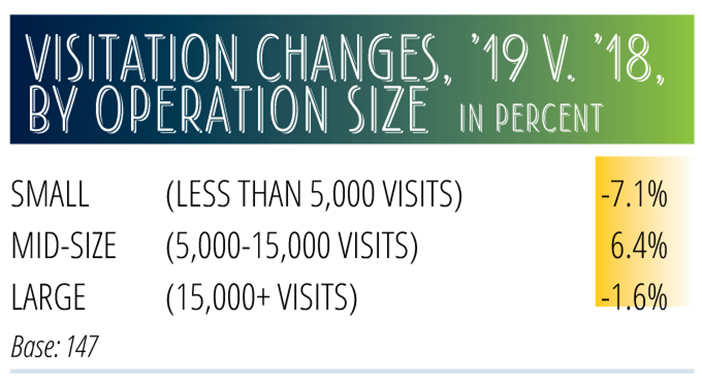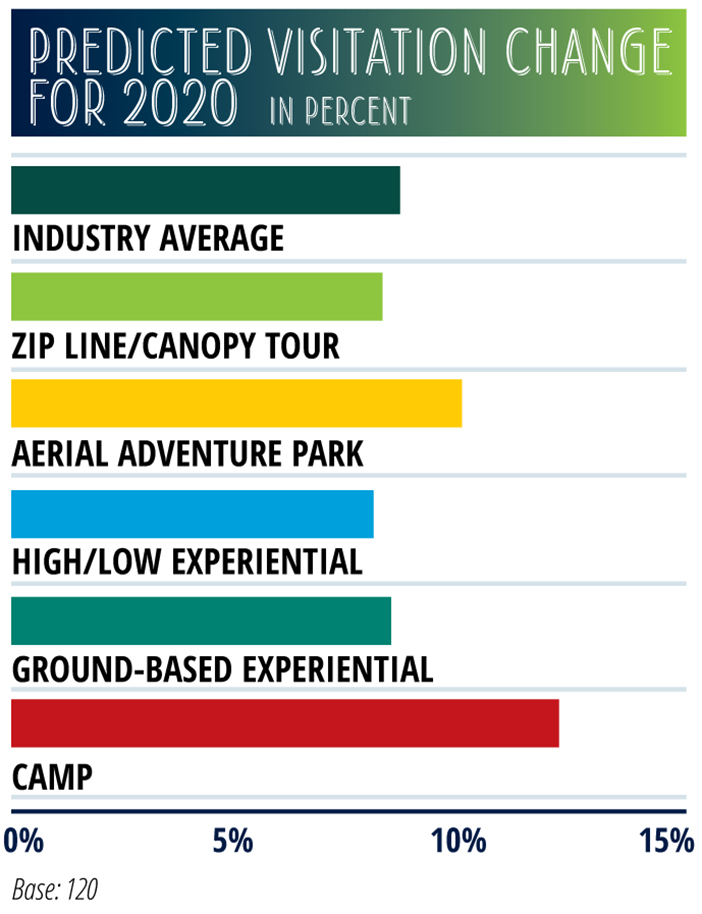 Respondents predict 8.8% visitation growth in 2020 despite three years of essentially flat visitation. We like to call this growth expectation the "optimism index"—every year, respondents forecast visitation growth for the coming season, which indicates confidence in the market and their product. However, this year's 8.8% growth forecast represents a lower expectation than for 2019, or the prior three seasons for that matter.
Concerns & Opportunities
Regulations, and finding and managing a qualified staff, remain the top two concerns moving into 2020. Competition from other types of leisure and recreational activities, such as family entertainment centers and other adventure operators, is another area of concern.
Staffing worries have been at the top of the list all four years of this survey. This is due, in part, to the tight labor market nationwide, combined with the part-time and/or seasonal nature of many of the jobs in the industry.
Regulation, which ranks second in the list of concerns, has slowly crept up the list. The revised ANSI-ACCT 03-2019, proposed changes to ASTM F2959-19, as well as the number of states seeking to adopt one of the several standards applied in North America, have left operators feeling uncertain about what standards they should apply at their parks—and what they must do to remain in compliance.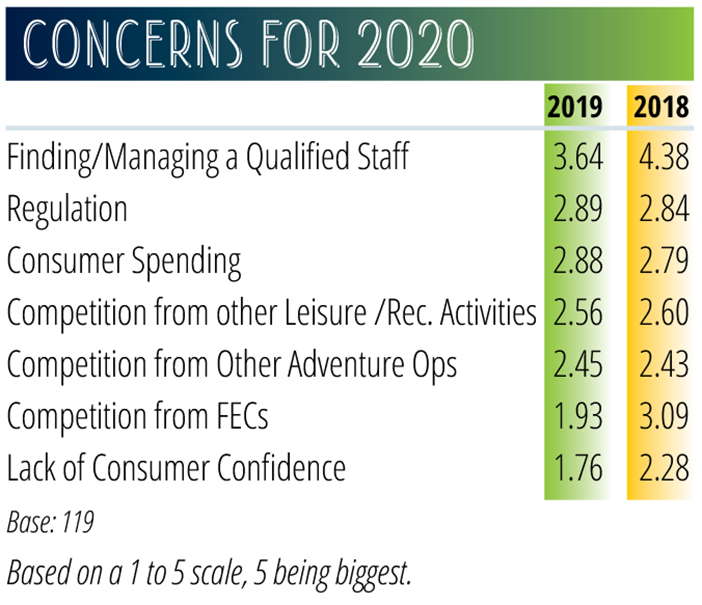 Despite these concerns, respondents highlight many opportunities for growth moving into 2020. Operators are increasingly looking to expand their mix of activities and programs to reach new demographics and expand their customer base. This includes focusing on activities for younger children, such as netted activities and play areas.
Additionally, in an effort to retain a roster of qualified staff and maintain a quality customer experience, operators are focusing on enhancing company culture, offering more training opportunities, better pay, and more to encourage staff to stay. An increased focus on company culture in operations and in hiring has been shown to reduce workforce turnover, though this requires a strategic approach.
These efforts, and more, bode well for 2020 and beyond.
But Wait, There's More…
This preliminary report is just a snapshot of the data available in the complete State of the Industry Report, which combines proprietary research, third-party data, and expert insight to take a comprehensive look at the marketplace and the broader activities landscape. Additional data and insights from the full report will be presented at the 2020 Association for Challenge Course Technology Annual Conference in Raleigh, N.C., as part of the Tech Talk series and in a 90-minute workshop, "10 Key Trends in Industry Data."
In the complete report, we will look at trends, revenues, visitation, and other important metrics for the various types of operations (zip lines/canopy tours, high/low ropes programs, camps, etc.). We will also a take a look at broader industry implications by segmenting the respondents into two general groups: recreational/recreationally focused businesses and traditional programs.