Key Themes and Takeaways at the In-Person ACCT Conference
Back in February, more than 630 members of the challenge course and adventure park industry descended upon Cleveland, Ohio, for the 32nd annual Association for Challenge Course Technology (ACCT) International Conference and Expo, Feb. 10-13. Stories of trials and triumphs from the past year dominated conversation in the tradeshow hall and during workshops. The energy was high throughout. If the scene at the conference proved one thing, it's that the aerial adventure industry is resilient and on track for another year of growth. 
Attendance and exhibitor booths (47 total) were down compared to years past, most certainly due to the concerns over the omicron variant. Regardless, there was a full suite of educational content, the tradeshow was lively, and everyone was excited to be with their peers once again after last year's virtual conference. 

More than 70 workshops were hosted by operators, suppliers, outside professionals, and ACCT leadership and board members. Sessions covered a range of topics, from open roundtable discussions and in-depth conversations on industry standards, certification programs and best practices to marketing strategies and hands-on facilitation tips.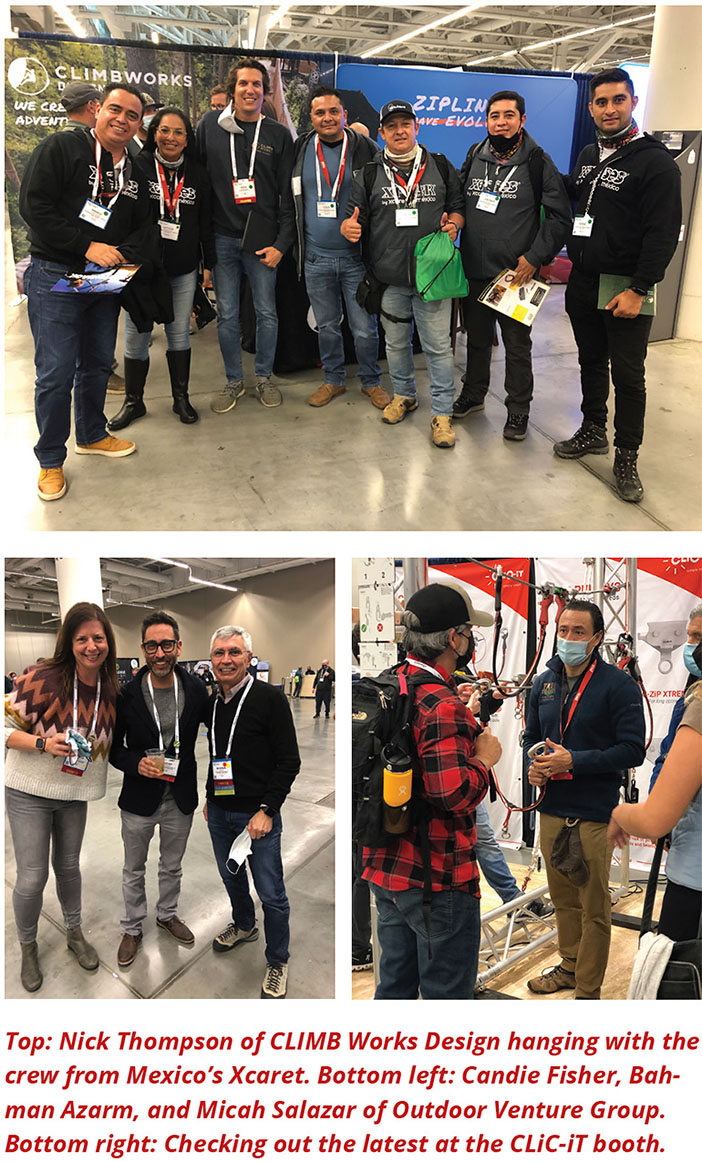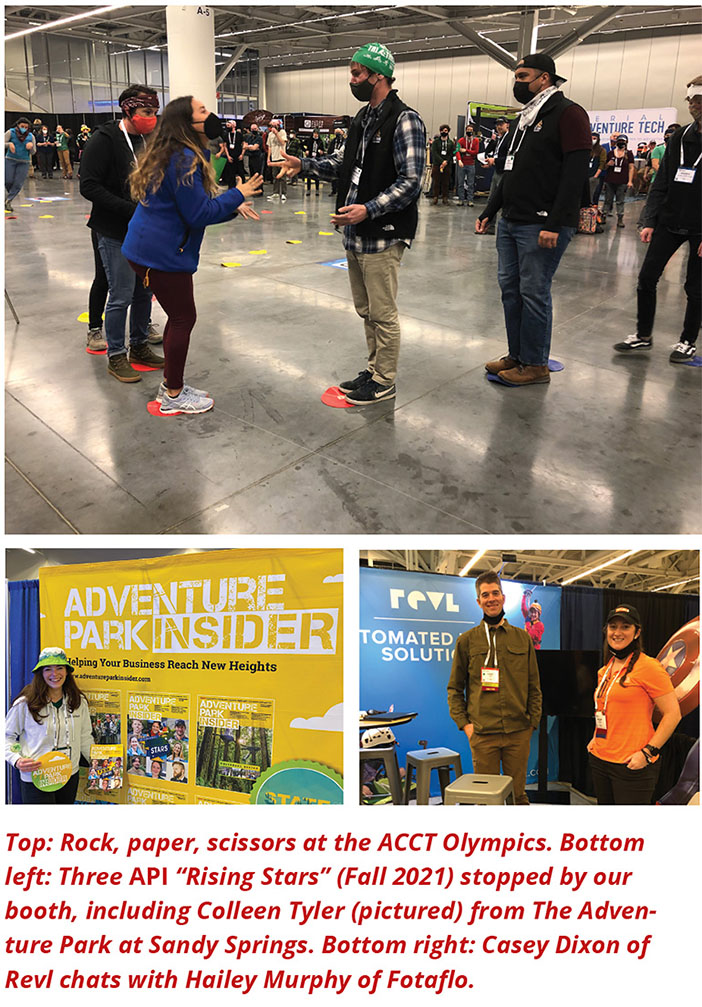 During the popular "Open Discussion for Owners and Operators," there were many exchanges of ideas and themes that closely followed what was captured in Adventure Park Insider's 2022 "State of the Industry Report" (SOTIR) data. For example, most of the roundtable participants raised their prices, and plan to again this year—customers are willing to pay for a good experience, they said. The SOTIR revealed that revenue per visitor was up dramatically in 2021, likely as a result of increased prices.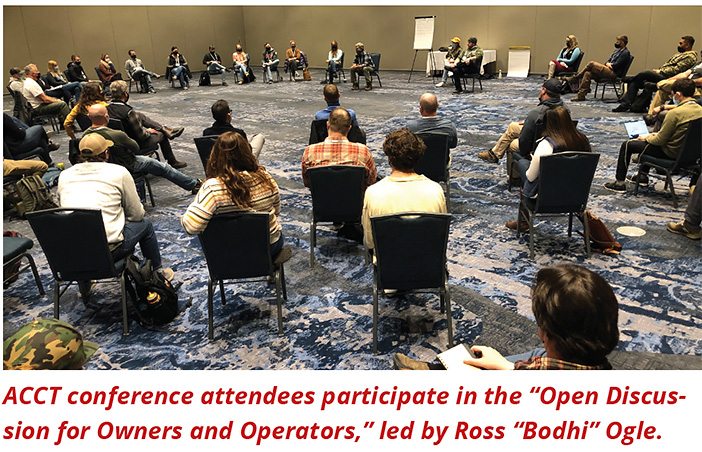 Technology. Many operators noted that customers are tipping more due to digital tools that make it easier to pay and tip. Some were using QR codes on guide helmets. There was a lot of discussion about dynamic pricing and booking platform tools to manage demand, fill off-peak times, and maximize revenue. SOTIR data show advance bookings were way up in 2021, and walk-up bookings decreased by half.
Packaging experiences. Operators said they used certain words in the descriptions of packages and events that were proven to sell, including "twilight," "after school," "sunset," "sunrise," "after dark," and "full moon." Themed events were also big winners last summer, including glow nights and Haloween events. 
Doing more with less. Most roundtable participants were short staffed in 2021 and had to turn people away at times, but business was still up thanks to managing expenses and increasing yield. According to the SOTIR, expenses were up year-over-year due to increased operating days in 2021, but down compared to 2019—even as the cost of goods and labor jumped. (For more on this topic, read "Doing More With Less," p. 36.)
Some of the most attended sessions covered risk management and incident trends. For example, Robert Monaghan of Hibbs-Hallmark teamed up with Cameron Annas and Ruthie Rivers of Granite Insurance to present incident data from the past five years. The two insurers pooled their data, and had it analyzed by researchers at Appalachian State University. It revealed some interesting trends, such as passenger vehicle claims accounting for the most losses in dollars of any other type of claim. 
At the awards banquet, AdventureWorks vice president Dr. Kathy Haras was named as this year's recipient of the Critical Link Award, the highest honor presented by ACCT. 
Next year's ACCT International Conference and Expo will be held in Portland, Ore., Feb. 9-12, 2023. The host venue is the Hyatt Regency Portland at the Oregon Convention Center.
ACCT Board of Directors
ACCT selected its board members and confirmed its committee liaisons for the upcoming year:
Carson Rivers, Challenge Towers: Chairperson, liaison to the Board Emeritus.
Rohan Shahani, Challenge Works, Inc.: Vice chair, liaison to the Leadership and Nominations Committee.
Korey Hampton, French Broad Adventures: Secretary, liaison to the Accreditation and Certification Committee.
Erik Marter, Synergo: Treasurer, liaison to the Finance Committee.
Connor James, Aspen Snowmass: Board liaison to the Consensus Group.
Billy Simpson, ABEE, Inc.: Board liaison to the Compliance Committee (formerly known as the Ethics Committee).
Keith Jacobs, Experiential Systems, Inc.: Liaison to the Insurance and Risk Management Committee.
Jason Ong, Eneres Consultants: Liaison to the International Committee.
Bahman Azarm, Outdoor Venture Group: Liaison to the Technical Information Research and Education Committee.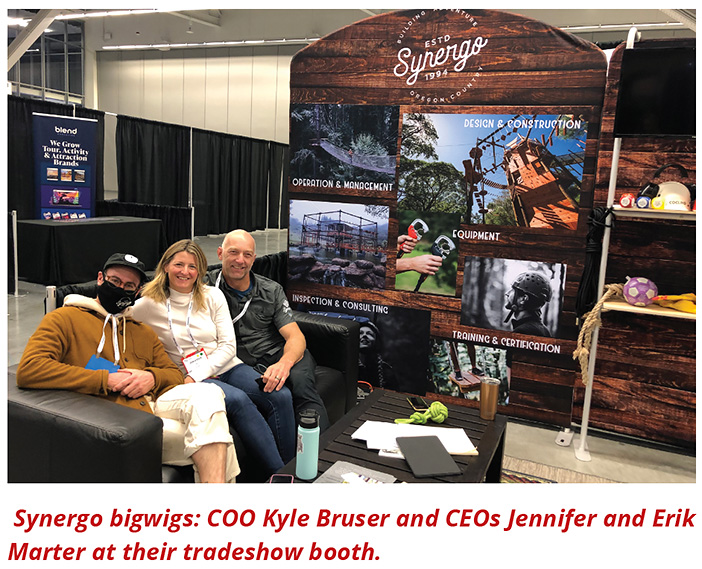 PRCA Gets "Back to Roots" at In-Person Conference
After opting to run a hybrid-model conference in 2021, the Professional Ropes Course Association (PRCA) was back in person for its annual conference and expo this year. Participants gathered at the Keystone Camp and Conference Center in Starke, Fla., Jan. 26-31, 2022. The theme was "Back to our Roots."
The site, said PRCA president Gus Denzik, "provided a nice backdrop for us to plan sessions that were interactive and experiential for an audience that was raring and ready to go after the last few years of seclusion." Nearly 100 percent of attendees participated in outdoor sessions on Keystone's high and low ropes courses. Those sessions included topics such as inspections, continuous belays, and revitalizing team-building. 
Popular indoor sessions included: a history of catastrophic injuries with Mike Barker, head of the ANSI standard consensus body; social emotional learning with David Butcher of Wolf Ridge Environmental Learning Center; the future of equipment recordkeeping technology and product testing with Kong USA's Kenny Brodin; staff training styles on the Keystone indoor high ropes course with Utica College's Timothy R. Abrahams; developing training using ANSI/PRCA standards with Denzik; and a remote session by EBL's Steve Gustafson on using the internet and technology in training and testing.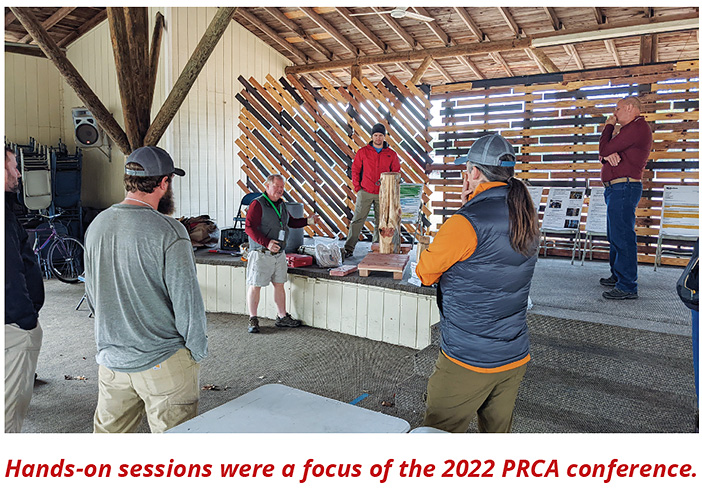 The omicron surge spiked in January, which had an impact on some planned attendance, said Denzik. To account for the unpredictability of Covid, PRCA had a refund policy in place. Additionally, masks were recommended indoors or when social distancing was not functional, and social distancing was recommended in meal areas and classrooms. 
Overall, Denzik declared the conference a success. "It turned out to be an excellent site with great opportunities, and we have decided to do it again next year at Keystone on Jan. 27-30, 2023," he said.