The impact of COVID-19 has been significant to the adventure and entertainment industries. As of May, the travel trade experts at Arival stated that the destination activities and attractions industry was down 85 percent in bookings in 2020 compared to 2019. It will take months, if not years, for business to return to pre-coronavirus levels. And operations will look much different for the foreseeable future.
As you reopen for business and volume grows, there are three key areas of focus for your insurance program and related operational changes. They are:

• Survival and Cost Reduction
• Reopening Your Facility
• Insurance Post-COVID
Survival and Cost Reduction
As your business has been turned upside down over the past three months, you will want to put your insurance program in "survival mode" to reduce costs. Here are our top five recommendations on where to adjust your program during COVID-19:
1. Reduce annual sales projections for general liability. Your general liability insurance is based on gross sales. This number should be revisited and revised. The result will be a reduction to your general liability premiums accordingly. For example, if you reduce revenues from $2 million to $1.5 million, that should reduce the premium by 25 percent. You may be able to apply the difference as a credit for upcoming premium payments.
2. Reduce annual payroll projections for workers' compensation. Just as your general liability is based on sales, your workers' compensation insurance is based directly on payroll. You should look at your payroll levels on your workers' compensation policy and revise them to more accurate projections. Subsequently, your workers' compensation premium should shrink.
3. Code for Payroll Protection Program (PPP) and workers' compensation. Depending on your state, you most likely are going to be allowed to code PPP payroll (payroll for non-working employees) so that you are NOT charged workers' comp premiums for that payroll. This can add up to a significant amount. Some of your class codes' rates are in the 5 to 10 percent of payroll range. You should adjust this and track this payroll separately under class code 0122. This will notify your workers' compensation carrier to exclude this payroll from premium calculations.
4. Change class codes for employees working at home. Some of your employees prior to COVID had a job function that may have been a higher risk (guides, amusement, etc.). However, these employees may be working from home right now. By changing their class code to clerical (8810) you will be able to change their workers' comp rates from 5 to 10 percent of payroll, if in the amusement or guide class code, to 0.15 percent in the clerical class code. A huge difference!
5. Autos on lay-up. Most insurance companies are allowing you to put your vehicles on "lay-up," which essentially removes the premium for those vehicles for a designated time period (30 to 90 days, say). The agreement is that these vehicles are stored and not operating, and their battery has been disconnected. For operations that are very vehicle-dependent, this could save you $200 per vehicle per month.
Reopening Your Facility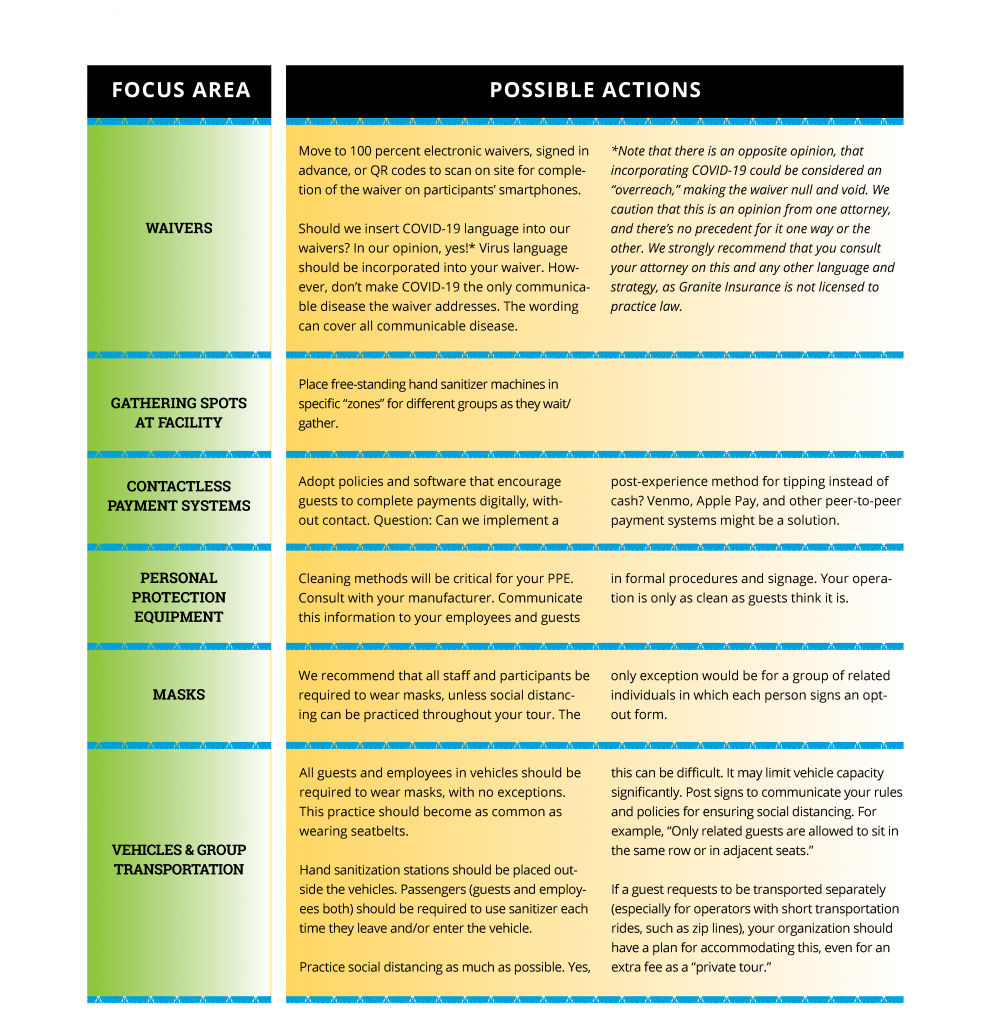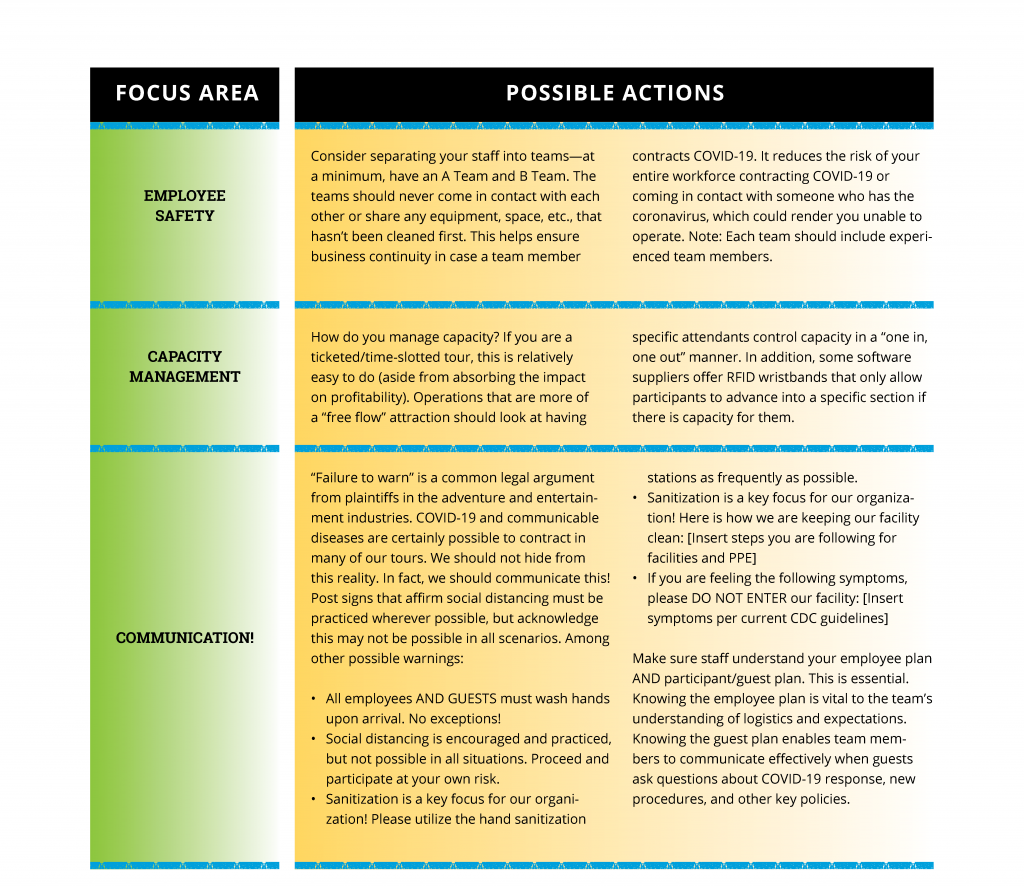 One thing is certain: Guest interactions will change this year, even if temporarily. Many operational policies have implications for insurance. That being said, the chart above isn't meant to be exhaustive, but suggests areas of focus and questions that each operator may need to address, depending on local circumstances. 
Insurance Post-COVID
To begin with, 95 percent of all adventure and entertainment operators' general liability policies exclude "communicable diseases." That means if a participant or guest claims to have contracted COVID at your facility, and names you in a lawsuit, your insurance company will deny the claim. The insurance companies have not charged premium to cover this, and did not intend to cover this exposure.
In our opinion, this type of claim will be very hard to pursue and validate. The burden of proof to evidence that the virus was contracted at your facility will be on the participant, and it will be a tall order. For example, how many of you have been sued for someone contracting the flu at your facility? We bet the answer is zero.
A key question in the insurance industry is, "Will we be able to purchase coverage for communicable diseases in the future?" In our opinion, the answer is "Yes." Here's why.
Any new risk follows a very common path in the insurance industry. The insurance companies: 1) exclude coverage (and exclude on top of exclusions); 2) gather data; 3) quantify the risk, once the crisis has passed; and 4) develop insurance products for the new risk.
Just as you cannot purchase homeowners insurance when your house is on fire, we don't expect coverage to be readily available for the coronavirus in the next 4-6 months. However, insurance may be needed and desired for these types of risks in the future, and we expect the insurance industry to respond, possibly with a federal backstop (similar to terrorism coverage).
As insurers, our focus is to help you be successful even during difficult times. This comes through a partnership, not a transaction. Let your insurance company know how it can help you and your operation be successful, even if it's just a review or analysis of your current insurance and risk management program. Let's get reopened and focus on the future! 
Ruthie Lile (rlile@graniteinsurance.com) is an adventure and entertainment risk consultant and previously worked in management for an adventure operator. Cameron Annas (cannas@graniteinsurance.com) is active in many industry associations, and a board member for the Association for Challenge Course Technology (ACCT). He is a Certified Insurance Counselor (CIC), Certified Risk Manager (CRM) & Certified Workers' Compensation Advisor (CWCA).